Conservative Groups File Brief for Christian Grandmother Florist Sued for Refusing to Serve Gay Wedding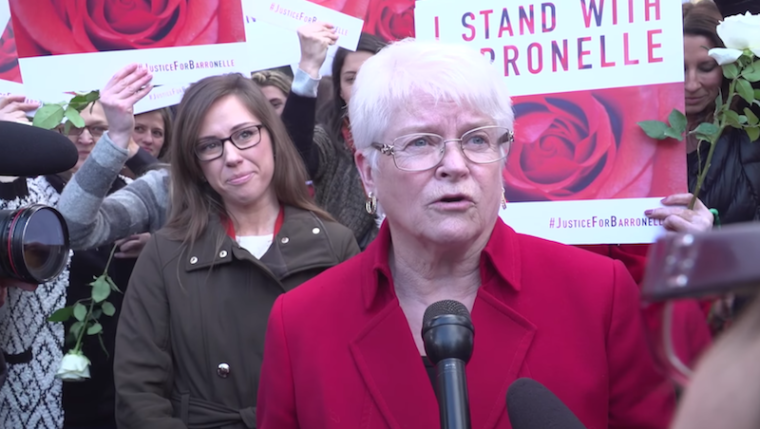 A pair of socially conservative organizations have filed an amicus brief to the United States Supreme Court on behalf of a Christian grandmother and florist sued for refusing to service a gay wedding.
In 2013, a same-sex couple sued Barronelle Stutzman, owner of Arlene's Flowers in Richland, Washington, over her refusal to provide a floral arrangement for their gay wedding.
The Family Research Council and the North Carolina Values Coalition jointly filed the brief last week on behalf of Stutzman, arguing that a lower court ruling against Stutzman launches "a frontal assault on liberties Americans have treasured for over 200 years."
"Even though this Court has redefined marriage, same-sex couples have no corollary right to coerce an unwilling business owner to celebrate the new definition," the brief states.
"Washington's anti-discrimination law demeans Petitioner by compelling her to become a de facto accomplice to a morally objectionable agenda. This is intolerance, and it is intolerable in a country devoted to liberty."
Travis Weber, director of the FRC's Center for Religious Liberty, said in a statement released Monday that "people like Barronelle should not have to fear that their livelihoods may be taken away simply for living out their faith."
"At the heart of this case stands the important fact that Barronelle Stutzman had happily served for years the very person who is now suing her," stated Weber.
"She never had a problem with providing flowers for him, but only didn't want to be compelled to participate in a ceremony that violated her conscience. People need to understand that to understand this case."
In October 2013, Rob Ingersoll and Curt Freed filed suit in Benton County Superior Court against Stutzman after she refused on religious grounds to provide floral services for their same-sex wedding.
Backed by the American Civil Liberties Union, Ingersoll and Freed argued in their suit that Stutzman violated the Washington Law Against Discrimination.
In 2015, Benton County Superior Court ruled that she violated the state's nondiscrimination protection on the basis of sexual orientation. She was fined $1,001 and held responsible for paying the thousands of dollars in legal fees incurred by the gay couple.
In February 2017, the Washington Supreme Court affirmed the lower court decision, with Associate Justice Sheryl Gordon McCloud authoring the majority opinion.
"The state of Washington bars discrimination in public accommodations on the basis of sexual orientation. Discrimination based on same-sex marriage constitutes discrimination on the basis of sexual orientation," wrote Justice McCloud.
"We therefore hold that the conduct for which Stutzman was cited and fined in this case — refusing her commercially marketed wedding floral services to Ingersoll and Freed because theirs would be a same-sex wedding constitutes sexual orientation discrimination under the WLAD."
Last month, Stutzman appealed to the U.S. Supreme Court, being represented by Alliance Defending Freedom.
"For more than four years, Barronelle has endured the litigation in this case with unwavering grace, humility, and faith — even as she faces losing everything she owns," stated ADF in July.
"Now she will take her last stand before the U.S. Supreme Court, asking it to preserve her religious freedom and her right not to be forced to speak a message about marriage that violates her beliefs."