Conservative Virginia Minister Starts Prayer Campaign for Law Enforcement; 'This Lie That Police Are Out Hunting Down Black Men Has Got to Stop'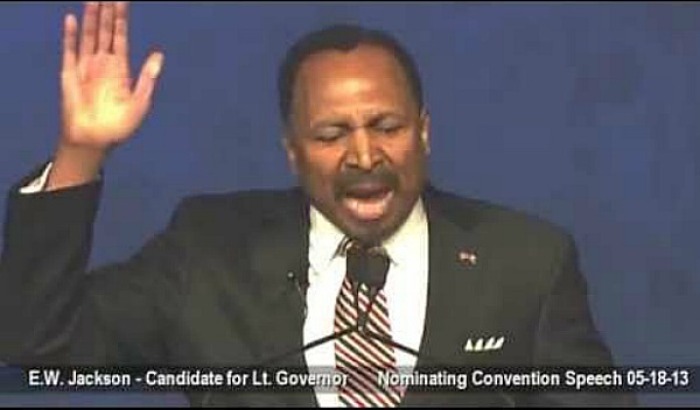 Conservative politician Bishop E.W. Jackson, president of STAND, said he believes that police in the U.S. are not targeting black men, as some believe, and is calling for a prayer campaign in support of the country's law enforcement officers.
"I have been saying that this lie that police are out hunting down black men has got to stop," stated Jackson, who is the president of STAND (Staying True to America's National Destiny). "We now have two cops murdered in cold blood. It's time for Americans to express our gratitude to our police officers."
Officials with STAND say that in light of protests against the police since the deaths of Michael Brown and Eric Garner, Bishop Jackson is distributing prayer cards to police stations around the country as part of his Prayer For Police Campaign.
The prayer card created by STAND reads:
When the job is hard.
When the pressure is great.
When you wonder,
"Does anyone appreciate?"
Just know that for all the work you do,
Someone is praying and thinking of you.
For your duty and honor in difficult times,
God in heaven makes His face shine.
He looks upon you from above.
To inspire you with courage and love.
May He give you the strength
To make one more round.
At the end of your shift,
To go home safe and sound.
May you fight the good fight,
And live by His grace.
When your work here is done,
You'll see His loving face.
Jackson and his wife also founded the Martin Luther King Leadership Breakfast 15 years ago in Chesapeake, Virginia. Every year since 9/11, they have honored someone from law enforcement.
"When the Trade Towers were falling, they ran toward those buildings while everyone else ran away. We should never forget that," said Jackson.
At their upcoming MLK Breakfast on January 19, the police will present awards to the youth and youth will present awards to the police. "It's time we told the rest of this story," says Bishop Jackson, "police risking their lives to make us all safe."
Jackson is bishop of The Called Church and Senior Fellow at the Family Research Council. He is a Marine Corps Veteran, graduate of Harvard Law School and was a Republican nominee for Lt. Governor of Virginia in 2013.
To obtain prayer cards and more information, go to http://standamerica.us/.