Cornerstone Church Denies Claim That Pastor John Hagee Said Women Who Use God's Name While Having Sex Should Be 'Thrown in Jail'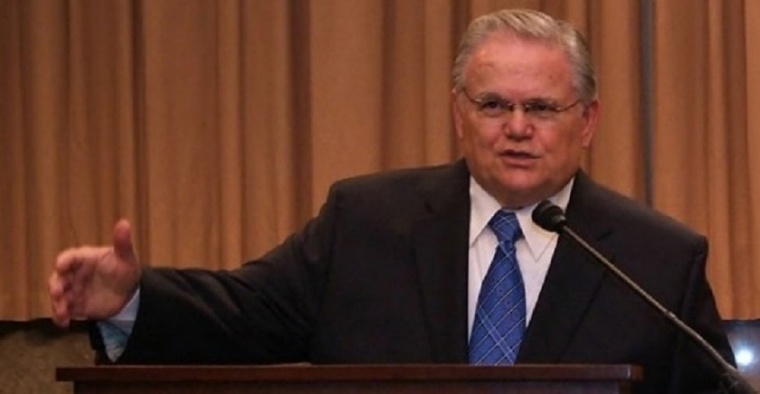 A Cornerstone Church official denied Monday a report that claims their senior pastor John Hagee said women who shout God's name during sex should be "thrown in jail" in an interview discussing the 10 Commandments.
The San Antonio, Texas-based church told The Christian Post in a telephone interview that the claim is false and that the church's lawyers are looking into the situation.
"The story is a complete fabrication. It's written by a website that makes up these kind of stories in an effort to be humorous. All media outlets that have picked up this story have been contacted by John Hagee Ministries and will issue a retraction or face legal action," said an official statement from Cornerstone Church's legal department shared with CP.
Hagee's remarks about women were originally reported in an interview by Newslo.com.
While discussing the 10 Commandments Hagee expressed his frustration over churches in America not taking the use of God's name in vain seriously enough.
"Saying the Lord's name in vain might seem petite and insignificant compared to some of the things that are going on in the world right now, even in churches all across America," Hagee reportedly said. "But that's precisely the problem. If shepherds of a faith start doing wrong, what is the flock supposed to do? Follow in their footsteps? I don't think so. The flock needs to get its bearings and start thinking for itself."
Newslo claims Hagee went on to address women who use it during sex.
"That is one of the filthiest, most derogatory and sinful uses of the Lord's name I can think of. If it were up to me, I would put every single woman or girl who does that in jail," Hagee allegedly said. "That would be a fine example of God's wrath aimed at what is, in my opinion, a terrible misuse of our Maker's good name."
While Cornerstone church has denied this recent comment, Hagee has made controversial statements in the past. In November of last year Hagee made some strong remarks about President Barack Obama's treatment of the nation of Israel at an event for the Zionist Organization of America.
While receiving an award for his contributions in helping Israel, Hagee asserted that Obama "is anxious to accommodate Iran and its nuclear ambitions." He also said "the executive branch is in the hands of one of the most anti-Semitic presidents in the history of the United States of America."
Along with his work at Cornerstone Church, Hagee is leader of the Christians United for Israel organization that was founded in 2006. It provides evangelical-based support for Israel and has 1.6 million members.