Country Star Rory Feek Says His Late Wife Joey's Light Shines on After Losing Cancer Battle (Interview)
Country Star Rory Feek Says His Late Wife Joey's Light Shines on After Losing Cancer Battle (Interview)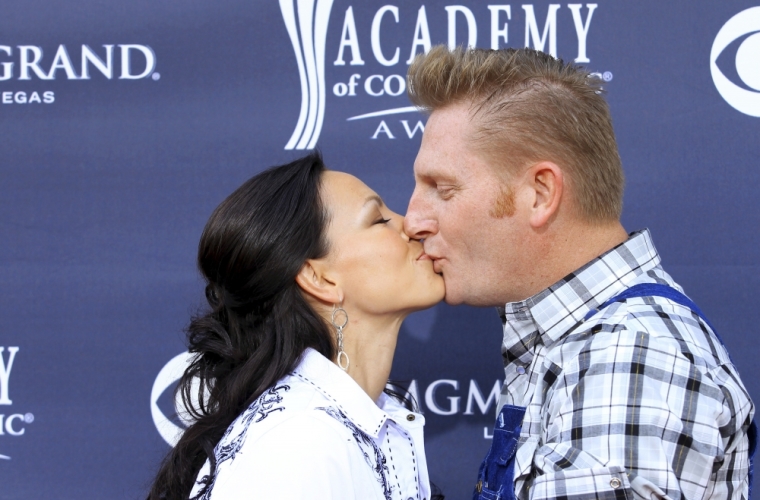 Rory Feek, one half of the country music duo Joey+Rory, gives fans an inside look into his late wife's Joey's experience with motherhood and battle against cancer in the upcoming documentary film, "To Joey With Love." The caring husband maintains that although Joey lost her battle with cancer she will continue spreading her light with all those who see her inspiring journey.
The couple captured the hearts of millions who read Rory's blog "This Life I Live," where he shared his family's strength and resilience during Joey's chemotherapy and radiation treatments for cervical cancer.
During their musical career, Joey+Rory recorded eight studio albums and charted three singles on Hot Country Songs.
In February, the couple released their final album, Hymns That Are Important to Us, which Joey called "God's record." The album soared to the top of Billboard's Contemporary Christian Album and Christian Video charts.
Joey first received her cancer diagnosis in 2014 and underwent chemotherapy and radiation, but the cancer returned last October and spread to her colon. In the wake of Joey's re-diagnosis, the duo cancelled all concert appearances.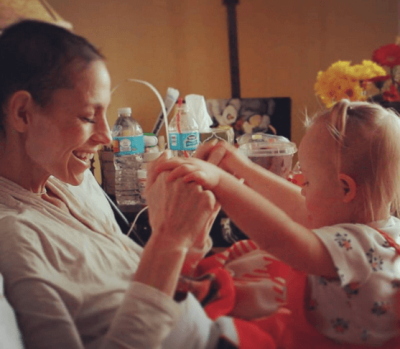 Despite doctors' reports estimating that Joey only had six weeks to live, she was determined to live long enough to celebrate the holidays with her family, as you see in the documentary, and that is what she did. On March 4, Joey died at age 40 and was laid to rest in the backyard of their farmhouse in Tennessee.
The following is an edited transcript with Rory, in which he explains his heart behind releasing "To Joey With Love," and the impact he believes it will make.
Christian Post: In the film you talked about praying for a great story, can you tell us how that story has unfolded?
Rory: From the time that Joey and I first met, we trusted God and believed that He would give us a great story. We had no idea at the time what story that would be, but we knew He was telling one with our lives and our marriage and we did our best to trust Him as we went through the highest of highs and the lowest of lows.
Exclusive Op-eds from the Presidential Campaigns
CP: What was initially your heart behind documenting the pregnancy and cancer battle?
Rory: For some reason, as we made the decision to take a year off and spend it at home, simplifying our lives and getting ready for the baby to come… I had a feeling that we needed to capture the coming weeks and months as they happened. I have done my best to spend our music career capturing our lives with the music we made through music videos, and songs and television shows that did more than just entertain an audience; they were part of capturing moments and people in our lives so they could live on after those moments had passed. I was always using our music career as a diary, filled with vignettes of our lives, captured in real time. Something to have and keep and for our children and their children to have and keep, long after we're gone. I think I just felt a calling to do that even more as we prepared for the baby, and I began filming daily and writing about it in a blog. Something told me that these moments, big and small, would matter in the future. And they did. They do.
CP: As Joey went in for surgery the second time, we see her singing the famous hymn, "I need thee, oh I need thee," what do you think that song meant to her?
Rory: I was sitting at the kitchen table this morning talking with Joey's mama about that. She and all of Joey's family saw the film last night for the first time. I was telling her that when Joey sang about Jesus, the world was seeing her. Seeing Joey's mama. Because the reason Joey loved and sang songs about Jesus to our baby is because her mama loved and sang songs to her about Jesus. That you were not only seeing Jesus in Joey at the moments, you were also seeing Him in June. I love that.
CP: What are your hopes for this "To Joey With Love?"
Rory: My only hope is to share more of my beautiful bride with the world and that maybe she and her story could be an encouragement to others in their journey through life. Joey has been, and still is, such an incredible light that lights my way each and every day. I am humbled at the thought that even after she's gone… her light could still shine and light the way for others who are desperately needing to see a little light in the dark world today.
The documentary will be shown in theaters nationwide for one night, Sept. 20, and will take viewers along their journey from the birth of their daughter, Indiana, who was born with Down syndrome, through Joey's struggle and ultimate surrender to cancer. For more information about the film, visit To Joey With Love..