Craig Groeschel to Christians: Make This Dangerous Prayer to God – 'Break Me'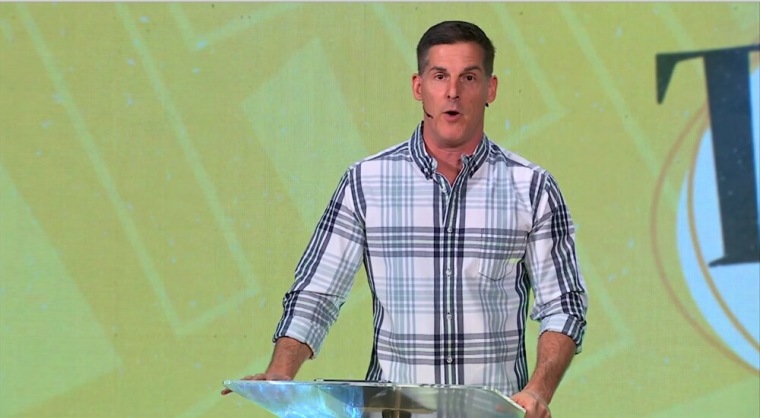 One of the most dangerous and difficult prayers a Christian can make is for God to "break them," Pastor Craig Groeschel says.
Groeschel, who heads the large, multi-site Oklahoma-based Life.Church, discussed the importance of Christians praying that God may "break [them]" in his "Dangerous Prayer" series.
The sermon begins with a prayer to God to "break me of my pride, break me of my selfishness, break me of anything that keeps me from knowing you."
The evangelical pastor warns that this prayer, unlike others, will not necessarily make you "feel good" or fall in line with "God will always make your life better" version of Christianity.
Although this prayer is difficult, it does have the potential to open up your life in greater ways to God, Groeschel continues.
In exchange for this pain of breaking that you may experience in your walk with God, there will be infinite blessings, the pastor says, pointing to an experience in his own life, when he was told by a pastoral mentor that in planting his church, God would break him.
Groeschel experienced the repetitive "breaking" after encountering numerous roadblocks and tragedies while trying to start his church, but also notes that from this immense struggle and pain came infinite blessings as it drew him closer to God and his Christian community.
The pastor goes on to point to two Bible verses that discuss this dangerous prayer: Mark 14:3 and Mark 14:22, which both use the metaphor of a person being "broken" so their faith may be fully "poured out."
In Mark 14:3, a woman breaks an extremely expensive bottle of perfume and pours it over Jesus' head in an act of worship.
This act, Groeschel explains, serves as a symbol for the woman leaving her past life behind and moving forward in her walk with Jesus, physically represented by her breaking the valuable perfume, a symbol of her livelihood, over Jesus and pouring her life out to him, so he in turn may strengthen her faith.
In Mark 14:22, 24, during his Last Supper, Jesus "took bread, and when he had given thanks, he broke it and gave it to his disciples, saying, 'Take it; this is my body' […] 'This is my blood of the covenant, which is poured out for many.'"
Again, in this verse, the metaphor of "breaking and pouring" is being used to show the breaking of oneself.
Through this verse, Jesus is saying "may you also be poured out in such a way [that you give] everything [you] have as an offering for God's glory," Groeschel says.
"Life's greatest breakings often lead to life's greatest blessings," the pastor reiterates. "Those whom God uses the greatest are often those who have been broken the deepest […] because God never wastes a hurt."
For those who are fighting the "breaking" out of a fear of pain or failure, Groeschel encourages them to stop resisting, and rather embrace the destruction by giving themselves fully to God and their church community.
When you get to the moment of breaking, "you can either run to God or […] from God," Groeschel says.
"My greatest advice to you is just break wide open, fully depend on God and let him do a healing work for you," the pastor concludes.