10 Crazy Things I Saw at CPAC 2017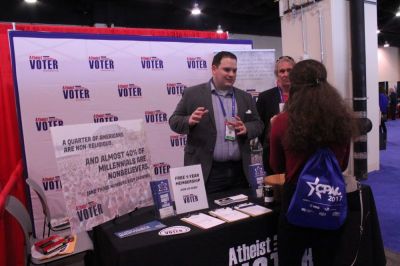 3. Atheist exhibitors
One thing that CPAC attendees probably didn't expect to see during the conference was as atheists exhibitor promoting the idea of secularism.
But as CPAC attendees strolled through the exhibit hall on the ground floor, they might have been surprised to find a booth sponsored by the non-partisan secular group Atheist Voter.
Atheist Voter, a project of the American Atheists organization, has attended CPAC each of the last four years. Atheist Voter's National Program Director Nick Fish told CP on Friday that the group is "dedicated to protecting the separation of religion from government."
"There are atheists already who are part of this conservative community or on the liberal side or whatever group it is," Fish explained. "There are already atheists among you and you need to be welcoming to them because there is a demographic tidal wave of atheists and nonbelievers."
"Forty percent of people under the age of 40 are non-religious," he added. "If you ask them if they support big government or small government, it is about half and half but they don't vote like that because they are being pushed away."
Fish explained that there was a bit of a contention the first time Atheist Voter tried to be an exhibitor at CPAC a few years back.
"The first time we tried to come, they accepted us then they kicked us out and they let us come back the same year," Fish stated. "The numbers don't lie. This is a growing and important constituency. So, failing to engage with them or actively pushing them away is something they do at their own peril in the political system."
Despite its presence at the conference, Atheist Voter is not included on the online list of CPAC exhibitors for 2017.