Creflo Dollar to Get a Highway Named After Him?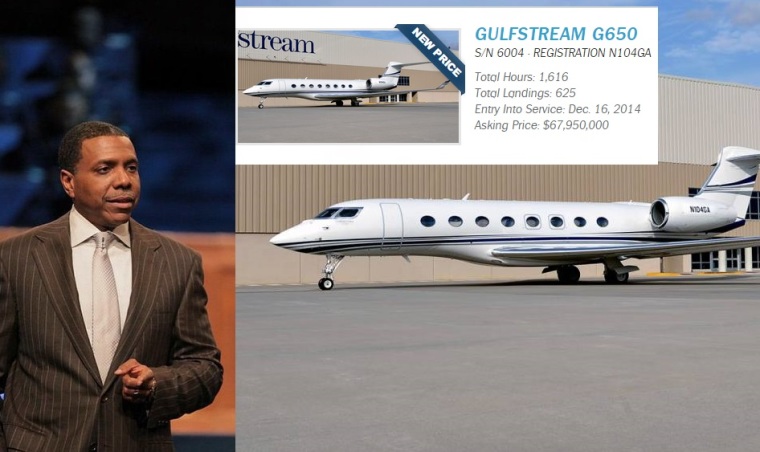 Televangelist Creflo Dollar could get a part of a major highway in Atlanta named after him in honor of the 30th anniversary of his World Changers Church, with Sen. Donzella James, D-Atlanta, praising him as a "man of God."
"I'm just applauding the man of God who has done great things (and) who already has the bridge named after him," James said about her proposal to rename part of the 2-and-a-half mile stretch of road between Hwy 138 and the bridge at I-285 as the Creflo Dollar Hwy.
WSB Radio reported on Tuesday that the World Changers congregation asked her to sponsor the resolution, and she thinks it is a good idea to honor the ways the church has helped the community, including helping the homeless and others in need.
"Thirty years of doing all these things; why can't he have a road dedicated to him," James added.
Dollar sparked notable controversy last year when he said he needed $65 million dollars to purchase a luxury jet for his ministry, though he later explained that he wasn't asking the money from his congregation, but from private donors.
Dollar has also scolded those who criticized him for the request, declaring that "If I want to believe God for a $65 million plane, you cannot stop me."
"Let me tell you something about believing God — I can dream as long as I want to. I can believe God as long as I want to. If I want to believe God for a $65 million plane, you cannot stop me. You cannot stop me from dreaming," the pastor said in April.
"You cannot stop me from dreaming. I'm gon' dream until Jesus comes. And here's another thing I want you to understand. … If they discover life on Mars, if you think a $65 million plane was too much, if they discover that there's life on Mars, they gon' need to hear the Gospel and I'm gon' have to believe God for a billion dollar space shuttle because we got to preach the Gospel on Mars," he added.
WSB pointed out that some political pundits have hit back against the proposed Creflo Dollar Highway, however, with George Chidi from GeorgiaPol.com saying that many in the general public do not agree with the pastor.
"A significant part of the public really just doesn't care for either the manner in which he approaches the Gospel or his personal activities around, say, the jet in which he was asking for $65 million from his congregation," Chidi said, and argued that the government should not be naming a road after him.
"That's the thing I'm really worried about here — the government changes the name of a road (and) all of the sudden Creflo Dollar could go on television and say, 'look they believe in me, they changed the name of this street; give me money,'" he said.