Creflo Dollar Urges Megachurch to Donate $234K; Clear Debt of Shooting Victim's Family
Creflo Dollar, pastor of World Changers Church International in Georgia, on Sunday urged members to help pay all the bills for the family of the 37-year-old church employee who was shot and killed at a church prayer meeting last week.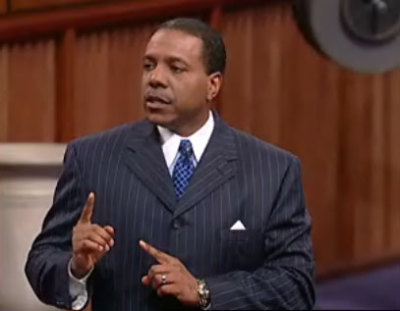 "In my book, he's a hero," The Atlanta Journal-Constitution quoted Dollar as saying of Greg McDowell, who was shot at an early morning Bible study at the College Park campus last Wednesday. "If those bullets hadn't been trained on him, there would've been more people that would've died," the pastor told the congregation.
Police have charged Floyd Palmer, a 52-year-old former church employee, in McDowel's murder. The accused calmly walked into the morning prayer service and fired six shots at McDowell while he was praying.
"The goal is $234,000," the pastor told the members, challenging them to give the amount by the end of the day. "We want to completely eradicate all debts in their lives … house, cars, everything. Let's now show the world the power of a megachurch."
Dollar challenged church members to give as they left the College Park church, to make online donations and to give to a special fund the church has set up at a bank. "It's enough to have somebody torn away from you," Dollar added. "And at the same time have to be worried about all of the debts."
The pastor told the congregation they could contribute online through the World Changers online, under the Gregory McDowell Family Fund.
Dollar had told members at last Wednesday night's Bible study about an extra offering on Sunday.
During that Bible study, the pastor said he first learned of the deadly shooting while he was in a morning briefing.
"While I was in my morning briefing, I got a report that some shoots took place over here in the chapel. So we were concerned, naturally, and we dispersed and everyone went into action," he told those in attendance. "And we discovered that one of our very faithful, loving, kind servant... a gentleman, who serves our ministry on Wednesdays and Fridays and opens the door for my mother and for many of you, walked in on Wednesday this morning and – as his duties are on every Wednesday, making sure things are in place – but this Wednesday, as another very dear friend of ours, an employee of the church, a friend of the ministry, was doing corporate prayer and, while he was praying, he was shot several times and fell dead as he was leading corporate prayer."
SHOOTING at Creflo Dollar Church World Changers