Crowd Sings 'Amazing Grace' After Trump Stops Rally, Urges Prayer for Woman Who Fainted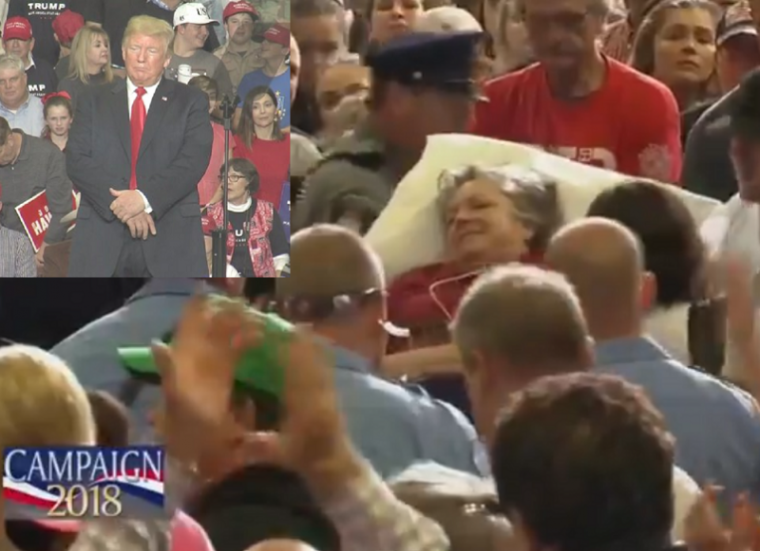 President Donald Trump stepped away from his microphone and remained silent except to urge calm and prayers Monday after a woman fainted at a rally in Cape Girardeau, Missouri. His supporters responded by singing "Amazing Grace" and many are now praising him for the tender moment.
"That's one of our great people right there. Take your time," Trump urged as the woman suffering the medical emergency was treated by first responders in an 8-minute video of the moment posted on YouTube.
As they waited to see the outcome of the emergency, some people yelled support for the president as well as "CNN sucks."
The president kept silent however and remained away from his microphone until a voice from the crowd recommended praying for the woman.
"That's right, say a little prayer," Trump urged. And many of those in attendance at the rally could be seen raising their hands in collective prayer.
The president maintained his composure as his supporters continued with various cheers of support. When it appeared as if the emergency was continuing for an extended period, the president assured the doctor that he was willing to wait for however long the woman's treatment would take.
"Take your time," he urged.
"We've got plenty of time, right?" he added showing clear concern for the woman being treated.
Shortly after that the crowd spontaneously started singing "Amazing Grace." Seconds later, emergency responders lifted the woman from the ground on a stretcher and removed her from the rally.
"Power is really something. I wanted to just thank everybody for the way you behaved. That was beautiful. At the end was beautiful. 'Amazing Grace.' That was beautiful. Hopefully she'll be OK," the president said.
The rarely seen softer side of the president has since gone viral on social media and has encouraged many of his supporters.
"These are the beautiful Trump supporters media labels 'Racist'! Listen to my fellow Trump supporters sing Amazing Grace as a supporter is tended to after collapsing at Missouri rally I am so proud to cast my vote on #ElectionDay for Conservatives who love God, America & Trump," a supporter wrote on Twitter.
"Very special moment. Donald Trump stopped in the middle of his Rally, to allow medics to assist someone in need of medical attention. As the person received attention, the crowd sang Amazing Grace. Moments like these restore our faith in humanity," added another supporter.
This isn't the first time the president has grounded a rally to a complete halt to ensure someone who fainted was being properly cared for.
In January 2016 at a Reno, Nevada, rally, when he was just the Republican presidential frontrunner, Trump stopped his speech after a woman in the crowd fainted.
"Is she OK?" a stern-faced Trump inquired multiple times, CNN reported.
He also called for a doctor and demanded that his aides get the woman a glass of water.
"We love our people, we've got to take care of our people," Trump said. "Who cares, we'll hold it for a couple of minutes."