Pastor Davey Blackburn Says God Allowed Wife's Murder So Church Could Live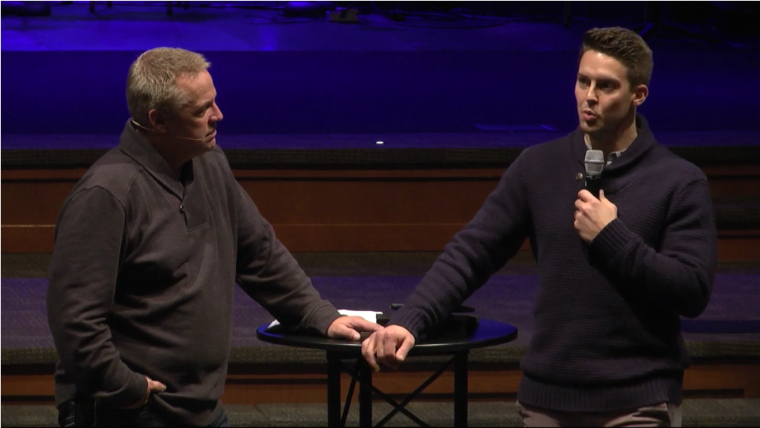 Davey Blackburn, the grieving Indiana pastor whose pregnant wife, Amanda, was shot dead during a home invasion on Nov. 10, said God told him he allowed his wife to die so the church could live.
Blackburn, who pastors Resonate Church in Indianapolis, Indiana, made the revelation two Sunday's ago at the First Baptist Church of Elkhart where his late wife's father, Phil Byars, is lead pastor.
Byars stood in support of his son-in-law prior to Blackburn addressing the congregation at his request.
"I told dad yesterday that I didn't want to say anything partially because I don't know how well I can hold it together when I speak to people. Partially because I haven't talked to my congregation yet or addressed them," Blackburn began. "But I suppose sometimes you have to talk to your parents before you talk to your kids about what's going on in your life."
He then explained the encounter he had with the Lord in the shower that morning.
"I had a thought this morning in the shower. And felt like the Lord spoke to my heart and said: 'Davey, I want my church, I want my bride to come alive. And if I had asked you, Davey, before this if you were willing to give up your bride so that my bride can come alive, what would you have said?'" he noted with an uneasy chuckle.
"Of course, like anybody else I said 'absolutely not. There is no way.' I'm good with being married and having two little kids, pastoring a church of 120 for the rest of my life. I am good with comfort. And the Lord said, 'That's why I didn't ask you the question beforehand.' Because sometimes when you say, I surrender all, you mean I surrender some. So you are put in a situation where you have to surrender all," he continued.
Blackburn then shared another revelation with his father-in-law's congregation, referencing Ezekiel 37 in which the prophet spoke of the dry bones living again.
"And it said the breath was breathed into the beings and that breath is the breath of life. It's the Holy Spirit of God that breathes life into you and me. I believe Ezekiel spoke the Gospel of Jesus Christ over that valley of dry bones. The Bible doesn't indicate what he spoke and so we have to kind of fill in the blanks there, but I know there's only one truth that can bring life and that's the light of life, that's Jesus Christ," said Blackburn.
"And the Good News of Jesus, how He gave up his life so that we could have life," he added.
Blackburn then rebuked the congregation for becoming stale.
"Last year, close to this time, I spoke a message here and whether you get offended by this or not, I don't know, and honestly it doesn't really bother me if you do, but when I looked out across this congregation I saw a valley of dry bones," he said.
"I saw people who had life once but there was staleness. And I believe from that moment, I've heard story after story after story about how God has been beginning to construct this congregation in such a way that it can advance forward," Blackburn continued.
"What God is doing now, through this event, God is now breathing life into this army. And I believe in some way, some shape, some form that we can't wrap our minds around it theologically. God didn't cause this to happen but he allowed it to happen in such a way, he allowed the breath of Amanda to come out of her so that the breath could be breathed into you and into me so that we could advance the Gospel in a way that history books have never even told.
"And I believe it is going to come out of this house. I believe it is gonna come out of our house in Indianapolis. I believe in this region, God's gonna do something from the crossroads of America that's gonna scatter across America, and we're going to see a revival like we have never seen before," he added.
Blackburn and his wife moved from South Carolina in 2012 to start Resonate Church. On the morning of Nov. 10, however, while Davey was away at the gym, police said his wife was shot three times, including once in the head during a home invasion. She succumbed to her injuries the following day along with her 13-week-old unborn daughter, Everette "Evie" Grace Blackburn.
Amanda's suspected killer, Larry Jo Taylor Jr., 18, and his accomplice, Jalen Watson, 21, have both been charged with murder and a litany of other crimes. They have both pleaded not guilty and are expected to appear in court for a pre-trial hearing on Jan. 8, 2016.