David and Tamela Mann reveal how their marriage has survived the high church divorce rate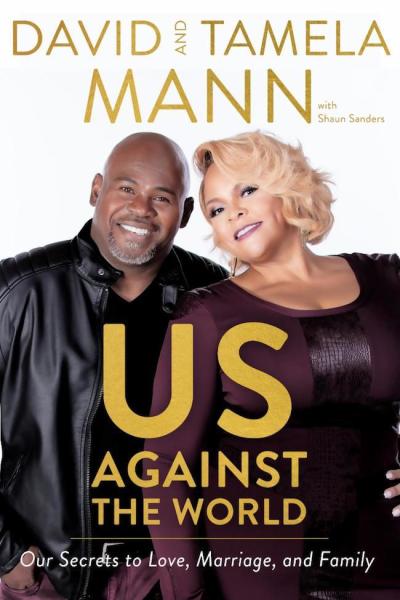 Celebrity couple David and Tamela Mann have written a book on marriage that includes the life lessons they've learned as they balance church and family, and why, for them, divorce isn't a way out when their relationship gets difficult. 
Known for their hit TV series "Meets the Browns," in the Manns new book, Us Against the World, the couple candidly share their own life and the lessons they've learned during their 30-year marriage. The book offers tips on commitment in marriage, unity, intimacy, and how two successful people built careers and a family together.
Inspired by their new book, David, an NAACP Image Award-winning actor and comedian, and Tamela, a Grammy Award-winning gospel singer and actress, also released a 10-song album about their resilient and enduring love titled, Us Against the World: The Love Project. They will also be going on tour.
The following is an edited transcript of The Christian Post's interview with David and Tamela Mann in which they reveal how they've managed to not succumb to the high divorce rate in society and the church.
CP: You titled your book Us Against the World, what are some of the battles you guys, as a couple, have faced?
Tamela:  Well, I would say just with the marriages, so many people wanting to quit on each other. Sometimes we all get to the point that we want to quit on each other and that's one of the attacks. [But] divorce is not an option, and not to quit and not to give in to those things that could come in to destroy or tear you apart.
David:  When we declared Us Against the World, there were so many attacks that came, just trying to put together the tour — whether it was from the lighting equipment, some of the staffing, the promoters, everything that was going to keep us from getting that message out.
CP: The divorce rate in the church is the same as the divorce rate in secular society. How have you been able to keep your marriage strong for 30 years?
Tamela: Divorce is not an option because we both came from families [in which] our moms had multiple marriages and both our parents had dealt with divorce. I could understand why my mom divorced her husband because I was in the house and it was more like a mental abuse that she was suffering.
For us, after we've seen it with our parents, we were like, we're determined that we're going to work through whatever situations that may come at hand. And that's kind of what we've done to work through everything.
CP: You both are so involved in the church and have been since you came together. How do you keep yourselves from getting distracted in your marriage by church obligations or church hurt?
David: We have to make sure that as a couple we're striving to make each other better. We're striving to make people around us better and make situations better, and hurt is gonna come.
Tamela: Hurt is hurt. Work hurt, family hurt, we've all been hurt by something that a family [member] has said. But for some reason it just sticks out like a sore thumb when it comes to the church. I really think it's just the enemy not wanting us to get what we need by being around [the church].
Of course, you gonna have some naysayers wherever [you are] and some people are just so strict. They are so heavenly bound that they are no earthly good. That's everywhere! So we have to look past that because you know, you're going to work past that at work, even if you ask to be put in another department, you know, you find a way to work around it and not quit. We can easily quit on church but we don't quit work easy, and we're easy to quit relationships.
David: That's where you being a unified front as a couple, as a family, has to come in because we can affect change even in the church. Statistically, the divorce rate in church is high, traditionally it didn't use to be that high [but] now it's all merged together with the world.
CP: What advice do you have for young couples on not quitting their marriage when times get hard?
David: We're a microwave generation, we're a, 'we have options generation.' There are so many options out there.
We think that the grass is greener on the other side until we get there.
CP: What practical maintenance tips can you offer?
Tamela: Try to outdo each other by outdoing each other, because nothing goes lacking and all the needs are being met on both sides. It's like you're not just trying to get your way but you're trying to make sure that the other person is taken care of. That's one way that we've learned that everything really goes hand-in-hand and it really works.
David: Maybe once or twice a year every couple should go back and recommit to those vows. Just simply go and look at them and understand what you made a promise, a covenant, an agreement, a martial contract to. Understand that, because we really didn't understand them the day we made those vows. Most of us didn't sit and study — in sickness and in health, for richer or poorer, for better or worse. We understood the better, but we didn't understand the worse.
Tamela: After you do the vows, ask each other, 'What do you need from me? This is what I need from you,' and vice versa.
CP: You also admit what it's been like in marriage through menopause and mid-life crisis. What can you share with couples who are older and have to face these changes after so many years together?
David: For me, it's to be in-tune with each other. We should be so in-tune with each other that we see the subtle changes that we go through. When you're in-tune and you understand, then you understand that something's different, something shifted, so be ready. I think what happens with a lot of couples that are dealing with menopause — because they're not so in-tune, when those shifts come, they're not ready and it throws them off. Then it's just like, 'OK, now we're, we've grown apart.' No, it's just a subtle imbalance in our lives so let's figure out how do we shift with this change.
Tamela: It can be difficult, even for us, as a woman to accept the things that are happening to us. Some things I didn't even realize until he said, 'You know you are being a little snappy.' You really don't see it.
Sometimes you have to have an examination and look in the mirror at yourself to fix those things if you want to stay committed to your relationship.
CP:  Us Against the World features a chapter on the art of arguing. How do you learn the art of confrontation?
David: We learned it the hard way!
Tamela: It came with time because a lot of times in our beginning stages, we'd say piercing things to each other. We were always trying to one-up each other. [But] in talking and communicating with each other I was like, 'You know those things that you said,' even if you forgive, you don't forget those things that are really like piercing to you. Over the years, those things turn into other things that we started noticing about each other, listening to each other, things of that nature, and that's kind of how we maneuvered through it.
David: We definitely learned that you have to communicate for understanding. Arguing is just communicating at a different level. You have to understand how you want to communicate, you want to communicate to get an understanding, not to get a point across.
Tamela: We all have our moments, there are moments that you may be vulnerable or you're really serious about whatever the issue is, and you take it to heart a little bit more than other issues that you argue or talk about.
CP: You guys have navigated having a blended family after discovering that David had a child before you two were married. Can you offer some pointers for other blended families?  
David: The first thing that a blended family has to be is unified. The husband and wife have to be unified. We've talked about the divorce rate in the church and how it's grown, also the blended family [rate] has grown as well.
The first thing that the couple have to be is unified. They have to know that, 'OK, listen, we're on one accord so when these things come,' 'cause these kids, they will try to throw a monkey wrench in the plan and then baby mama drama will come. But it won't come if we [the adults] are unified when it comes to discipline, and when it comes to how we are going to raise these kids.
CP: After a 30-year marriage, of course, there have been times of hurt. How can people get past hurt to grow stronger in their marriage?
David: A lot of times what you have to stop and do is understand that we're on the same team. We have a common goal we share, we just shared this thing and we want to see each other succeed.
[It's hard to forgive] when couples don't relate that — 'Look, I'm in it in it for you. I just want to make sure that at all cost, you win.'
Us Against the World: Our Secrets to Love, Marriage, and Family is now available. For more information on the book or the complementary album, click here.