Dead in 'Apparent Suicide,' Christian Candidate for Missouri Governor's Office Tom Schweich, Was Worried by Rumors He Was 'Jewish'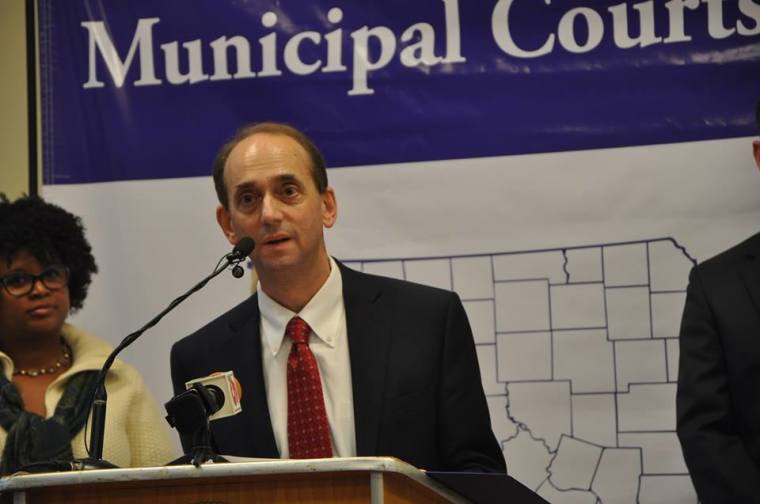 Tom Schweich, Missouri's Republican state auditor who was the frontrunner for the governor's office in the upcoming 2016 election who died in an "apparent suicide" at his home Thursday, was worried that his political rivals were planning to spread rumors that he was Jewish even though he was a member of a Christian church.
According to a report in the St. Louis Post-Dispatch, Schweich confided in Post-Dispatch Editorial Page Editor Tony Messenger on Tuesday morning that he believed John Hancock, the newly elected chairman of the Missouri Republican Party, had been misinforming people that he was Jewish. The Post-Dispatch notes that he was a member of the Church of St. Michael & St. George, an Episcopal congregation in Clayton.
The 54-year-old father of two was hospitalized Thursday following a "medical situation at his home," according to Clayton Police Chief Kevin Murphy in a KSDK report. He said Schweich suffered a self-inflicted gunshot wound and was pronounced dead at Barnes-Jewish Hospital's trauma center Thursday. An autopsy was expected to be performed at 7:30 a.m. Friday but officers indicated that the evidence so far points to suicide.
"There is nothing to suggest anything other than that [suicide] at this point. We are conducting an investigation," Murphy told KSDK.
As an investigation continues into motives behind the apparent act of suicide, calls Schweich made to the St. Louis Post-Dispatch and The Associated Press just minutes before his death address his concerns with rumors about his faith.
Schweich is heard asking Messenger to send a reporter to his home in a voicemail reportedly left just minutes before his death.
"Tony, this is Tom Schweich calling," Schweich notes in the recording posted on the paper's website. "You can have a reporter here at my house at 2:30."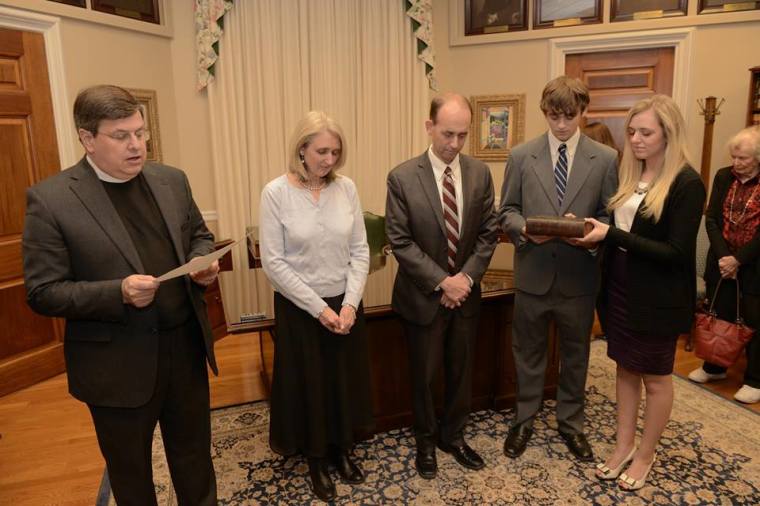 Minutes earlier he had called a reporter at the AP to discuss allegations that the head of the Republican Party in the state allegedly made anti-Semitic statements regarding his faith.
"This is only for you two and I hope you will not make it known that I am doing this," Schweich said. "To me, this is more of a religion story than a politics story, but it's your choice on who the reporter is."
Schweich reportedly told Messenger he believed the focus on his faith heritage was intended to harm him politically in a gubernatorial primary where many Republican voters are evangelical Christians. The Post- Dispatch highlighted that his grandfather was Jewish, and that Schweich was "very proud of his connection to the Jewish faith."
"He said his grandfather taught him to never allow any anti-Semitism go unpunished, no matter how slight," Messenger noted in a written statement posted on the paper's website.
David Leib, the AP reporter who spoke with Schweich, said the state auditor raised concern about the whisper campaign against him and appeared very worried this week.
"Naturally high-strung, Schweich seemed unusually agitated — his voice sometimes quivering and his legs and hands shaking — when he told an AP reporter on Monday that he wanted to hold a press conference to allege that Missouri Republican Party Chairman John Hancock had made anti-Semitic remarks about him," wrote Leib.
"Schweich postponed a planned press conference Tuesday. But he called the AP at 9:16 a.m. Thursday inviting an AP reporter to his home for a 2:30 p.m. interview and noted that a reporter from the St. Louis Post-Dispatch also had been invited. An AP reporter spoke with Schweich by phone again at 9:35 a.m. to confirm the upcoming interview," Leib continued.
The emergency call to police from Schweich's home came at 9:48 a.m.
Hancock, a political consultant, told the AP that he held meetings last fall with prospective donors for a project to register Catholic voters. He noted that if he had mentioned that Schweich was Jewish it was never in a derogatory way.
"I don't have a specific recollection of having said that, but it's plausible that I would have told somebody that Tom was Jewish because I thought he was, but I wouldn't have said it in a derogatory or demeaning fashion," Hancock said.
Schweich's death has sent shockwaves around the political community and triggered an outpouring of condolences.
"I join all Missourians in mourning the passing of State Auditor Tom Schweich, a brilliant, devoted and accomplished public servant who dedicated his career to making Missouri and the world a better place," said Gov. Jay Nixon in a statement on his death.
"From his courageous work to combat the illegal drug trade abroad in Afghanistan to his tireless efforts to protect the interests of taxpayers here in Missouri, Tom Schweich's exceptional intellect and unwavering dedication to public service left a legacy that will endure for many years to come. The First Lady and I send our most heartfelt condolences to Tom's wife, Kathy, and two children, Emilie and Thomas Jr."
At the state GOP's annual conference in Kansas City last weekend, Schweich wooed fellow Republicans citing his record of fighting corruption and waste as well as how his Christian beliefs informed this fight.
"Part of being a Christian is you gotta help people," Schweich said as his wife watched him from the back of a small conference room in the Kansas City Marriott Downtown, according to the AP.
A police source told the Post-Dispatch that Schweich's wife was in another room of their home Thursday when she heard him making phone calls then a gunshot. The source said Schweich was shot in the head.