Death of Rick Warren's Son a Call to Address Mental Illness, Samuel Rodriguez Says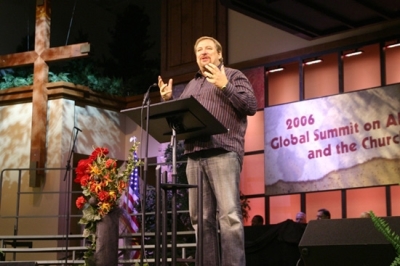 The tragedy of the 27-year-old son of Pastor Rick Warren taking his own life after a lifelong struggle with mental illness calls for a commitment by Christians to help create space for and minister to those with mental illnesses, says the Rev. Samuel Rodriguez, president of the National Hispanic Christian Leadership Conference.
"Our collective heart stands broken as a result of Pastor Rick Warren's loss; the passing of his son Matthew. We pray for healing and strength for the Warren and Saddleback family," said one of the most influential evangelical Hispanics in America in a statement Saturday.
"Yet, this tragedy facilitates an opportunity if not an obligation for the Christian community to address mental illness," said Rodriguez on the day Warren, an internationally known Christian leader at Saddleback Church in Lake Forest, Calif., made the announcement about his son.
Mental illness exists in and outside of the church community, said Rodriguez. "Christians struggle with depression and even suicidal thoughts. It does not make you less of a Christian. Just like heart disease or cancer does not dilute our Christianity, neither does mental illness."
However, Rodriguez added, "we must stand committed to 'creating space' and providing ministry to those that struggle with depression, and other mental illnesses." He suggested the church of Jesus Christ should partner with medical professionals to bring attention to "this silent illness with grace, compassion and love."
Suffering from mental illness is not a sin, the Hispanic leader underlined, and added, "Yet, not addressing it, may very well be."
In an email sent to his staff on Saturday, Pastor Warren described Matthew as "an incredibly kind, gentle, and compassionate man."
"He had a brilliant intellect and a gift for sensing who was most in pain or most uncomfortable in a room. He'd then make a bee-line to that person to engage and encourage them," Warren, the author of the multimillion-selling book, The Purpose Driven Life, continued. "But only those closest knew that he struggled from birth with mental illness, dark holes of depression, and even suicidal thoughts. In spite of America's best doctors, meds, counselors, and prayers for healing, the torture of mental illness never subsided. Today, after a fun evening together with Kay and me, in a momentary wave of despair at his home, he took his life."
Warren recalled that many years ago, after another approach had failed to give relief, Matthew said, "Dad, I know I'm going to heaven. Why can't I just die and end this pain?" But he kept going for another decade, Warren wrote.
Matthew's death sparked outpouring of prayers from Christian leaders.
"I too have had a son die, so I have a sense of the pain Rick and Kay are facing," fellow Southern California pastor Greg Laurie, whose son, Christopher, was killed in a car accident at the age of 33 about five years ago, posted in his blog. "But their circumstances are different and my heart goes out to them. At times like these, there really are no words, but there is the Word. There is no manual, but there is Emmanuel. God is with us. I know the Lord will be there for all of the Warren family and Saddleback Church as they grieve together. Looking forward to that day when God will 'Restore all things.' (Acts 3:21)"
Pastor Mark Driscoll posted on Facebook: "Teared up hugging and praying over my 5 kids today while praying for my friend Pastor Rick Warren whose 27-year-old son died. Please pray for his family & their church family."
"My heart is broken over the sad news of @RickWarren and @KayWarren1 losing their son today. Please keep them in prayer," fellow megachurch leader Bishop T.D. Jakes tweeted.
Evangelist Will Graham, the grandson of Rev. Billy Graham, said, "Please join me in praying for Rick Warren and his family as they mourn the death of his son Matthew. I pray that they sense God's peace that passes all understanding as they go through this valley."
Mike Huckabee posted on Facebook: "Rick Warren's 27 year old son died last night. Rick has been a friend of mine since we were in seminary. God has used Rick to touch the world. Now we need to join together and ask the world to touch him with our prayers and love."
World Evangelical Alliance Secretary General, Dr. Geoff Tunnicliffe, said, "My heart goes out to my dear friends Rick and Kay at the loss of their son. Please join me in prayer for the Warren family."
Warren said he was grateful to church members and supporters for their "love and prayers," saying "we love you back."