Democrats React to Al Franken Sexual Assault Allegations, Now Say Bill Clinton Should Have Resigned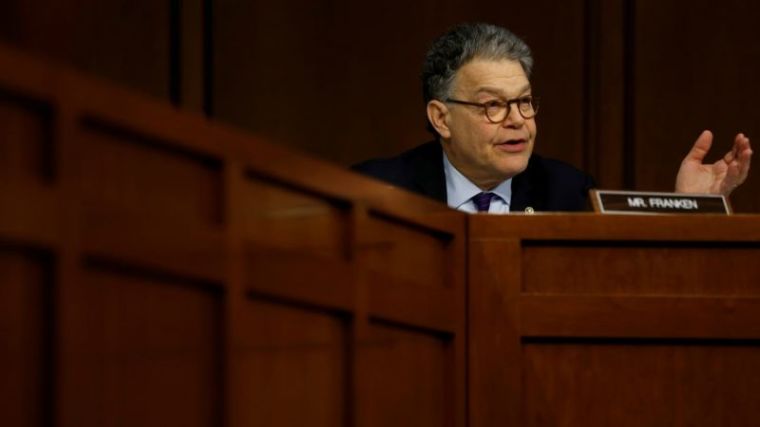 Congressional Democrats are speaking out after sexual misconduct allegations were lodged against Sen. Al Franken, with many condemning the liberal lawmaker but stopping short of saying he should resign. Sen. Kirsten Gillibrand, D-N.Y., said, however, that former President Bill Clinton should have resigned when his affair with an intern came to light in the 1990s, amid other sexual assault allegations.
In the midst of the ongoing media frenzy revolving around a growing list of famous men accused of some form of sexual misconduct, national attention turned to the Minnesota senator Thursday when Los Angeles talk show host Leeann Tweeden wrote a blog describing how Franken gave her an unwanted kiss and put his hands on her breasts when she was asleep during a return flight from a 2006 USO tour in Afghanistan.
"You knew exactly what you were doing. You forcibly kissed me without my consent, grabbed my breasts while I was sleeping and had someone take a photo of you doing it, knowing I would see it later, and be ashamed," Tweeden wrote on KABC.
Franken was a writer and comedian on "Saturday Night Live" before being elected senator in 2008. Ironically, a skit that aired on "SNL" before the 2016 presidential election referred to the women who accused Clinton of committing sexual assault against them as his "mistresses," not his victims.
Women's — and men's — experiences of sexual assault and harassment are increasingly being made public as part of the #MeToo campaign and prominent men on both sides of the political aisle have found themselves having to answer for actions they committed in the past.
While much of the media's attention has been focused on alleged sexual misconduct of President Donald Trump and the recent allegations against Republican U.S. Senate nominee from Alabama Roy Moore, the troubling behavior of prominent liberals like Hollywood producer Harvey Weinstein, comedian Louis C.K. and now, Franken, have also been exposed.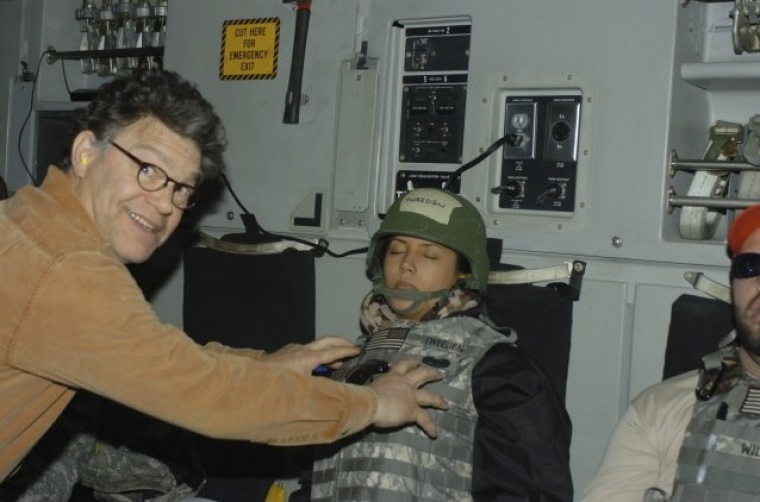 "As a general matter, we have been far too tolerant and dismissive of past allegations," Democratic Sen. Heidi Heitkamp of North Dakota said in responding to the news about Franken. "We are now seeing a sea change and that is very important. All of us must move forward together to prevent these actions, and when they do happen, empower women to speak out and impose appropriate consequences."
Both Republican and Democratic lawmakers have lead the charge in calling on Franken's behavior to be investigated by the Senate Ethics Committee. Although a handful of celebrities and two Democratic gubernatorial candidates in Minnesota have called on Franken to resign, none of his liberal colleagues in the Senate have done so.
Conservative commentator Ben Shapiro of The Daily Wire said Democratic senators and Franken himself calling for an ethics investigation is "total nonsense," because between 2007 and 2016 there were 613 Senate investigations that resulted in zero punishments. Likewise, there is photo evidence of Franken committing assault. Franken has also been accused of harassment.
Democratic Sen. Claire McCaskill of Missouri said in a tweet that she was "shocked" and "concerned" by the allegations against her colleague from Minnesota.
"The behavior described is completely unacceptable. Comedy is no excuse for inappropriate conduct, and I believe there should be an ethics investigation," she wrote.
Senate Minority Leader Chuck Schumer, D-N.Y., also called for an ethics investigation.
"Sexual harassment is never acceptable and must not be tolerated," Schumer said in a statement Thursday. "I hope and expect that the ethics committee will fully investigate this troubling incident as they should with any credible allegation of sexual harassment."
Although the Democrats have been swift in their condemnation of Franken, CNN's Chris Cillizza points out that referring Franken's matter to an ethics committee is just one way for Franken to "buy time" and hope that something else will come along and drive the media attention off of him.
As Democrats were criticized by conservatives for overlooking Clinton's alleged sexual assaults and misconduct as governor of Arkansas and during his presidency, Sen. Kirsten Gillibrand was asked in an interview with The New York Times whether she thinks Clinton should have resigned over the Monica Lewinski affair.
"Yes, I think that is the appropriate response," Gillibrand, a supporter of Hillary Clinton, said.
Gillibrand, however, seemed to suggest that sexual assault wasn't a crime 20 years ago when Clinton was in the Oval Office.
"Things have changed today, and I think under those circumstances there should be a very different reaction," Gillibrand asserted. "And I think in light of this conversation, we should have a very different conversation about President Trump, and a very different conversation about allegations against him."
A spokesman later clarified Gillibrand's remarks to say that had Clinton's misconduct happened today, he should be compelled to resign.
Conservatives might argue that Gillibrand's argument about how things were different during Clinton's presidency might also be an argument used to defend Moore. Yet, a number of Congressional Republicans are calling on Moore to leave the Senate race if the allegations against him are true. 
Many of the allegations against Moore happened in the late 1970s, including one allegation that he inappropriately touched a 14-year-old girl when he was 32 years old.
Gillibrand isn't the only liberal who thinks Clinton should have resigned. Liberal writer Matthew Yglesias wrote an op-ed Wednesday titled "Bill Clinton Should Have Resigned."
"My guess is that in the years to come, most left-of-center people born in the 1980s will say that if they'd been old enough to have a view on the matter back in 1998, they would have favored pressuring Clinton to resign," Yglesias wrote. "I hope that is the case, at least. Most young Democrats backed Bernie Sanders over Clinton in 2016 and are accustomed as a result to the idea of an emotionally and intellectually hostile attitude toward 'the Clintons.'"
While some liberal pundits are now calling on Franken to step down, others pundits would rather have him vote in support of abortion than give up his seat.
"In other words, if we set this precedent in the interest of demonstrating our party's solidarity with harassed and abused women, we're only going to drain the swamp of people who, however flawed, still regularly vote to protect women's rights and freedoms," feminist writer Kate Harding wrote in an op-ed in The Washington Post. "The legislative branch will remain chockablock with old, white Republican men who regard women chiefly as sex objects and unpaid housekeepers, and we'll show them how staunchly Democrats oppose their misogynistic attitudes by handing them more power."
Tweeden also said in an interview that she doesn't want Franken to resign.