3 Areas Where Democrats Hope to Work With President-Elect Trump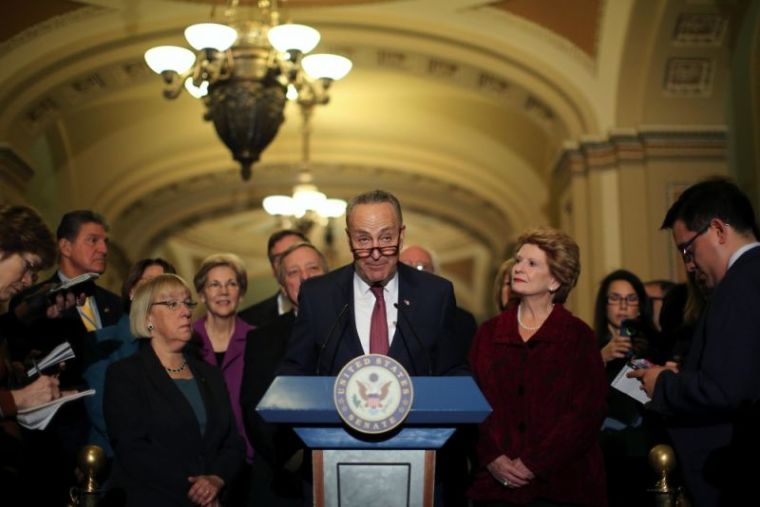 Speculations continue to mount as to how President-elect Donald Trump will govern, and several prominent Democrats are vocalizing potential areas of agreement where their party can work with the new administration.
On NBC's "Meet The Press" Nov. 20, soon-to-be Senate Minority Leader Charles Schumer, D-N.Y., said, "I hope on the promises [Trump has] made to blue collar America on trade, on carried interest, on infrastructure, that he'll stick with them and work with us."
Schumer has received more donations from Trump, about $9,000, than any other U.S. senator. 
Even some of the Trump's fiercest critics on the left, like Sen. Elizabeth Warren of Massachusetts, are highlighting issues where they are in agreement with Trump.
Warren noted that Trump "spoke of the urgency of rebuilding our crumbling infrastructure and putting people back to work. He spoke to the very real sense of millions of Americans that their government and their economy has abandoned them. And he promised to rebuild our economy for working people," The New York Times reported last week. 
Infrastructure spending
While Democrats are voicing support for Trump's call to rebuild deteriorating roads and bridges, some disagreement is emerging over how to finance it.
"I do think it's possible under certain terms we could get a major infrastructure bill done . . . maybe even in the first 100 days, Schumer said, according to a Fiscal Times report.
"But that infrastructure bill has to have certain things for us to support it ... It can't just be tax credits. That won't be enough."
Republican leaders, on the other hand, want the bill to be paid for rather than add to the national debt. 
"It's got to be fiscally responsible," House Transportation Committee Chairman Bill Shuster, R-Pa., told Politico. 
The Trump transition team has also suggested an infrastructure bank, which would pool federal, state and private resources for projects, an idea that Trump criticized when Hillary Clinton proposed it. 
Foreign trade
Of all the issues Trump campaigned on that signaled a departure from traditional Republican orthodoxy, trade arguably tops the list. Insofar as his victory is credited to his message resonating with working class people in states that haven't voted Republican in a presidential election since the 1980s, renegotiating trade deals, particularly the North American Free Trade Agreement, is seen as a high priority.
Many Democrats also support Trump's plan to sink the Trans-Pacific Partnership, President's Obama's 12-nation trade deal that Congress did not ratify.
According to Bloomberg Tuesday, Democratic Representative Marcy Kaptur of Ohio believes that on trade, Congress has been "comatose" on the issue for more than thirty years.
"Democrats have to meet the president-elect halfway to create a new trade model for this country," she said, noting that a New York billionaire eclipsed them.
Left-wing filmmaker Michael Moore, whose pre-election prediction about Trump's electoral success in the Rust Belt proved correct, believes trade policy helped Trump win Michigan.
When Donald Trump came to the Detroit Economic Club during the campaign and promised to impose a 35% tariff on cars if Ford Motor company executives closed their factories in Detroit and build them in Mexico, "it was music to the ears of people in Michigan, and Ohio, and Pennsylvania, and Wisconsin," he said.
Paid parental leave
Democrats have frequently pushed for laws guaranteeing paid leave for parents after children are born, a source of frustration for many who point out the U.S. is the only developed country that does not have this. Liberal states like Rhode Island, California, and New Jersey have some form of paid parental leave, but efforts on the federal level have failed to gain traction.
But all that may be changing.
In a September 13 speech Trump — standing next to daughter Ivanka who emphasized this issue in her remarks at the Republican National Convention and elsewhere on the campaign — articulated his plan proposing that parents be able to deduct their child care expenses from their income taxes. Additionally, Trump said that "by recapturing fraud in the unemployment insurance program we can provide six weeks of paid maternity leave to any mother with a newborn child whose employer does not provide the benefit."
In a speech just last week in Washington D.C., Senator Bernie Sanders of Vermont, who, although an independent, represents the ultra-left wing of the Democratic party, called Trump's maternity leave plan "a start," and promised to work with him "if he [was] honest about that."