Derrick Ward Gets Death Threats for Saying Michael Sam Shouldn't Have Kissed Boyfriend on ESPN; Don Jones Fined for 'Horrible' Tweet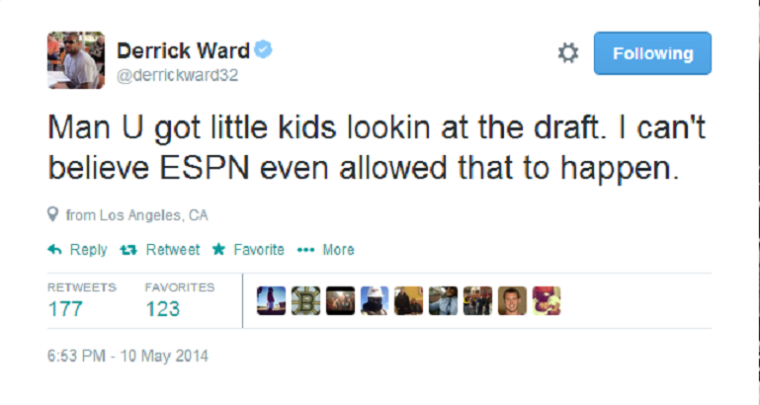 Retired and current NFL players came under fire over the weekend for publicly protesting the kiss openly gay football player Michael Sam planted on his boyfriend on national television Saturday night after learning the St. Louis Rams made him the 249th overall choice in the 2014 NFL draft.
While gay advocates celebrated the display between Sam and his boyfriend, many onlookers, including retired running back for the New York Giants Derrick Ward and current Miami Dolphins safety Don Jones, 23, thought it was inappropriate.
"Man U got little kids lookin' at the draft. I can't believe ESPN even allowed that to happen," Ward tweeted Saturday after the controversial kiss.
According to thephinsider, after seeing the kiss on ESPN Jones tweeted "omg." When asked if he was talking about the kiss, Jones replied: "horrible."
Since then, both men have been under attack for their reactions.
Ward explained in a series of tweets on his Twitter page that he has been getting death threats.
"Gotta love America. Home of the greatest sh*t talkers on earth. The past 24hrs I've been accused of being prejudice [and] a bigot. Had a few people say they wanted to kill me and my kids. I was the worst player in the NFL," he noted.
"They hope I die. And my kids killed. All because I said I didn't think it was appropriate for someone to shove cake down another person's face then tongue them down on national TV. Not once saying anything about the person's sexual preference. But that's America for you. All I can do is smile and say thank you for seeing things that aren't there!"
Ward, however, remained unshaken by the threats.
"I'll continue to speak my mind because it's my God-given right and supposedly you can do it without being frowned upon here in America," he noted.
The threats continued to pour in with many challenging him that he would never have made those comments if he were still in the NFL.
Meanwhile, Jones' Twitter page, which was once public, has now been locked and is unavailable to the public.
According to ESPN, Jones met with the Dolphins' leadership Sunday before a ruling was made on his punishment for the tweet. He was fined and suspended from the team until the completion of sensitivity training.
"We were disappointed to read Don's tweets during the NFL Draft," Dolphins head coach Joe Philbin said in a statement. "They were inappropriate and unacceptable, and we regret the negative impact these comments had on such an important weekend for the NFL. We met with Don today about respect, discrimination and judgment. These comments are not consistent with the values and standards of our program."
"We will continue to emphasize and educate our players that these statements will not be tolerated," he added.
Jones has also apologized to Sam.
"I want to apologize to Michael Sam for the inappropriate comments that I made last night on social media," Jones said Sunday. "I take full responsibility for them and I regret that these tweets took away from his draft moment.
"I sincerely apologize to Mr. [Stephen] Ross, my teammates, coaches, staff and fans for these tweets. I am committed to represent the values of the Miami Dolphins organization and appreciate the opportunity I have been given to do so going forward," he added.