Dianne Feinstein Defends 'Religious Test' Questioning of Trump's Catholic Judicial Nominee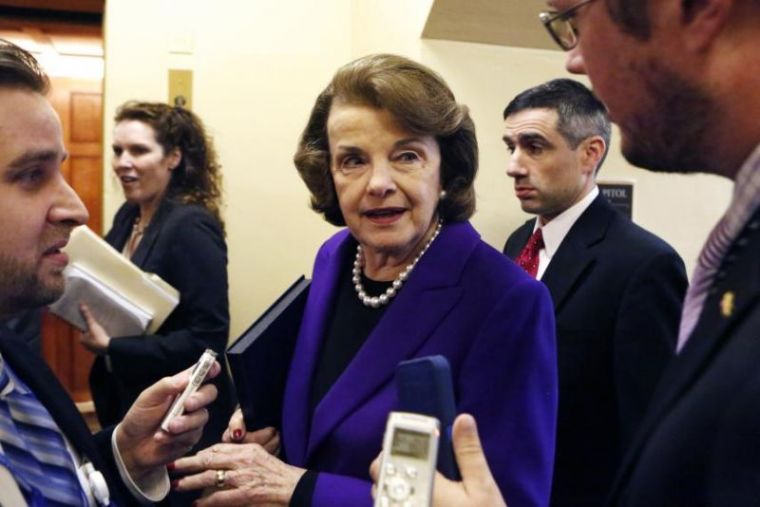 Sen. Dianne Feinstein is defending her line of questioning amid significant criticism for grilling one of President Trump's judicial nominees, Amy Coney Barrett, over her Catholic beliefs earlier this month.
"All we have to look at are [Barrett's] writings," Feinstein explained Sunday on CNN's "State of the Union." "And in her writings she makes some statements which are questionable, which deserve questions."
The Democrat from California noted that she believes Catholicism is a great religion and she respects it but that Barrett's remarks in her past speeches were problematic.
"I'm a product of Catholic education," Feinstein said. "I sat in doctrine classes for four years for five days a week."
"I've known many of the archbishops who have been in my community. We've had dinner together, we've spoken together over many, many decades and I've tried to be helpful to the Church whenever I could."
Barrett is Trump's nominee to fill a seat on the U.S. Court of Appeals for the Seventh Circuit.
On Sept. 6, during Barrett's Senate confirmation hearing, Feinstein said that when one reads Barrett's speeches it appears that the Catholic "dogma lives loudly" within her. Fellow Democratic Sens. Dick Durbin of Illinois and Mazie Hirono of Hawaii also echoed the sentiment of Feinstein's questions.
In an address to the 2006 graduating class of Notre Dame Law School, Barrett told graduates: "Your legal career is but a means to an end, and ... that end is building the kingdom of God. ... [I]f you can keep in mind that your fundamental purpose in life is not to be a lawyer, but to know, love, and serve God, you truly will be a different kind of lawyer."
In another article on the death penalty that Barrett wrote in 1998, she said: "Judges cannot — nor should they try to — align our legal system with the Church's moral teaching whenever the two diverge. They should, however, conform their own behavior to the Church's standard. Perhaps their good example will have some effect."
The Roman Catholic Church opposes capital punishment in all cases with very few exceptions. What Barrett had in mind was that judges should recuse themselves from such cases to ensure against bias.
Criticism of Senate Democrats' remarks,  particularly Feinstein's, has been significant.
Both Princeton University President Christopher Eisengruber and Notre Dame President John Jenkins decried Feinstein's remarks by maintaining that that they contained anti-Catholic animus. Jenkins, who is also a Roman Catholic priest, called her questions "chilling." As many others have noted in response to her comments, Eisgruber made a point to remind the senator that Article VI of the Constitution forbids employing any "religious test" for public office. 
Likewise, Noah Feldman, a Harvard Law professor, argued in a column for BloombergView that Feinstein's questions were inappropriate and that she should apologize to Barrett for them.
"If a Catholic senator had asked a Jewish nominee whether she would put Israel before the U.S., or if a white senator had asked a black nominee if she could be an objective judge given her background, liberals would be screaming bloody murder. Feinstein's line of questioning, which was taken up by other committee Democrats, is no less an expression of prejudice," Feldman said.