Did an Ivy League Dean Really Welcome ISIS Fighters to Host a Training Camp on His Campus?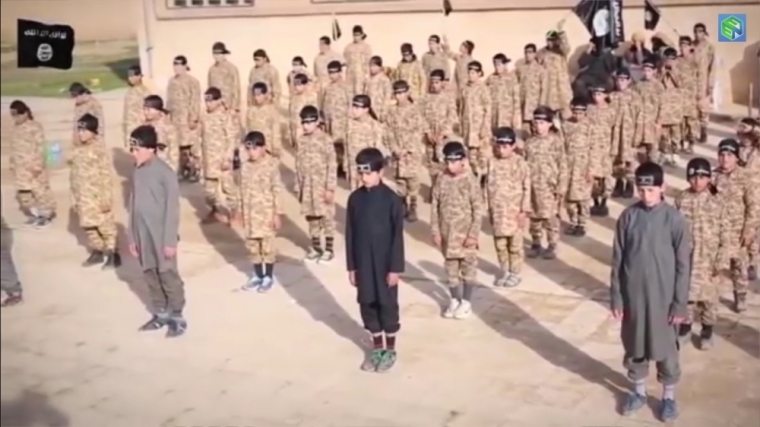 A recently released undercover investigative video purports to show a dean at Cornell University telling a prospective Moroccan student that the school would welcome student groups to invite ISIS fighters to conduct training camps for students on campus, but the school has since decried the video as misleading.
Project Veritas, an investigative nonprofit firm that claims to expose corruption, released a video on Tuesday where one of its reporters disguised himself as a student from Morocco looking to start a "humanitarian group." The undercover reporter went to visit with Cornell's assistant dean for students, Joseph Scaffido, in his office to ask him questions that he has about starting up a student group on campus.
After the reporter introduces himself, he then asks about what types of student group activities Cornell allows and doesn't allow on its campus.
"I think maybe be nice to start a humanitarian group that supports the distressed communities, a humanitarian group in the Middle East, northern Iraq, Syria," the reported said. "I think it would be important for especially these people in the Islamic State in Iraq and Syria, the families and the freedom fighters in particular and their families."
Scaffido nodded in agreement and assured the reporter that a number of student groups on campus already provide humanitarian needs to those in distress around the world.
The reporter further asked if Cornell would allow a student group to support the the Palestinian militant movement, Hamas.
"The university is not going to look at different groups and say you're not allowed to support that group, because we don't believe in them or something like that," Scaffido explained. "I think it's just the opposite. I think the university wants the entire community to understand what's going on in all parts of the world."
The reporter then got a little bolder in the wording of his questions regarding the Islamic State and asked about the possibility of bringing in a "freedom fighter" to speak with the group.
"Maybe, you know, get a group that educates on the Islamic State in Iraq and Syria, and just educate people, maybe bring them in," the reporter said. "Maybe we could bring in a freedom fighter to speak. Would that be possible? That would be great. Just to hear the situation, what it is like, their lives and why they are fighting. I mean, do we know why they are fighting?"
Scaffido responded saying that the school was open for group's to bring in guests and stated that groups can apply for up to $5,000 in university funding to help pay for a speaker. He added that groups can host speakers in one of the school's academic halls or in Bailey Hall, which holds up to 1,300 people.
"I think, programs like that really do have a good place here at Cornell." Scaffido said.
The reporter then asked a follow-up question about whether the school would allow groups to bring in freedom fighters to hold training camps for students.
"You would be allowed to do something like that," Scaffido stated. "It's just like bringing a coach to do a training on a sports team or something."
The video's narrator clamored about how Scaffido's remarks clearly condoned ISIS training camps on Cornell's campus.
"We couldn't believe what he said and we had to listen to the tape a couple of times," the narrator said. "Assistant dean Scaffido was actually comparing an ISIS fighter running a training camp to a coach working with a sports team."
Since the release of Project Veritas' video, a number of news organizations have picked up the story and run with the sensationalism that a dean of a prestigious Ivy League school was actually welcoming ISIS on his campus.
In a statement issued to The Cornell Chronicle, Cornell President David Skorton called the Project Veritas video a "shoddy piece of journalism" and asserted that any notion that Cornell would allow ISIS training camps on its campus was "ludicrous."
"Project Veritas, the organization behind this shoddy piece of 'journalism' has been repeatedly vilified for dishonest, deceitful activity," Skorton's statement reads. "It is shameful that any individual would pose as a student facing racial discrimination at another university, ask leading questions on hidden camera about Cornell's tolerance for differing viewpoints and backgrounds, and then conveniently splice together the resulting footage to smear our assistant dean and our university."
"After speaking with Assistant Dean Scaffido, I am convinced that he was not aware of what he was being asked," the statement continued.
An op-ed written by Jeff Stein of the Ithaca Voice explains just how deceitful the interviewer's questioning was.
"Why pretend to ask the Cornell official about a 'humanitarian group' helping victims in Syria and Iraq if they want to learn Cornell's stance on the group universally known as ISIS?" Stein asked. "We know the answer: Because the interviewer and [Project Veritas founder James] O'Keefe are more interested in getting a video they can use to grab attention than in actually learning what's happening on campus."