Dinesh D'Souza Admits to Errors in Judgment in Personal and Political Life, Says He's Come to Point of Restoration (INTERVIEW)
ANAHEIM, Calif. – Conservative author and filmmaker Dinesh D'Souza, who recently pleaded guilty to campaign finance fraud, admits that the last couple of years of his life have been a whirlwind that includes both political and personal failures, as well as successes and restoration.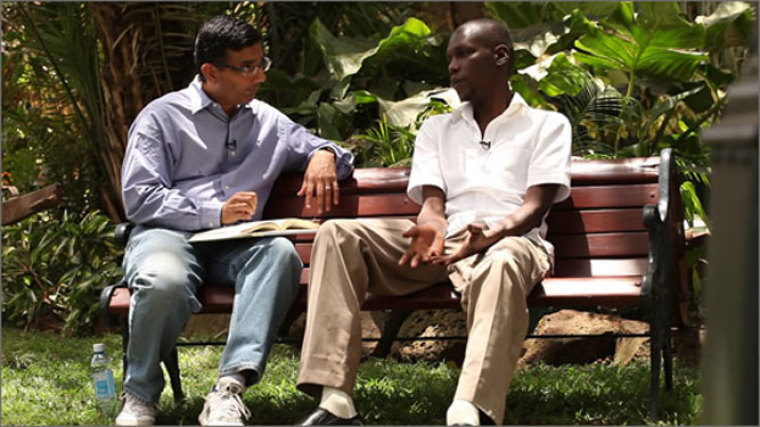 While in the midst of putting the finishing touches on and promoting his new film, "America," due out in July, D'Souza maintains that his roller coaster life – which began with the box office success of "2016: Obama's America," and then moved to an alleged affair during a longtime separation from his wife that ultimately resulted in him resigning from King's College, and most recently, his confessed campaign fraud, with sentencing phase coming this September – is now moving toward stability.
"I feel its been at times a little crazy and at times a little surreal, perhaps no more so than recently because of the whole trial, [and] the criminal prosecution. It's something that I never really expected or thought that I would be facing," D'Souza told The Christian Post on Tuesday. "But I've tried to face it with honesty and dignity."
He explained that in the summer of 2012, he was going through a time that was "emotionally overwhelming" for him.
"It was the flurry of '2016,' the movie was in full swing. I was at the same time running a college, and I was at the same time marketing a book, and speaking. Everything was a whirlwind and I think part of that got to me and so I made decisions then that I would not have made in cooler moments," said D'Souza, 53.
D'Souza, who now lives in La Jolla, California, admitted to exceeding donor limits in 2012 by arranging for others to give to the New York Senate campaign of Wendy Long.
In regards to the decision to help Long in the way he did, he told CP: "I literally did it with five minutes of thinking. In other words it was not something I dwelled on. Things were crazy. I see my friend, she was struggling in her campaign, and I wanted to help her. So, it was a short cut I should not have taken. It was an error of judgment, but it was not an error of judgment motivated by anything other than a desire to help her. In my haste and chaos of life I chose the wrong way."
D'Souza says he "spent a year-and-a-half unwinding that tape and dealing with that issue."
"Similarly, I made some personal errors of judgment that were again as a result of stress and the chaos at the time," he said. "I look back and I've learned from it. I realize that sometimes I get so monomaniacally focused on what I'm doing that other things get sidelined. People say, 'Well you are so smart, how can you do something so stupid?' But smart people sometimes do focus on 'x' and neglect other things that they should be paying attention to, but they don't." About this period, which included "2016," a critical look at Obama, D'Souza said, "There were times when I felt that I was running against Obama myself. I was like a political candidate in a whirlwind."
He also describes this period in his life two years ago as one in which he was very lonely, but "not in the obvious sense of the term, but what I mean is I was sort of like a billiard ball being moved in twenty different directions by lots of different people, but I was doing it by myself. I didn't actually have a stable marriage at all. I had been in a state of complete separation from my wife for two years previous."
D'Souza explained that he feels like he's restored a "kind of an equilibrium to my life balance."
"I am surrounded by a group of strong and committed Christian men, about half-dozen of them, and I travel with them and use them as a sounding board, not only for personal advice but for general wisdom," he said. "It's good. I've never had that kind of a male fraternity of Christians. They are just friends and it's good for me."
D'Souza says he is now single and focused on family life, which includes spending time with his college-aged daughter who will be home for the summer.
"It's taken me almost a year-and-a-half to come to a point of restoration and I feel like I'm there now and I can build from here. So, I'm in a good point in life."
His career plans include making a film that includes several of the atheists he has debated as a Christian apologist.
"My next plan is not so much to go debate those guys, but to draw them into a film that allows them to articulate their views and that engages them," D'Souza explained. He believes that "if you want to make a case for God, you allow for those opposed to the idea of God to make their case, too."
"I think there's a worldwide hunger for an alternative to the radical secularism that's out there," he said.
Dinesh D'Souza's 'America' Movie to Feature Megadeth Founder's Heavy Metal National Anthem (VIDEO)