Dinesh D'Souza Avoids Jail Time, Sentenced to 5 Years Probation for Campaign Finance Law Violation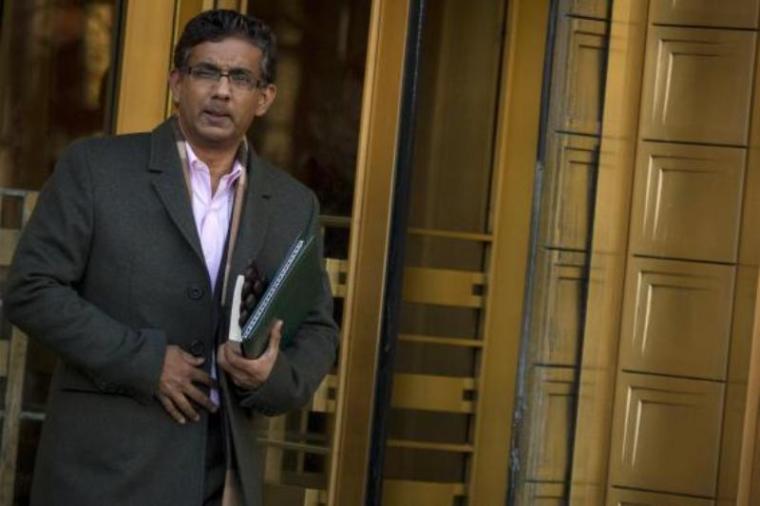 Conservative author and filmmaker Dinesh D'Souza avoided jail time and instead was sentenced by a federal judge on Tuesday to spend eight months in a community confinement center during five years of probation after pleading guilty to a campaign finance law violation.
D'Souza, 53, admitted last May to exceeding donor limits in 2012 by arranging for others to give to the New York Senate campaign of Wendy Long, a Republican. He illegally reimbursed two "straw donors" who donated $10,000 each to what turned out to be Long's unsuccessful campaign.
"I'm thankful and relieved that the judge refused all attempts by the government to lock up my friend Dinesh D'Souza," said Gerald Molen, the Oscar-winning producer of D'Souza's 2012 documentary, "2016: Obama's America," upon hearing the sentence. "Putting him behind bars would have served no useful purpose. I commend the judge for his action."
U.S. District Judge Richard Berman also issued D'Souza a $30,000 fine and ordered him to do one day of community service a week during his probation.
D'Souza told Berman before being sentenced, "It was a crazy idea, it was a bad idea. I regret breaking the law."
Prosecutors argued against the claim that D'Souza was "ashamed and contrite" and sought a 10- to 16-month prison sentence.
The former policy adviser to President Ronald Reagan and former president of The King's College told The Christian Post in a previous interview that the decision to help Long in the way he did was wrong.
"I literally did it with five minutes of thinking. In other words it was not something I dwelled on. Things were crazy," D'Souza said. "I see my friend, she was struggling in her campaign, and I wanted to help her. So, it was a short cut I should not have taken. It was an error of judgment, but it was not an error of judgment motivated by anything other than a desire to help her. In my haste and chaos of life I chose the wrong way."
D'Souza said during the interview done in May that he "spent a year-and-a-half unwinding that tape and dealing with that issue" and added that he's restored a "kind of an equilibrium to my life balance."
"I am surrounded by a group of strong and committed Christian men, about half-dozen of them, and I travel with them and use them as a sounding board, not only for personal advice but for general wisdom," he said. "It's good. I've never had that kind of a male fraternity of Christians. They are just friends and it's good for me."