Disciples of Christ Elects First Black Female Leader of an American Protestant Denomination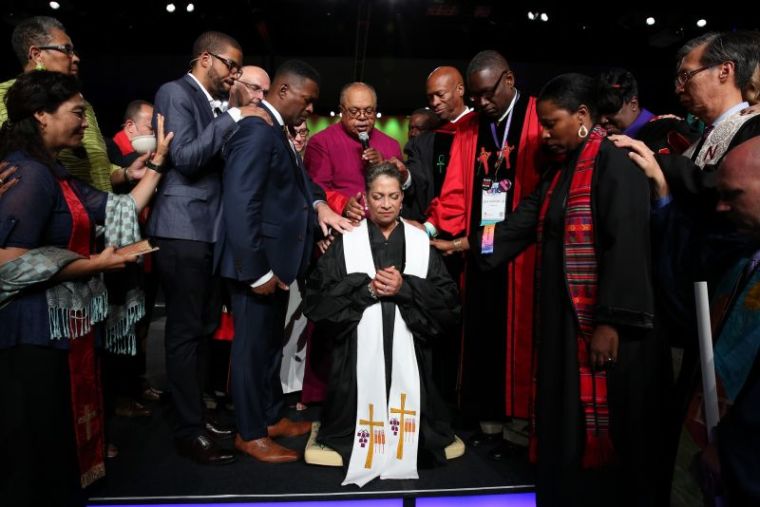 The Disciples of Christ have elected an African-American woman to head their church, a first for any Mainline Protestant denomination.
At their biennial General Assembly meeting in Indianapolis, Indiana, church representatives overwhelmingly approved on Sunday the election of the Rev. Teresa Hord Owens.
The installation service for Owens was held on Wednesday at the Indiana Convention Center in Indianapolis.
Cherilyn Williams, spokeswoman for the Disciples of Christ's Office of General Minister and President, told The Christian Post that the atmosphere for the General Assembly vote was "joyful and hopeful."
"There was no opposition stated in the business session where she was elected and the social media has been overwhelmingly positive," said Williams.
"While we have had many of our ministries led by African-Americans and many of our elected moderators [serving] two-year volunteer terms who were African-American, this is the first time our head of communion has been African-American."
While being majority white, the Disciples of Christ has had an African-American presence in their churches going back to the early 19th century.
Williams explained that the denomination has long emphasized programs meant to combat racism and stress racial reconciliation.
Regarding her plans as president, Hord Owens said in a statement provided to CP that at a time of national divisiveness, civility and unity would be strong themes.
"We need to stop demonizing differences as deficiencies. We should seek to understand, to work through our differences in priorities, opinions, methods, and goals," she said.
"This will not be easy, but imagine what an example this will be for the world if we can bridge the gaps in politics, identity, geography and theology."
Williams told CP that she believes Hord Owens "is particularly qualified to do this," as the new president has about 20 years of experience working in diverse corporate America settings in addition to her church background.
"I would echo Rev. Hord Owens in saying that we hope that we can set an example of seeking to understand and respect one another," said Williams.
Hord Owens' election marks the latest example of African-American clergy advancing into prominent leadership roles within predominantly white Protestant denominations.
In 2012, the Southern Baptist Convention, the nation's largest Protestant sect, elected its first African-American president, Pastor Fred Luter Jr. of Franklin Avenue Baptist Church in New Orleans, Louisiana.
In 2015, The Episcopal Church elected and installed its first African-American Presiding Bishop, the Rev. Michael Curry, former bishop of the Diocese of North Carolina.
Hord Owens' election as president of Disciples of Christ comes a couple months after the Right Rev. Jennifer Baskerville-Burrows became the first African-American female to serve as bishop of an Episcopal Diocese, specifically the Diocese of Indianapolis.