'Do You Believe' Star's Bizarre Response to Criticism of Women's Roles in 'God's Not Dead' Follow-Up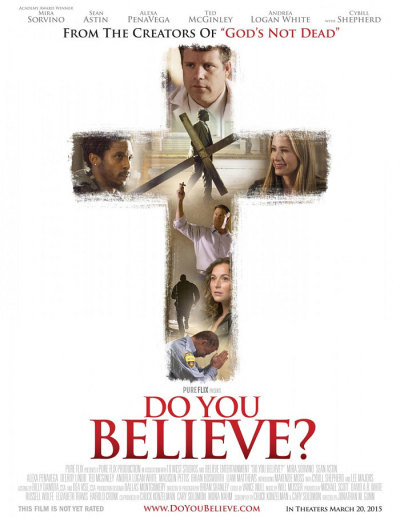 The star of PureFlix's "Do You Believe" Ted McGinley offered his take on the female roles in the follow-up to "God's Not Dead," citing that women are "closer to God" but prone to fighting amongst themselves.
In select theaters across the nation today, "Do You Believe" follows a dozen different people whose lives unexpectedly intersect by the power of God, whether they believe it yet or not. Following the staggering success of "God's Not Dead," "Do You Believe" stars McKinley as Matthew, a pastor who learns to be bold in his beliefs and take spiritual action. However, other roles in the drama offer only weak female characters. The film, which stars actresses including Cybill Shepherd, portrays four different Christian wives; each of whom require convincing and even coercion from their husbands on any major realization or decision.
Although each Christian wife is portrayed as a slow learner in comparison to their husband in "Do You Believe," McGinley defended the film by citing two instances of a female character "coming around first" to both the suffering of a soldier with PTSD as well as the occurrence of a miracle. Furthermore, the former "Happy Days" star linked the miracle of childbirth to being close to God while speaking to The Christian Post.
"When I compare myself to my wife, my mom, to women in general, I don't come close to their level of being in touch with the world and the miracle of life," McKinley explained to CP. "I look at my two kids - I have two boys that came out of my wife! That is a miracle, for me that's all I need. The way the human body works and functions, that is a living miracle. My wife - her level of connection - that to me is where women stand in relation to men. I feel that I'm a step below. As far as closer to God."
McKinley then went on to make a bizarre reference to the findings of an evolutionary psychologist, including an idea surrounding women's interactions with other women.
"I was reading something years ago from an evolutionary psychologist and he was talking about how women can eat each other alive," the actor stated. "You put them in a room and pretty soon they'll find an issue. Even though they love each other, eventually, there will be a problem, right? Give them a project to do, eventually there will be an issue."
The actor compared the behavior of men and women before relating female conduct to early humanity and the primal drive to procreate.
"Guys - we understand there is a pecking order: where do I stand, tell me what to do, fine, I'll do it," McKinley explained. "Women sometimes, I don't know why, I think it comes back to in early cave man [days]. Basically, in order to procreate, women had to find a way to separate their man, they had to get the male away from the other women, so that they could procreate. So the problem of keeping each other out was part of that procreation process. It was kind of an interesting argument that this guy was making and I thought, 'This kinda makes sense that sometimes they can't play nice' - it's part of that process. Now you see a huge movement where women really want to work together and change how it works. I'm anxious to see how it goes."
As for the actor's wife, actress GiGi Rice allegedly enjoyed "Do You Believe" after she was allowed to see it.
"She loved it," McKinley said. "I didn't let her see it - I wouldn't do the PR until I saw the film, and so I watched it, but I wouldn't let her watch it with me because I wanted her to see it at the premiere and I could really get that experience."
Nevertheless, "Do You Believe" encourages Christians to be bold in their faith, and McKinley's role held a special significance to him.
"The cross means forgiveness, it means everlasting life," he told CP. "I believe it is the way and it is the truth. For me personally, it means I'm never alone. As a man, as you go through your life, there's no way anybody gets out without being bloodied. But even in the deepest darkest moments I realize that I'm not alone and I feel bad for people without faith because they don't have that comfort. Before I do anything, there is a connection, God knows and I know, that's all I need."
Watch the trailer for "Do You Believe" here.