Suspect arrested for firebombing of pro-life group after 10-month search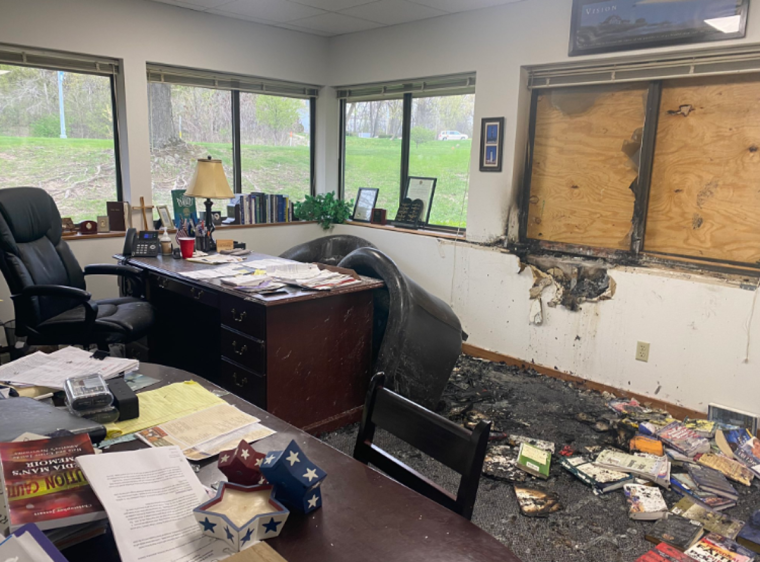 Over 10 months after the firebombing of a pro-life organization's headquarters in Madison, Wisconsin, the U.S. Department of Justice has announced an arrest in connection with the attack.
The U.S. Attorney's Office for the Western District of Wisconsin released a statement Tuesday announcing the arrest of Hridindu Sankar Roychowdhury, 29, in Boston, Massachusetts, on one count of attempting to cause damage by means of fire or an explosive.
Assistant Attorney General Matthew Olsen of the Justice Department's National Security Division said "Roychowdhury used an incendiary device in violation of federal law in connection with his efforts to terrorize and intimidate a private organization," referring to Wisconsin Family Action.
Wisconsin Family Action, a pro-life group based in Madison, was subject to the destructive act of vandalism in the early morning hours of May 8. The attack was one of many directed at pro-life organizations and churches following the publication of a leaked draft U.S. Supreme Court decision indicating that justices were poised to overturn the Roe v. Wade ruling that legalized abortion nationwide, thereby allowing states to ban abortion if they so choose.  
In addition to finding two Molotov cocktails thrown through the window, which caused fire damage at the facility, law enforcement officials responding to the crime scene found graffiti spray-painted onto the facility's exterior, reflecting outrage about the possible overturning of Roe. One message read, "if abortions aren't safe, then you aren't either."
Roychowdhury's arrest followed a lengthy investigation that relied heavily on forensic science. The DOJ statement noted that after identifying him as a possible suspect in the crime earlier this month, police obtained leftover food Roychowdhury disposed of in a public trashcan to conduct DNA testing. 
Upon comparing the DNA found on the food sample to DNA collected at the scene of the crime, a forensic biologist found a match,
Law enforcement apprehended Roychowdhury as he was about to depart on a flight from Boston's Logan Airport to Guatemala City, Guatemala. The suspect appeared in U.S. District Court in Boston Tuesday. The date of his appearance in federal court in Wisconsin remains unknown. He faces a minimum sentence of five years behind bars and a maximum penalty of 20 years if convicted.
Madison Police Chief Shon Barnes acknowledged the difficulties faced by his department throughout the nearly yearlong investigation.
"For months, our detectives remained committed to finding those responsible for this arson. When tips and leads were limited, they never gave up," Barnes said. "Their persistence is proof that hateful acts do not have a place in Madison. I applaud their work and want to thank our federal partners for all of their help leading up to this arrest."
Madison Police collaborated with multiple federal agencies in its investigation into the firebombing of Wisconsin Family Action, including the FBI's Joint Terrorism Task Force, Homeland Security Investigations, the FBI Boston Field Office, the U.S. Coast Guard, Federal Air Marshal Service and the Transportation Security Administration.
The Wisconsin State Capitol Police Department, the Boston Police Department and Massachusetts State Police also assisted in the investigation.
Roychowdhury's arrest is one of a handful that has been announced in the past couple of months in connection with acts of vandalism against pro-life organizations and churches. 
Over the weekend, the Amherst Police Department in Amherst, New York, announced that it had caught the perpetrator behind the vandalism of a sign for CompassCare, a pro-life pregnancy center network with an office in the Buffalo area community.
While the defacement of the CompassCare sign took place earlier this month, the facility had previously experienced a more severe act of vandalism in the form of a firebombing. The individuals behind the previous attack remain at large, but the FBI has offered a $25,000 reward for anyone with information that could lead to their arrest.
In January, a grand jury in Florida indicted two activists for vandalizing pro-life pregnancy centers in Winter Haven and Hollywood.