'Dolphin Tale 2' Review: A Fun Adventure for Kids That Reminds Us Animals Are Gifts From God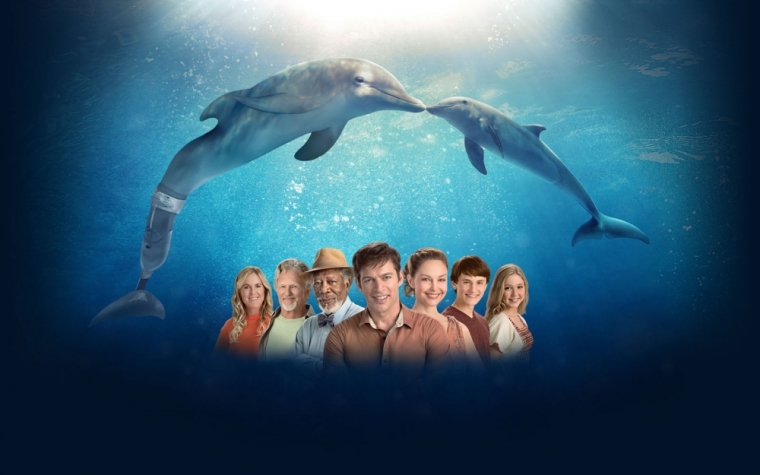 OUT OF 5 STARS: 4
"Dolphin Tale 2"
Rated: PG (Mild Thematic Elements)
Running Time: 112 minutes
Opens: Friday, Sept. 12
Who: Harry Connick, Jr., Ashley Judd, Morgan Freeman
Directed by: Charles Martin Smith
Many family-friendly animal films are based on far-fetched storylines that hedge between cheesy and predictable, but in "Dolphin Tale 2," refreshingly true stories make for a plausible plot.
The story of Winter, the rescue dolphin with the prosthetic tail, continues in this follow up to Charles Martin Smith's 2011 hit "Dolphin Tale" and important lessons are learned about life and the inevitability of change.
Lead protagonist Sawyer Nelson, (Nathan Gamble) and his dear friend Hazel Haskett (Cozi Zuehlsdorff) return to Clearwater Marine Aquarium (CMA) in Florida. They're slightly older and each facing their own unique problems. Throughout the film, both Gamble and Zuehlsdorff are convincing - particularly during their frequent states of distress but it's Winter (she plays herself) who garners the most sympathy as she is faced with the toughest ordeal.
Panama, Winter's surrogate mother, passes away, leaving the bottlenose rescue Dolphin we all fell in love with in the first film depressed and withdrawn. With the help of good editing, Winter accurately portrays a state of unhappiness even though we are constantly reminded in the film that "no one really knows" whether dolphins have emotions.
The mood at CMA, which has undergone an impressive makeover, grows even more somber when the USDA warns Dr. Clay Haskett (Harry Connick Jr.) that Winter will be removed and taken to another aquatic facility unless a suitable female companion is found to replace Panama.
Though at times the film is predictable (for one, everyone lives happily ever after), Smith should be commended for taking an educational approach in creating this honest sequel.
Overall, the film is based on more true stories from CMA and a number of new characters, both humans and animals, are introduced. Hope, who like Winter is also a rescue dolphin in real life, plays a crucial role in the film and ironically her name lends itself to the film's central theme – change. After all, it wouldn't be a real family movie without at least one cheesy element.
Smith emphasizes CMA's mission (rescue, rehab, release) throughout the film, which responsibly reminds us of our duty to the planet while also teaching us (in a non-lecturing kind of way) that all animals are gifts from God who deserve our respect.
For the ever-conflicted Sawyer, Dr. Cameron McCarthy (Morgan Freeman) saves the day by offering wisdom and sound advice (the scene is slightly cheesy but crucial). This helps him decide once and for all whether he will leave his beloved Winter and spend a semester at sea in a prestigious study program.
Champion surfer Bethany Hamilton, who plays herself, adds an element of inspiration to this potential tear jerker while other characters, not just the human ones, bring humor - which kids will love.
With the help of great cinematography (Daryn Okada) and the right music (Rachel Portman), Smith delivers the right message without overdoing it.