'Dominion' Season 2 News, Spoilers: Vega Is Covered in Darkness in 'Bewilderment of Heart'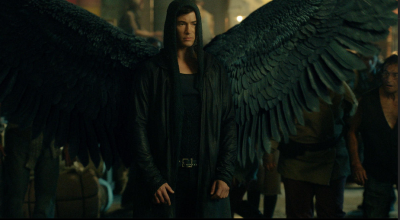 Following the harrowing death of Clementine, the arrest of David Whele and the dropping of the amphora at Vega, the events in Syfy's hit supernatural drama TV series "Dominion" are expected to get even more intense as it continues this week with an episode that will surely leave the viewers pinned to their seats.
Spoiler reports provided over at Design&Trend.com said that in the episode titled "Bewilderment of Heart," the city of Vega will be fully enveloped with darkness as what the final moments of episode 10 suggested. The darkness has an effect on the people and they must have to "live out their worst fears."
The preview clip provided by the network and shared over by the media outlet featured Noma holding the amphora while black smoke emerged from it. Scenes then showed columns of the black smoke rising from the ground slowly covering the whole expanse of the city.
Some of the major characters were also seen dealing with the adverse persecutions thrown at them by the evil forces.
"It's the end, the death of all God's creation," a voiceover was heard.
The summary of the segment meanwhile pointed out that William Whele will wrestle "with the truth behind his time in the desert" while his father David, faces the "harsh reality of what it is to be a king."
Elsewhere, the conniving Arika will soon get a taste of her own medicine when one of her plans of manipulation backfires.
The Vega crisis, meanwhile, prompts Alex to look for the Amphora as this would be the only hope to put a stop to all the madness consuming the city.
Several questions are yet to be answered in the upcoming episode and this would include the likelihood of Alex and Claire finding their way back to one another. With everything they both went through, it seems impossible to see them together again but fans are still hopeful. Viewers will also get to find out more about the "House of Sacrifice" as well as the true nature of the Prophet. Is he working for Lucifer or is he the Morning Star himself?
Find out more of these exciting developments when "Dominion" Season 2 airs today, September 17, 10 p.m. ET on Syfy.