Donald Trump Cites Proverbs Ahead of CNN Republican Debate, 'Never Bend to Envy;' Says He'll Try Toning Down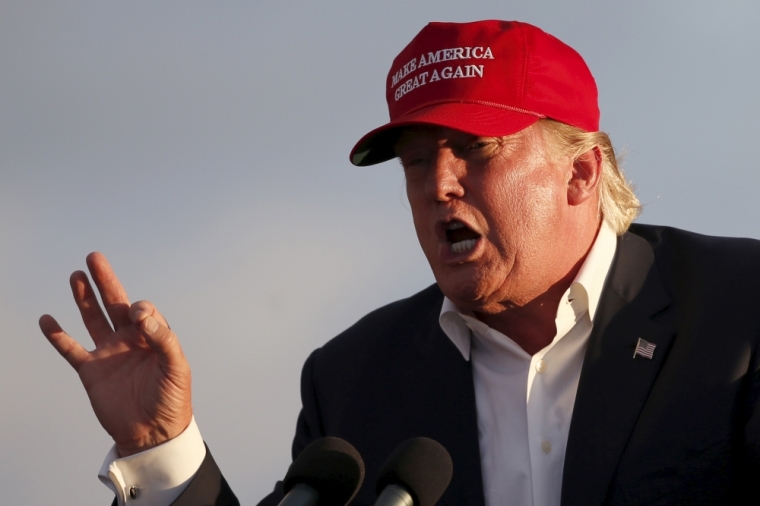 Republican presidential frontrunner Donald Trump heaped praise on his favorite book, the Bible, just hours ahead of the CNN Republican debate Wednesday night, citing the Book of Proverbs to excoriate envy just three weeks after he came under fire for refusing to name his favorite Bible verse.
"There's so many things that you can learn from it (The Bible). Proverbs, the chapter 'never bend to envy.' I've had that thing all of my life where people are bending to envy," Trump told CBN reporter David Brody in an interview published Wednesday.
"I don't like to use this analogy, but like a great movie, a great, incredible movie. You'll see it once it will be good. You'll see it again. You can see it 20 times and every time you'll appreciate it more. The Bible is the most special thing," Trump added in the interview conducted on his golf course in Southern California.
Asked to clarify which Scripture exactly was Trump referencing when he mentioned the matter of envy in Proverbs, Brody told The Washington Post that Trump's aides said he was referring to Proverbs 24:1-2: "Be not thou envious against evil men, neither desire to be with them. For their heart studieth destruction, and their lips talk of mischief."
During an interview in late August, Trump refused to reveal any of his favorite Scriptures from his favorite book arguing that they were too personal. That decision prompted criticism from some of the real estate mogul's Republican rivals, including Louisiana Gov. Bobby Jindal, who alleged last Thursday that Trump couldn't list any Scriptures because he has never read the Bible.
"When asked, he couldn't even name a specific or a single Bible verse that was important to him, that had an impact on him," said Jindal at the National Press Club in Washington D.C., last Thursday. "It's clear Donald Trump has never read the Bible. The reason we know he's never read the Bible? He's not in the Bible."
Trump who is also currently the favorite 2016 GOP presidential candidate among Evangelical voters according to a recent poll, told Brody that he is willing to tone down on insulting his rivals.
"The word on the Evangelical street is there are Evangelicals that really are interested in voting for you, but they want you to tone down the insults a little bit," said Brody before asking Trump if he thought he could oblige them.
"I can understand it a hundred percent," said Trump, "but, you know, I am a certain type of person."
He explained that his personality helped him to build an "amazing" life and business and it would also help him get the United States "back into shape."
"I've dealt with very tough hombres and very tough people, and I've come out on top," said Trump. "And I can understand the Evangelicals to a certain extent saying: 'Well, maybe he's not as nice as we want him to be.' But they also want to see the country be great."
He later told Brody, however, that he believes he could tone things down a bit nevertheless.
"I think maybe I can sometimes tone it down," said Trump. "When somebody hits, you can hit a little bit less hard. At the same time, that may be the kind thing that the country needs because we have to hit back hard. We have to fight hard because we're not going to have a country."
He continued: "You need a person of tremendous strength — but I think I could tone it down a little bit, and I'll try."