5 Reasons Why Donald Trump Is Dangerous to Evangelicals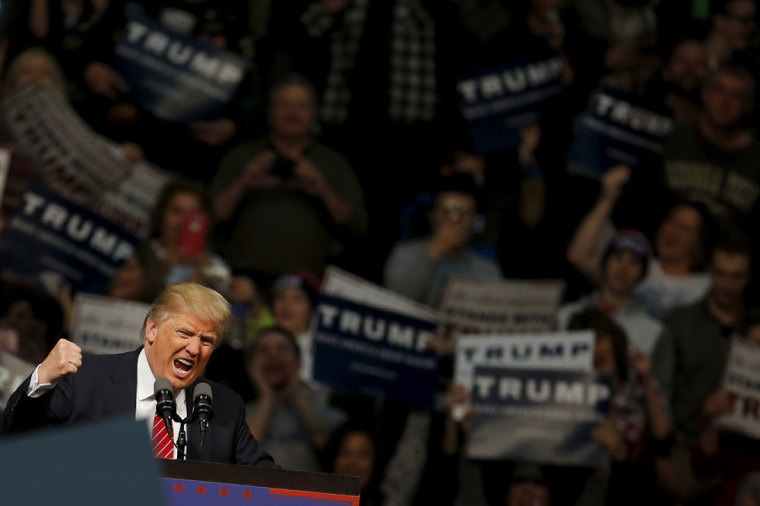 Yesterday Stuart Varney, the morning host on Fox Business, asked me to expand on a first-ever opinion piece in The Christian Post criticizing Donald Trump as dangerous. Varney wanted to know why CP called him "dangerous" to evangelicals, especially since some high-profile evangelicals support him.
I answered that the 2016 election is about the economy and there is ample evidence that Donald Trump isn't the successful businessman he boasts he is. I argued the media shouldn't jump from "Trump The Oddity" to "Trump the Inevitable" without scrutinizing him first.
While that is a partial answer to why he is dangerous as a leader — i.e. he is likely to do more damage than good to an economy in which many evangelicals are struggling to make ends meet — I want to state clearly the whole picture.
Why do evangelicals think Trump is dangerous? Here are the top five reasons:
1. Trump has already signaled he doesn't have our back on Roe v. Wade. 
Don't believe his newfound support in pro-life issues. His statements praising Planned Parenthood and his interest in a judge for the Supreme Court who voted in New Jersey to strike down a ban on partial birth abortion — because she's his sister — are reason enough. You can add to this analysis his flip-flopping on the issue and virtually every other national issue.
The evangelical community gets closer every year to winning decisive national support for curbing abortion and the next Supreme Court appointments are crucial to winning this 40-year battle. Supporting Trump undermines the central issue on which most born-again believers can agree.
2. It's dangerous to pick someone to represent you who doesn't understand Christianity. 
Donald Trump said after the South Carolina primary that evangelicals get him the most. If he is saying that, I think we have a right to ask: Does he get us? He most clearly does not.
He doesn't understand forgiveness the way Christians understand it, he doesn't understand humility the way Christians do, he doesn't understand kindness or self-control, or even a communion plate or how to quote Scripture. Married to his third wife, he still boasts about sleeping with "the world's most beautiful women" and then says we get him and he gets us? I don't think so.
3. Trump has a dangerous understanding of military force. 
In a world where ISIS, al Qaeda, and a whole host of emerging radical jihadist groups are conducting a systematic purging of our Christian brothers and sisters in the Middle East, Africa and Southern Asia, a national presidential candidate must understand the difference between being a strong leader and advocating a war crime.
In last night's GOP debate, Trump issued a chilling challenge to our military: "I'm a leader. I've always been a leader. I've never had any problem leading people. If I say do it, they're going to do it. That's what leadership is all about."
Shockingly, that answer was to a question about whether he would force the military to target the families of terrorists, even if they are innocent.
When military leaders balk at violating the Geneva Convention, Trump's answer is that he will force them to violate their consciences because he is a leader? That brings to mind a myriad of terrifying analogies, from Germany in the 1930s to "The Hunger Games." Christians are called on to speak truth to power on these subjects.
Add to this his neutral position on Israeli sovereignty, his admiration for various dictatorial leaders for their "strength," and his penchant for changing positions when it suits him, and the recipe is potentially toxic with respect to world peace and Christian genocide.
4. Trump has a dangerous understanding of freedom of speech and the press. 
As highlighted in our first editorial, a number of prominent Christian leaders have expressed extreme discomfort with Trump's personality and positions. Just days ago Trump expressed interest in limiting the freedom of the press and speech by moving to the British system of stricter libel laws protecting public figures. That system can and would be used by a bully in government to silence criticism from any vantage point, including those of us in the Christian community who speak out when national policies violate moral and Biblical standards. How can it be safe to support a candidate who thinks this way?
5. Trump projects a dangerous role model for our children.
Trump's "I'm a winner and you're a loser" rhetoric teaches the exact opposite of what Christian parents teach their children. No "fruit of the Spirit" here. In fact, Trump will accelerate the moral decay of our culture if evangelicals support him.
David French, a National Review columnist and former CP contributor, summarized the situation well in his latest commentary: "In an era where fidelity and integrity are in increasingly short supply — with the breakdown of faith and family the chief factors in the struggles among America's most vulnerable citizens — how can I responsibly cast a vote to give one of the nation's foremost cultural platforms to a man who has openly, loudly, and unrepentantly bragged of his adulterous sexual conquests? How can I support a man who demonstrates such a breathtaking level of malice and cruelty in his treatment of his fellow citizens? Our nation can survive lost elections, but over the long term it cannot survive a decayed culture. And by God I won't vote for a man who takes a wrecking ball to the core values I hold dear."
As I said on "Varney & Co.," Trump has tapped into the central energy of this election: The revitalized voting power of angry hard-working Americans who reject self-interested politicians who refuse to enact policies that make America better. Many evangelicals are part of that voting group.
Can't we do better than a man with failed moral character, questionable business practices, dangerous and loosely held notions (about nearly everything ) and a near total ignorance of Scripture?
I think as evangelicals we can — and we should.
John Grano is Christian Post's senior managing editor.