Donald Trump Says Thinking of Himself as God's Choice for President Is 'Too Big of a Burden'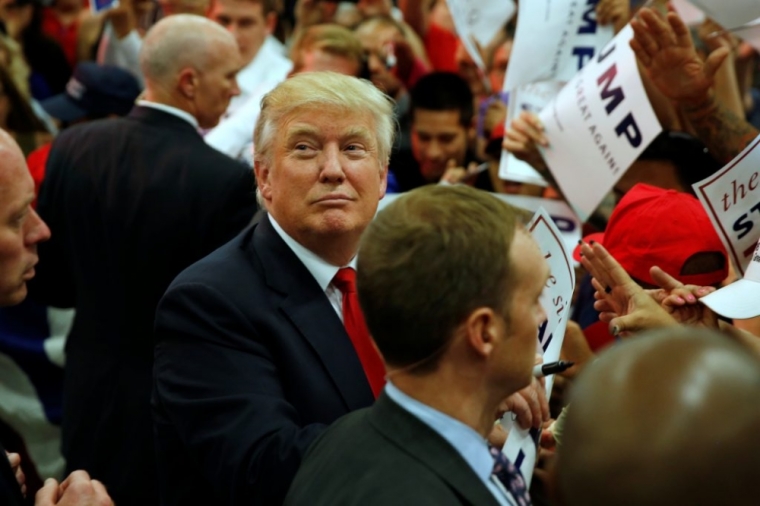 Republican presidential nominee Donald Trump has no trouble vowing to restore power to "silenced" Christians through legislation if he is elected president of the United States in November. But to think of himself as God's choice for the White House is just "too big of a burden," he says.
Speaking in a recent interview with The Christian Broadcasting Network Trump was asked of his presidential run: "A lot of Christians believe that you have been chosen for such a time as this. Do you believe that's true and have you ever considered maybe this is a divine calling?"
Trump, appearing slightly stumped by the question, said it wasn't the first time he was hearing the question but sidestepped the notion that he was God's chosen president by eventually declaring "it's too big of a burden."
"Well you know, I've heard that from others and I've heard it from pastors. I've heard it from others and I don't even really want to think about it because it's too big of a burden. But I can say this. That if I can do what I am saying I can do and I'm not only talking about the military and building it up and safety and security," he trailed off.
Trump appeared to have done the interview shortly after speaking to a group of pastors at a two-day event last Thursday at the Hyatt Regency on International Drive in Orlando, Florida, entitled "Rediscovering God in America Renewal Project."
At the event, the Republican presidential nominee promised to unmuzzle and empower the "silenced" church and increase church attendance by repealing the Johnson Amendment if he is elected president in November.
The Johnson Amendment, which is a piece of legislation prepared by former President Lyndon Johnson and passed by Congress in 1954, is often described as prohibiting charitable organizations (including churches) from endorsing political candidates.
"We'll get it out. We'll be able to terminate the Johnson amendment," Trump told the pastors last Thursday.
"And you'll have great power to do good things and religion will start going instead of this way (downward motion). Christianity, when you think of what's happening, when you look at the numbers. I talk about Sunday School, people don't even know what I'm talking about anymore. When you look instead of going this way (downward motion). You're gonna go this way," he added moving his hand upward.
"We're gonna bring it back because it's a good thing. They treated you like it was a bad thing but it's a great thing, not a good thing. It's a great thing," Trump noted.
Trump alluded to the Johnson Amendment in his acceptance speech at the Republican National Convention in Cleveland, Ohio last month as he declared he wasn't sure he was deserving of the support he has received from the evangelical and wider religious community.
"At this moment, I would like to thank the evangelical and religious community and I'm not sure I totally deserve it ... They have so much to contribute to our politics, yet our laws prevent you from speaking your minds from your own pulpits," Trump said.
When asked by CBN last week why he felt he didn't deserve the support of evangelicals, Trump said: "Well I think because I'm not perfect and believe I'm less perfect than some people. But I have certain abilities that are good like being able to do things. And I think I'll be able to do things that will be great for the evangelicals and for others."