Donald Trump 'Like Hitler' Says Mexican President, 'No Way' Mexico Is Paying for Wall
Donald Trump 'Like Hitler' Says Mexican President, 'No Way' Mexico Is Paying for Wall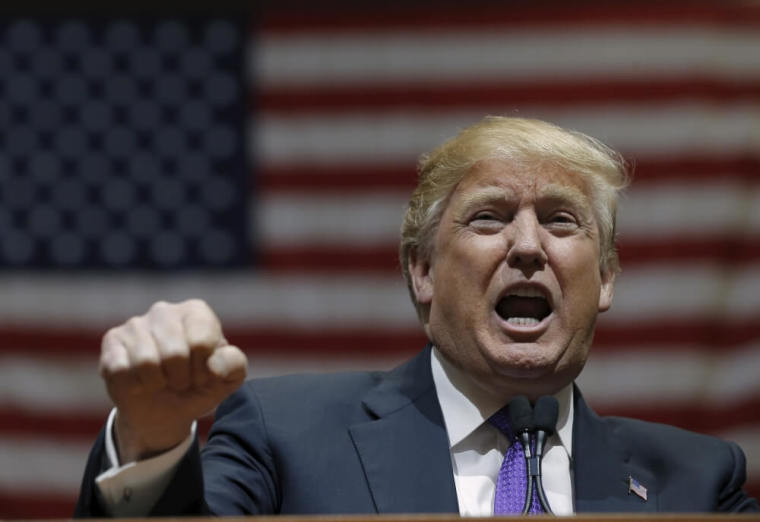 Mexican President Enrique Peña Nieto has made a comparison between Republican presidential candidate Donald Trump and German Nazi leader Adolf Hitler, and said that there is no scenario in which Mexico would pay for a border wall, as Trump has suggested.
Peña Nieto accused Trump in an interview with Mexican daily Excelsior of offering "very easy, simple solutions to problems that are obviously not that easy to solve."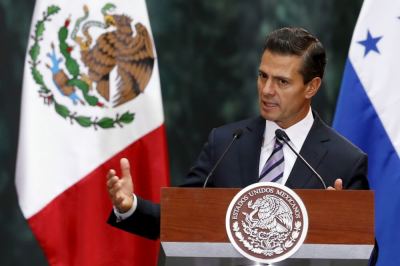 "And there have been episodes in human history, unfortunately, where these expressions of this strident rhetoric have only led to very ominous situations in the history of humanity," the Mexican president said.
"That's how Mussolini got in, that's how Hitler got in, they took advantage of a situation, a problem perhaps, which humanity was going through at the time, after an economic crisis," he added.
Peña Nieto reflected that he has refused to comment on the presidential race until now, saying that he is "absolutely respectful" of the American political process, but spoke out to say that Trump continues to damage U.S.-Mexico relations.
The GOP candidate has promised to build a large wall along the border with Mexico if elected president, which he claims would stop illegal immigration to America. Trump has accused Mexico of sending "criminals and rapists" across the border, and has vowed to make America's southern neighbor pay for the construction of the wall.
Peña Nieto insisted, however, that there was "no scenario" under which his country would agree to pay for such a project.
Former Mexican President Vicente Fox has similarly said that Trump "reminds me of Hitler," and has also rejected any possibility of Mexico paying for a wall.
Trump has also been accused of encouraging a practice at his rallies where voters raise their right hand to pledge their support to him, CNN reported, which some observers likened to the "Heil" Nazi salute.
Trump has called the comparison "ridiculous," however, but said that he wants the salute to stop.
"I don't know about the Hitler comparison. I hadn't heard that, but it's a terrible comparison. I'm not happy about that certainly," he told ABC's "Good Morning America."
The Hitler comparison has also been made by Comedian Louis C.K., who asked Americans to stop voting for the billionaire businessman.
"It was funny for a little while," he wrote. "But the guy is Hitler. And by that I mean that we are being Germany in the 30s."
Trump also raised eyebrows a couple of weeks ago when he re-tweeted a quote by Italian fascist leader Benito Mussolini, later affirming he is well aware of who the quote is from, but admires it regardless.
"It is better to live one day as a lion than 100 years as a sheep," the quote reads.
When asked about it on NBC's "Meet the Press," he responded: "It's a very good quote, it's a very interesting quote, and I know it. I saw it. And I know who said it. But what difference does it make whether it's Mussolini or somebody else? It's certainly a very interesting quote."
Trump's anti-immigration and wall-building stance has partly been criticized by Pope Francis, who in a visit to Mexico in February said: "A person who thinks only about building walls, wherever they may be, and not building bridges, is not Christian."
Trump in turn accused Francis of being influenced by the Mexican government.
"The pope is being told that 'Donald Trump is not a nice person.' Donald Trump is a very nice person. I am a very nice person," Trump responded in a speech.
"And I'm a very good Christian because the pope said something to the effect that maybe Donald Trump isn't Christian and he's questioning my faith. I was surprised to see it but I am a Christian and proud of it," he added.
The Republican front-runner meanwhile continues holding off attacks from the party's establishment, and earned big primary wins on Tuesday when he took the states of Michigan and Mississippi, pushing him closer to securing the presidential nomination.