Donald Trump Wins Michigan, Mississippi; Wins Plurality of Self-Identified Evangelicals, Mocks Rivals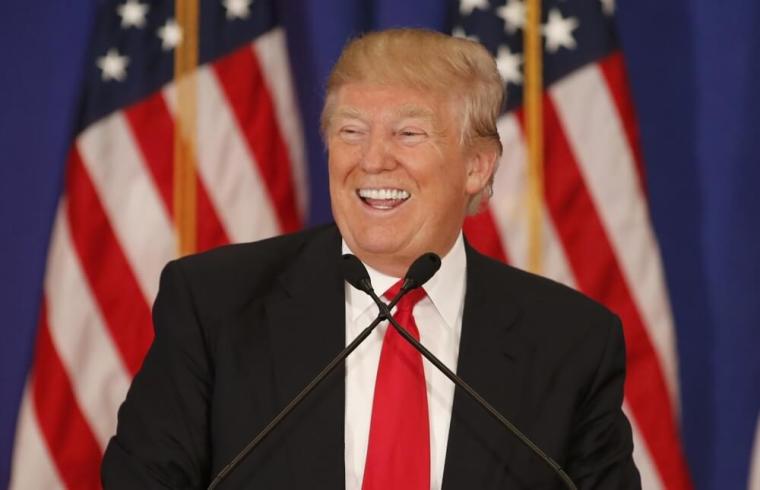 DETROIT (Reuters) - Republican front-runner Donald Trump rolled to primary wins in the big prize of Michigan and in Mississippi on Tuesday, brushing off a week of blistering attacks from the party's establishment to expand his lead in the White House nominating race.
Trump's convincing win in Michigan restored his outsider campaign's momentum and increased the pressure on the party's anti-Trump forces to find a way to stop his march to the nomination ahead of several key contests next week.
Trump built his victories in the industrial Midwest and the Deep South with broad appeal across many demographics, winning evangelical Christians, Republicans, independents, those who wanted an outsider and those who said they were angry about how the federal government is working, exit polls showed.
At a news conference afterward, Trump said he was drawing new voters to the Republican Party and the establishment figures that are resisting his campaign should save their money and focus on beating the Democrats in November.
"I hope Republicans will embrace it," Trump said of his campaign. "We have something going that is so good, we should grab each other and unify the party."
He mocked rivals John Kasich, the Ohio governor; Ted Cruz, a U.S. senator from Texas; and Marco Rubio, a U.S. senator from Florida, and suggested they had little hope going forward.
He took particular aim at Cruz, who split four nominating contests on Saturday with Trump and positioned himself as the prime alternative to the brash New York billionaire in the race to be the party's candidate in the Nov. 8 election.
"Ted is going to have a hard time," Trump said of Cruz. "He rarely beats me."
The Michigan victory sets Trump up for a potentially decisive day of voting a week from Tuesday. On March 15, Ohio, Florida, Illinois, Missouri and North Carolina - like Michigan, states rich in the delegates who will select their party's nominee at July's Republican National Convention - cast ballots.
The Republican contests in Florida and Ohio award all the state's delegates to the winner. If Trump, 69, could sweep those two states and pile up delegates elsewhere next week, it could knock home-state favorites Rubio and Kasich out of the race and make it tough for Cruz to catch him.
Rubio, 44 - the favorite of a Republican establishment alarmed by Trump's controversial proposals and anxious about Cruz's uncompromising conservatism - lagged in Michigan polls and needs a win in his home state next week to keep his campaign alive.
Republicans were also voting on Tuesday in Idaho and Hawaii.
Democratic front-runner Hillary Clinton was locked in a tight race in Michigan with rival Bernie Sanders, a U.S. senator from Vermont, with more than half the votes counted.
Clinton also won in Mississippi, helped by a strong showing with African-American voters, who make up more than half of the Democratic electorate. Exit polls showed Clinton winning nine of every 10 black voters.
Many mainstream Republicans have been offended by Trump's statements on Muslims, immigrants and women and alarmed by his threats to international trade deals. Trump said on Tuesday he has not assembled a foreign policy team, despite having said he would have one in place by February, and dismissed criticism his statements would be harmful to U.S. interests.
Anti-Trump Super PACS have spent millions of dollars on advertisements designed to attack Trump's character in Florida, a state Rubio calls home and Trump calls a second home. Florida's 99 delegates are awarded on a winner-take-all basis.
But Trump's relentless anti-free trade rhetoric and promise to slap taxes on cars and parts shipped in from Mexico resonated in Michigan, which has lost tens of thousands of manufacturing and auto industry jobs.
Michigan was the state that spawned the term "Reagan Democrats" to refer to largely white, working-class voters who abandoned their party to vote Ronald Reagan into the White House in the 1980s.
Sal Isabella, a Dearborn insurance agent, said he was for Trump because he would make things happen.
"He'll be like Reagan," Isabella said. "He'll make some big changes and we need big changes.