Donald Trump Still Leading Republican Presidential Field After McCain Remarks, New Polls Show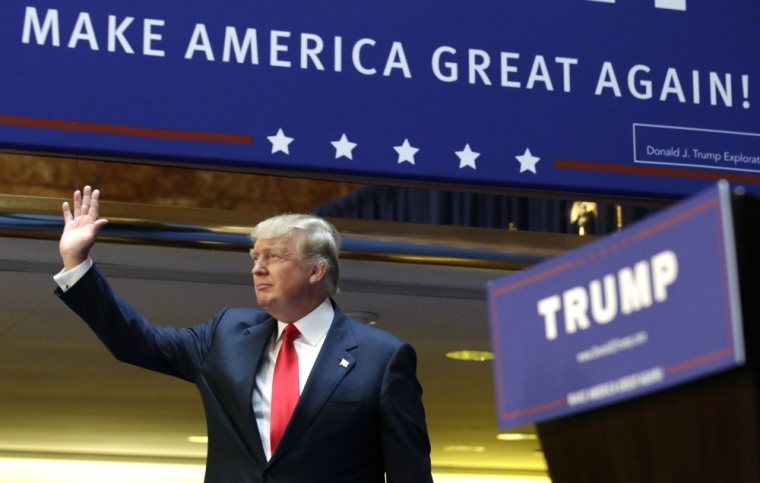 A week after being criticized by fellow Republicans for saying Sen. John McCain is not a war hero because he was captured, Donald Trump continues to lead the GOP presidential field, according to new polls.
A national CNN/ORC poll released Sunday, the first since Trump's controversial remarks, found the real estate mogul at 18 percent support among Republicans and Republican-leaning independents who are registered to vote — an increase of 6 points since a late-June poll.
Former Florida Gov. Jeb Bush was just behind at 15 percent, while Wisconsin Gov. Scott Walker earned 10 percent support. None of the other 11 candidates could get double-digit support.
However, 51 percent of Republican voters say they see the field as wide open, and that it's too soon to say which candidate they will ultimately support. And among Republicans in this group, Bush has 14 percent support, while Trump stands at 13 percent and Walker at 9 percent.
On the other hand, Trump has the support of 24 percent among those Republicans who say they've already narrowed it down to one or two candidates. Bush is backed by 16 percent in this group, and Walker by 12 percent.
Trump is also leading in the early nominating states of Iowa and New Hampshire, according to two NBC News-Marist polls, also released Sunday.
Trump has support from 21 percent of potential GOP primary voters in New Hampshire, followed by Bush at 14 percent, Walker at 12 percent and Ohio Gov. John Kasich at 7 percent.
New Jersey Gov. Chris Christie and retired neurosurgeon Ben Carson are tied at 6 percent, and Sen. Marco Rubio, R-Fla., and Sen. Ted Cruz, R-Texas, are at 5 percent each.
In Iowa, Walker stands at 19 percent among potential Republican caucus-goers and Trump at 17 percent, followed by Bush at 12 percent, Carson at 8 percent, former Arkansas Gov. Mike Huckabee at 7 percent and Sen. Rand Paul, R-Ky., at 5 percent.
At the Family Leadership Summit in Iowa earlier this month, Trump drew criticism for saying that McCain, a Vietnam War prisoner, is seen as a war hero only "because he was captured." "He's a war hero because he was captured," he said. "I like the people who weren't captured."
Trump was also asked about his faith at the summit.
"People are so shocked when they find out I am Protestant. I am Presbyterian. And I go to church and I love God and I love my church," he said.
When asked whether he has ever asked God to forgive him, Trump responded, "I am not sure I have. I just go on and try to do a better job from there. I don't think so. I think if I do something wrong, I think, I just try and make it right. I don't bring God into that picture. I don't."
He further explained, "When I drink my little wine — which is about the only wine I drink — and have my little cracker, I guess that is a form of asking for forgiveness, and I do that as often as possible because I feel cleansed. I think in terms of 'let's go on and let's make it right.'"
Talking to CNN later, Trump denied that his statements damaged his chances with evangelical voters, and said his polling in Iowa is very strong. However, he added that he'd "change" his "tone" as president. "Right now I'm trying to do something to make this country great again."