Don't Blame Us. Evangelicals Led the Opposition to Trump.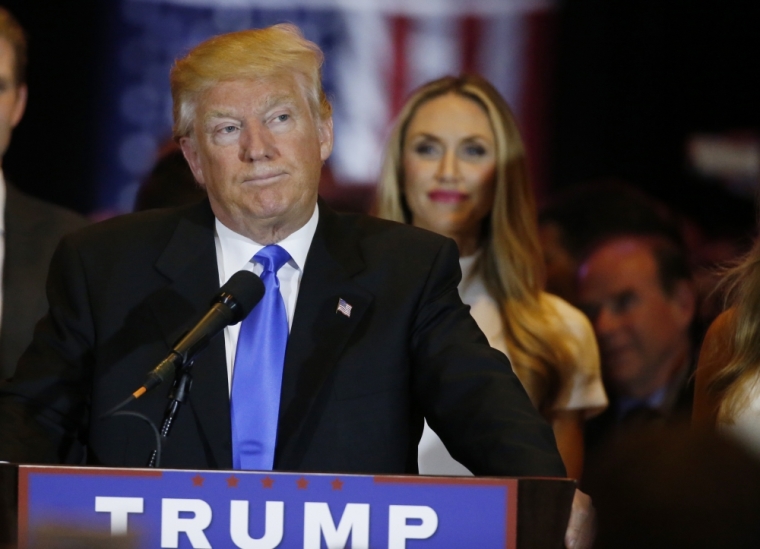 Donald Trump is now the presumptive Republican presidential nominee, despite the efforts of his strongest opponents — evangelical Christians.
Trump has already been a disaster for the Republican Party, essentially dismantling the Reagan coalition and undermining its efforts to retain control of Congress. A Trump presidency would be a disaster for the entire nation, given that he is entirely unfit, in character and experience, to be president.
For those reasons, it's important to set straight the historical record — evangelicals led the opposition to Trump.
This might come as a surprise to some, given Trump's oft-repeated claim that he's "winning the evangelicals."
"Tonight I see I won with the evangelicals, the evangelical vote was for Trump," he claimed in Tuesday night's victory speech.
A CNN Indiana exit poll showed Trump winning 50 percent of self-identified evangelicals, but, as I wrote in February, many of those evangelicals are EINO's — Evangelicals in Name Only.
True evangelicals — the evangelicals who participate in the work of the Church — are among the least likely to support Trump.
That same CNN poll, for instance, showed that only 32 percent of those who attend religious services more than once a week voted for Trump. Trump's strongest support came from those who attend religious services "a few times a year" or "never."
Even on the self-identification question, non-evangelicals supported Trump at a higher rate (57 percent) than evangelicals.
Additionally:
According to an April PRRI study, Trump's unfavorability among white evangelicals increased 11 points from January to April, from 44 percent to 55 percent.
A September Gallup poll found that highly religious Republicans don't like Trump, only 22 percent said they were favorable.
And, analysis of an American National Election Pilot study found that Trump had the least support from evangelicals who regularly attend church and don't hold racist views. His strongest support was from evangelicals who aren't active in church and do hold racist views (EINO's, in other words).
Among conservative advocacy group leaders and opinion journalists, many of Trump's most outspoken critics have been evangelicals.
In December, a group of about 50 social conservative activists, mostly evangelical, met to decide which candidate to support. They debated between Ted Cruz and Marco Rubio, and decided on Cruz. Trump wasn't even part of the discussion. After that, many of them, such as Tony Perkins, president of Family Research Council and an evangelical, endorsed Cruz.
Russell Moore, president of the Southern Baptist Convention's Ethics & Religious Liberty Commission, has also been an outspoken critic of Trump. In a September op-ed for The New York Times, he argued that supporting Trump would be a betrayal of evangelical values.
And in late February, the editors of The Christian Post, of which I am one of five, took the unusual step of writing an editorial denouncing Trump. CP had never taken a position on a political candidate before, but we thought the moment was too important to remain silent.
"As the most popular evangelical news website in the United States and the world, we feel compelled by our moral responsibility to our readers to make clear that Donald Trump does not represent the interests of evangelicals and would be a dangerous leader for our country," we wrote.
Other evangelicals who have been leading the fight to stop Trump include: Matt Barber, Michael Brown, Kristi Burton Brown, Susan Stamper Brown, Denny Burk, Rev. Mark Creech, Michael Cromartie, David French, Michael Gerson, Wallace Henley, E.W. Jackson, Max Lucado, Rep. Reid Ribble, Julie Roys, Mark Tooley and Matt Walsh.
To be fair, there have been some evangelical Trump supporters (true evangelicals, not EINO's). Trump mentioned one of them last night.
"Jerry Falwell Jr., Liberty University, he is something," Trump said.
On that point, anti-Trump evangelicals agree — he is something.
Most true evangelicals look at Falwell or Pastor Robert Jeffress (Trump's only other high-profile evangelical supporter) with bewilderment. Why they, and a small minority of true evangelicals, would support Trump may forever remain a mystery.
But the bewildering evangelicals are few. Anti-Trump evangelicals are many.