Dozens killed by Israeli airstrikes on schools, refugee camp in Gaza, Hamas says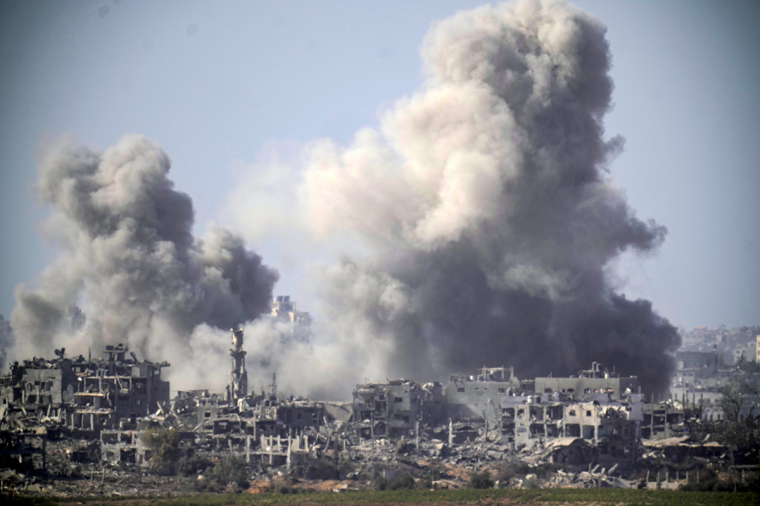 The Hamas-run government health ministry is charging that Israel has targeted a UN refugee camp school in northern Gaza with a deadly airstrike on Saturday. The Israeli military is investigating the incident and has previously accused Hamas of using school buildings to hide weapons.
An airstrike hit the al-Fakhoora School operated by the United Nations Relief and Works Agency in the Jabalia refugee camp early Saturday, killing at least 50. 
The Hamas-run health ministry in Gaza claimed that 32 individuals, including 19 children, were killed in a separate strike on another building in the camp.
UNRWA Commissioner-General Philippe Lazzarini called the strikes on the camp "cruel," saying in a statement Sunday that al-Fakhoura is a school-turned-shelter housing over 7,000 displaced people.
"This is yet another proof that no one, and nowhere is safe in Gaza," he said. "Once again, shelters meant to provide safety and protection to civilians have been hit, killing many people, including children. These acts not only blatantly contravene the rules of war, they also show a total disregard for humanity."
The strike on al-Fakhoura was the second time that a UNRWA school sheltering displaced families has been struck, Lazzarini said.
On Friday, he said the Al-Falah/Zeitoun school in Gaza City was struck, "leaving scores of people killed and injured." The UNRWA chief said up to 4,000 people were in the school at the time.
Volker Türk, UN High Commissioner for Human Rights, said in a statement Sunday that three other schools hosting displaced Palestinians have also been struck. 
After Hamas attacked southern Israel on Oct. 7 and killed over 1,200 people, mostly civilians, the Hamas government says over 13,000 people have been killed in Gaza since Israel launched retaliatory airstrikes and ground offensive, including over 5,500 minors and 3,500 women. 
Israel maintains that it is trying to eradicate Hamas and has accused the terror group, which has controlled Gaza since 2007, of building its infrastructure under or around civilian buildings and using civilians as human shields.
The Jabalia refugee camp has been a frequent target of air raids, with Israel claiming it houses Palestinian fighters. Earlier this month, Israel said fighter jets struck a Hamas command center in Jabalia and killed the head of the Islamist group's anti-tank missile unit.
According to Lazzarini, at least 176 people sheltering in UNRWA facilities have reportedly been killed and nearly 800 injured since the Hamas-Israel war began, noting that UNRWA has not independently verified the casualty figures but is investigating. 
UNRWA said that at least 17 of its facilities were directly hit. 
"The large number of UNRWA facilities hit and the number of civilians killed cannot just be 'collateral damage.' Most of the facilities hit had families in them including older people, parents, and children," Lazzarini stressed. "They were all clearly marked as UN buildings carrying a blue flag. UNRWA shares the coordinates of these buildings on a regular basis with parties to the conflict."
Over 1.6 million people in Gaza are estimated to be internally displaced, according to the United Nations Office for the Coordination of Humanitarian Affairs. About 830,000 people are staying in at least 154 UNRWA shelters. The UNRWA commissioner-general called for a humanitarian ceasefire.
The Israeli military, which had warned residents of Jabalia to evacuate, said in a statement Saturday that it "conducted operational activity in the areas of Zaytun and Jabalya in order to target terrorists and strike Hamas infrastructure." 
"Troops of the 162nd Division are operating on the outskirts of Jabalya," the statement reads. "The area is the home of the command and control center of the Northern Gaza Brigade and where one of the most significant terror strongholds are located, in which four Hamas battalions are operating."
IDF said in a statement Friday that its troops located dozens of mortar shells that Hamas hid in a kindergarten in the northern Gaza Strip.
"In addition, IDF troops located numerous Hamas weapons hidden in the 'Al-Karmel' elementary school," the statement read.
In another statement, IDF said its troops had seized control of a stronghold in the northern Gaza Strip, identified as a key location for the Islamic Jihad's northern command. This site, used by senior members of the organization, included a strategic weapons manufacturing facility, it said.
During the operation, IDF says troops discovered heavy-weight rockets, unmanned aerial vehicles and other weapons. 
"IDF troops conducted activity inside a school in which Hamas terrorists were hiding," the statement reads. "During the activities, the troops killed the terrorists and located a large number of weapons inside the school."
UN Emergency Relief Coordinator Martin Griffiths emphasized that shelters and schools should be safe havens, expressing tragedy over the deaths in al-Fakhoora school.