Dozens of Iranian Christian Refugees Sue Trump Admin. for Denying Asylum Application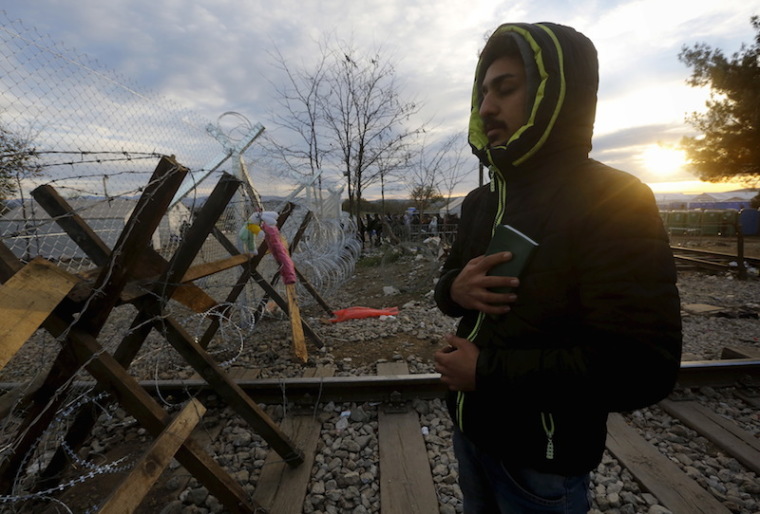 A large group of Iranian refugees, which has been left in limbo in Austria for over a year, is suing the Trump administration after their applications for asylum in the United States under a special amendment designed to protect persecuted religious minorities were denied.
The group of about 90, which consists of dozens of Assyrian and Armenian Christians and other religious minorities, filed a class action lawsuit last week against U.S. government officials in hopes that a judge will bar the administration from denying asylum to the Iranian refugees.
Similar groups of refugees have in the past been admitted to the U.S. under the Lautenberg Amendment, which was originally passed in 1989 to facilitate the resettlement of Jews from the former Soviet Union but has since been expanded to apply to minorities facing persecution in Iran.
Under the program, U.S. residents need to apply on behalf of a family member who is an Iranian citizen. The refugees who pass the initial screening are invited to Vienna where they have to wait for the U.S. government to complete its thorough screening process.
Although thousands of refugees have been admitted to the U.S. through the program in the past several years, the group currently in Vienna received notices earlier this year that their applications for asylum had been denied.
"The denial has had a terrible impact on me and my family. My son suffers from repeated epileptic attacks and congenital hydrocephalus, requiring regular medical attention which we do not have access to here in Austria," one of the refugees explained in the court filing. "Furthermore, because we had initially anticipated our stay in Austria to last only three to six months, we have run out of savings and are in dire financial straits. I am anxious to travel to the U.S. and be reunited with my in-laws."
The group of refugees and their U.S. family members are being represented by the International Refugee Assistance Project at the Urban Justice Center and the law firm Latham & Watkins. The lawsuit was filed in the U.S. District Court for the Northern District of California.
"The U.S. government extended a helping hand to these Iranian Christians, Mandeans, and other persecuted religious minorities who wanted to join their family members in the United States, only to cruelly whip it away for no discernible reason at all," IRAP's litigation director, Mariko Hirose, said in a statement. "The government's conduct betrays America's long-standing commitment to be a beacon of religious freedom, as embodied by the Lautenberg Amendment."
Latham & Watkins partner Belinda Lee stated that her clients simply want to be "reunited as families and free from the risk of deportation back to Iran," where she says they would be in "even greater risk of persecution than before for having sought refuge in the U.S. as a religious minority."
"They all received the same stock response — that their refugee applications had been 'denied as a matter of discretion,'" the legal filing claims. "Each such unexplained denial was contrary to law."
Open Doors USA's 2018 World Watch List ranks Iran as the 10th-worst country in the world when it comes to Christian persecution.
A State Department spokesperson had previously said that it would not force any of the applicants to return back to Iran.
Government officials told The Washington Free Beacon in January that they are trying to find an alternate solution so that the refugees won't have to return to Iran.
"High-level administration officials are monitoring the progress," a White House official was quoted as saying. "Certain complexities exist that the administration has to work through, including human-rights concerns and national security. But the administration is certainly engaged."
A State Department spokeswoman did not elaborate when asked by the Washington Free Beacon earlier this year on why the applications were denied. She did say, however, that "safety and security of the American people are paramount" and that Iranian refugee applicants must undergo the same level of screening as other refugees.
Daniel Mark, the chairman of the U.S. Commission on International Religious Freedom, weighed in on the situation with the refugees in Vienna during a press call Wednesday highlighting the release of USCIRF's 2018 report.
"The people who got caught up in this situation in Vienna are ... as far as we know, the very same types of people who have been coming to the United States through the Lautenberg Amendment," Mark said. "What seems different this time is that ... there seems to be other factors that we don't have full information about that made their case different."
Mark, who was initially appointed to the congressionally mandated commission in 2014 by former Republican speaker of the House John Boehner, explained that in most cases refugees who apply under the Lautenberg Amendment are "approved relatively quickly and at a relatively high rate."
"The fact that this didn't happen with this group suggests that there is something going on but not because they weren't the same kind of people who had ordinarily been coming through," Mark said.
The denials have caused concern for Reps. Randy Hultgren, R-Ill., and James McGovern, D-Mass., who co-chair the Tom Lantos Human Rights Commission.
"These Iranians are members of religious minorities fleeing a regime that has brutally oppressed their communities since 1979. This being the case, they should be presumed eligible for admittance to the United States as refugees under the Lautenberg Amendment," the congressmen said in a joint statement.
Hultgren and McGovern also sent a letter to Vice President Mike Pence asking for help for the refugees stuck in Vienna.
"This sudden change in policy – from almost a hundred percent acceptance rate to nearly complete rejection – makes no sense, even on security grounds," the letter to Pence reads. "Some applicants are reported to be elderly and/or disabled, making it hard to imagine they represent a security threat. Finally, there is no evidence that others admitted through this program have ever been a threat to the U.S., despite having similar backgrounds as this current group of applicants."
The denials come as the Trump administration has scaled back the number of refugees being admitted to the U.S. for resettlement. The Trump administration set the lowest refugee cap of any year since 1980 for fiscal year 2018 by vowing to resettle just 45,000 refugees.