'Duck Dynasty' Star Shares God's Saving Grace in New Book, 'Happy, Happy, Happy'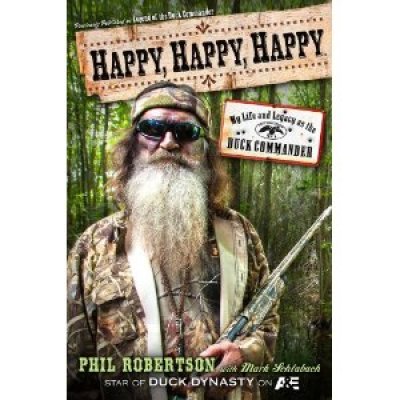 Phil Robertson, the patriarch behind A&E's most-watched reality series "Duck Dynasty," which profiles his family's antics inside their business, Duck Commander, will be releasing his "no-holds-barred" autobiography, Happy, Happy, Happy: My Life and Legacy as the Duck Commander, on May 7.
A staunch defender of the Bible, the U.S. Constitution, and the right to life, Robertson shares the transformational moments of his 66 years, including the "sex, drugs and rock 'n' roll" lifestyle he was living in his 20s, before he sought God's message of grace and forgiveness.
In an interview about his destructive lifestyle that preceded his decision to follow Jesus, Robertson shares one scenario in which he was dismissive toward those who were desperately trying to save his soul.
"So at 28, some guy with a Bible came in a beer joint that I was running, and he wanted to talk it over," he said during an interview with LifeWay about his upcoming book. "I basically ran him out of the place. My sister is the one that brought him. And while he was in the back trying to get a Bible study going with yours truly, my sister was up in the front, and she was handing out Bible tracts, so that caused a bit of a ruckus in the beer joint."
Robertson, the popular family man who in the three seasons of Duck Dynasty is known for espousing humorous words of wisdom, said his life was "going south in a hurry," when he finally decided to look up the man he'd previously thrown out of the bar, so that he could sit down and learn about Jesus, "God in flesh."
"It took the blood of God to remove my sex, drugs and rock 'n' roll lifestyle – sin. That's the price," he said. "When I was sitting there listening to that, I thought 'man that was a mighty kind thing to do for a scumbag like me.'"
During his speeches to church groups and organizations across the country, Robertson often shares a fact of life most people want to ignore, which is that everyone is going to die, and Jesus' promise to humanity is that believers are "guilty no longer, the price has been paid," which is followed by the guarantee of everlasting life.
The Louisiana native and former first-string quarterback, who played football with Terry Bradshaw at Louisiana Tech University in the '60s, was, like Bradshaw, drafted into the NFL. But he decided instead to embark on a different journey in life, one that has enabled him to combine his knowledge about hunting with his passion for Jesus.
Robertson is adamant in his belief that Jesus' story of salvation is true. Because, he said, it's "too wild a story to be dreamed up by human beings, especially sinful ones."
"If you're not a believer and you don't believe God exists at all, about the only hope you have is that he not be there, that's your hope: maybe he's not there," he said. "What we're saying is: we trust that he is."