'Duck Dynasty' Stars Impart Marital Advice to John Luke, Welcome Mary Kate to the Family Ahead of Wedding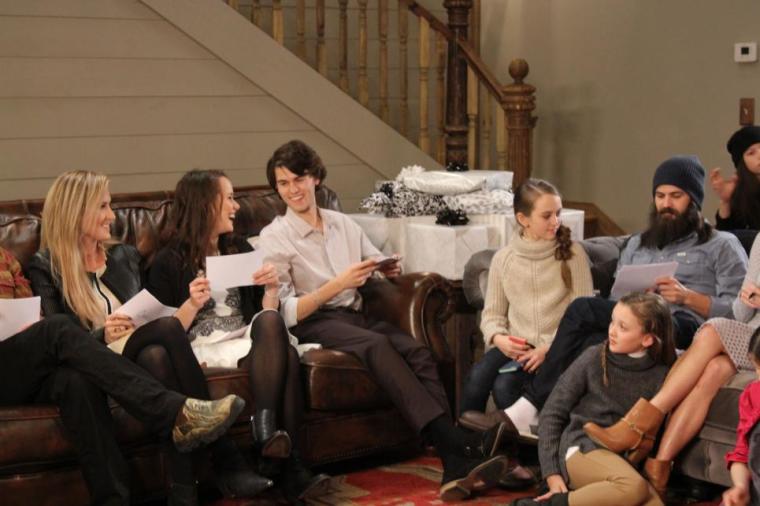 "Duck Dynasty" returns to A&E on Thursday and reveals how the Robertson family is preparing for the wedding of John Luke and his fiancée, Mary Kate McEacharn, this Saturday, June 27.
The new season of the popular reality series kicked off with an engagement party for John Luke and Mary Kate, who got engaged on John Luke's 19th birthday last October and are now just days away from their wedding. In the new episode titled "Grooming the Groom," the Robertson family hosts Mary Kate's family for the engagement party, which included games, a prayer before dinner and opening gifts.
"It's a celebration for the whole family," said John Luke's mother, Korie Robertson.
During the season premiere, John Luke also set out on a golfing trip with his father, Willie, as well as uncles Jep and Jase who imparted marital advice. Jep was the first to chime in, suggesting "sensual oils" before Willie interrupted him.
Over at Jep and Jessica's house, Mary Kate received her own bits of marriage advice during the "Duck Dynasty" season premiere, including instruction on Robertson family patriarch Phil's famous crawfish etoufee, a Cajun and Creole dish typically served with rice and shellfish.
"Well, Mary Kate, I'm glad that you're going to be the next addition to the Robertson clan," said Phil. "What better way to start than learning how to cook my famous crawfish etouffee?"
Surrounded by Robertson wives, Mary Kate also learned that food is an important part of life for the family in West Monroe, Louisiana.
"If you're a Robertson woman and you don't know how to cook, you're going to be ridiculed and teased for the rest of your life," said Jessica.
Later, Jase's wife, Missy, explains that marrying into the Robertson family, which operates the Duck Commander business, is "always an adventure."
"Being married to a Robertson man is not always romantic, but it is always an adventure," said Missy. "And the truth is, romance can be nice but it doesn't compare to a truly loving and committed lifelong marriage with the man you love."
"Duck Dynasty" airs on A&E at 9:30 p.m. ET on Thuersdays. Watch a clip from the season premiere below.