'Duck Dynasty' Stars Sadie and Korie Robertson Make Hilarious Debut on 'Celebrity Family Feud' (Video)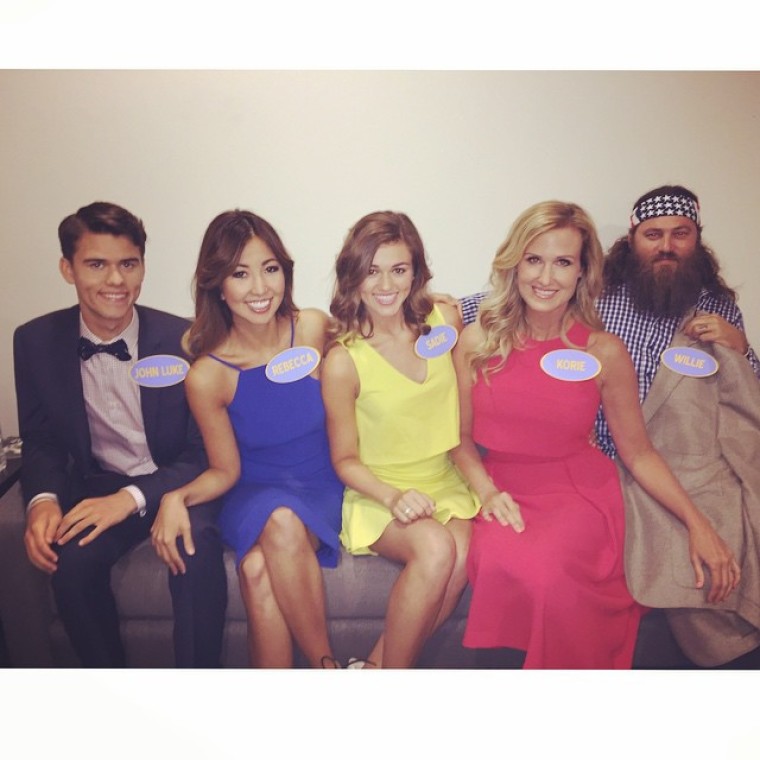 Members of the Robertson family, who star in the A&E hit series "Duck Dynasty," will appear on "Celebrity Family Feud" this Sunday in a bid to raise money for charity.
Willie Robertson appears on the game show alongside his wife of more than 20 years, Korie, his newlywed son, John Luke, and daughters, Sadie and Rebecca. In a preview clip Sadie, a former "Dancing With the Stars" contestant, is seen drawing laughter and audience applause while answering an unusual question.
"Feud" host Steve Harvey asks: "Hey Sadie, C'mon now, if they made a sexy perfume for female dogs what might it smell like?"
After pondering in thought for a few seconds, she replies: "a fire hydrant?"
Her response instantly draws fits of laughter from everyone, including herself.
"I'm nervous," she adds.
"Celebrity Family Feud" is a a spin-off of the American game show "Family Feud," which features two families competing to correctly guess the most popular responses to survey questions.
The Robertsons competed against "Mike & Molly" star Katy Mixon and her father, mother, sister and brother in a bid to win money for the Urban Ministries charity.
In another clip Korie also leaves the audience giggling when she gives a rather candid response to Harvey's question.
"Name something of your wife's you might be holding in your hand," he asks, to which she replies "boob?"
As the audience laughs, a stunned Harvey then makes his way over to a wide-eyed Willie before letting out a squawk of the famous "Duck Dynasty" duck call. The sound draws even more laughter.
Last month, the reality TV family celebrated John Luke's wedding to 19-year-old, Mary Kate McEacharn. The couple wed before a group of 800 family members and friends in an outdoor ceremony at the Robertson family farm in West Monroe, Louisiana, and Willie officiated the ceremony.
"I had an amazing time!" Luke told Us magazine in a statement, with his new bride, adding: "It was one of the best days of my life! It was everything I hoped it would be and more."
"Celebrity Family Feud" airs on ABC this Sunday, July 12.