'Duck Dynasty's' Phil Robertson Supports Trump in 'Spiritual' Vote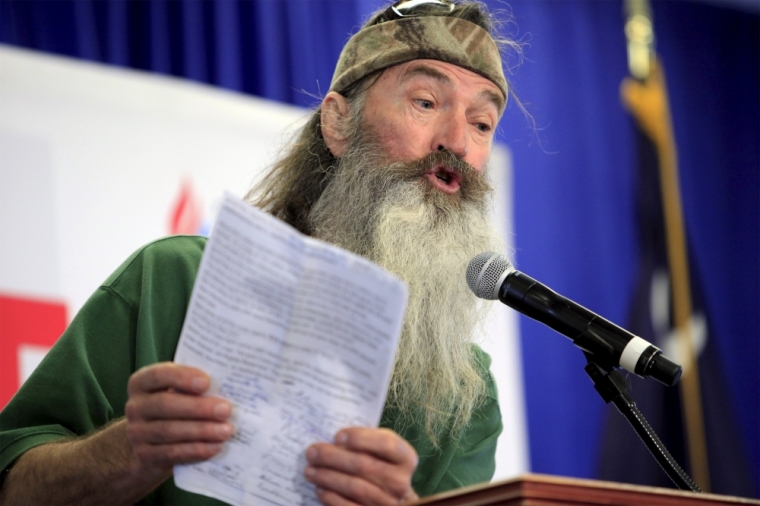 "Duck Dynasty" star Phil Robertson is throwing his support behind presumptive Republican presidential nominee Donald Trump for reasons other than politics.
"The issue in America, in my opinion, is much larger than presidents, prime ministers, kings," the "Duck Dynasty" patriarch said in an appearance on FOX News' "Hannity" this week. "The issue before us, in my opinion, is a spiritual one. I don't think it's a political fix. Politicians can help."
Robertson explained that he had supported Texas Senator Ted Cruz because he was a "Jesus man" and a "strict constitutionalist," saying he felt that Cruz would vet his decisions using the Bible. Although Trump was Robertson's second choice, he has said he would "enthusiastically" support him. The Duck Commander founder is believing that God will be the source of Trump's common sense. Asked if man's common sense comes from God, Robertson said of Trump, "I hope so in his case. I really do."
The reality star went on to explain the spiritual context behind his voting methodology. "All men are like grass in all their glory — like the flowers of the field. The grass withers, the flowers fall, but the Word of the Lord stands forever." He asserted, "We have a spiritual problem in America … That's the crux of the matter."
Robertson examines that spiritual problem in his new documentary "Torchbearers," which explores what happens to Western societies when God is omitted from all areas of public life.
"As these empires rise, they remove God as their anchor," Robertson told Sean Hannity. "They let men determine what's right, what's wrong, what's good, what's evil, and how much your life is worth. The documentary looks at a historical account, going all the way back thousands of years, and it's always the same — once you remove God then the carnage starts."
The "Duck Dynasty" star said many Americans are frustrated with the current direction of the country and, out of depravity, are "trying anything" by supporting a "complete outsider" like Trump. "Depravity, in my life time, has become mainstream … The citizens of America are seeing that [depravity] and they don't know what to do ... "
Robertson said that America's founding fathers warned that if the country loses its religion, then its morality will begin to slide, as will its freedom. "It's when people forget God that tyrants forge their chains," Robertson said, paraphrasing one of America's founding fathers, Patrick Henry. "But it's a hard sell in these days."
"God does not come and go like presidents. He's always there," Robertson said.