77 years on, Dutch honor legacy of American liberators who helped defeat Nazis in World War II
Netherlands American Cemetery reflects generational bond between American and Dutch families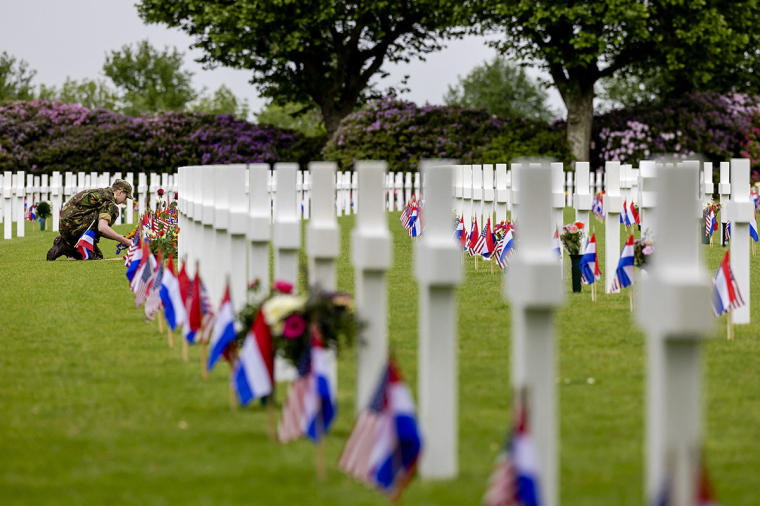 Far from America's shores, U.S. war heroes who fought and died defeating Nazi Germany have found an eternal welcome among the Dutch people. 
Located in the town of Margraten, near the famous Cologne-Boulogne highway built by the Romans and used by Caesar and other historical figures, the Netherlands American Cemetery and Memorial is the only American military cemetery located in the Netherlands. 
Spanning nearly 66 acres, the cemetery includes a burial area divided into 16 plots, where more than 8,300 American soldiers — most of whom lost their lives nearby — are laid to rest amid a sea of white crosses, ornamental cherry trees and flowering rhododendron shrubs.
Their headstones are set in long curved rows, many of them adorned with American and Dutch flags in honor of their service and sacrifice. A wide, tree-lined mall stretches out to the flagstaff that crowns the cemetery's crest.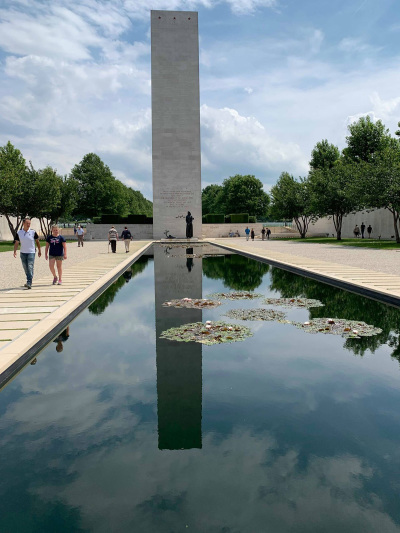 Beyond the burial area, a tall memorial tower casts a long shadow over the site. Engraved on the tower are the words "In Memory of the Valor and the Sacrifices Which Hallow This Soil."
At its base, a somber reflecting pool graces the Court of Honor, where 1,722 names of those missing in action are recorded on the Tablets of the Missing, with rosettes marking the names of those fallen who have since been recovered and identified.
Facing the reflecting pool, a statue representing all the women who have suffered the loss of a father, husband or son stands watch as three doves of peace take flight over her shoulder.
The tranquility of this place stands in stark contrast to its history, when it was liberated on Sept. 13, 1944, by the  U.S. 30th Infantry Division, forcing the withdrawal of German troops after a four-year occupation.
In December 1944, American forces suffered massive losses in the Ardennes (Battle of the Bulge) when the Germans placed a counter-attack near Bastogne. By the following March, Operation Varsity pushed the U.S. Army further into Germany, all the way to Berlin. 
Months later, Germany would surrender unconditionally, ending the second global conflict of the 20th century. 
Ton Hermes with the Foundation for Adopting Graves American Cemetery Margraten told The Christian Post that after U.S. troops crossed the Dutch border on Sept. 12, 1944, they remained in the area for five months, staying in schools, barns and private residences.
"The local population had a very warm and friendly connection with their liberators," Hermes said via email.
Indeed, every grave at Netherlands American Cemetery has been adopted by a local citizen.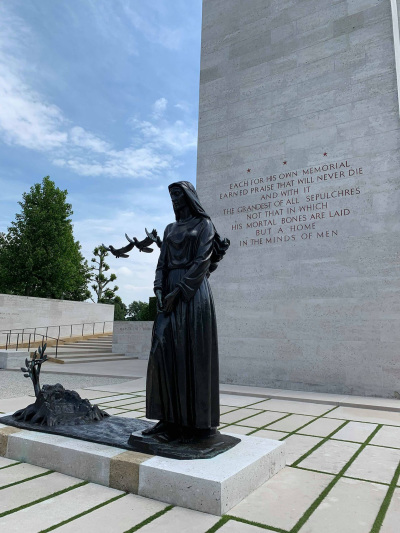 Since 1945, residents have brought flowers to the cemetery and partnered with the foundation, which created a program known as The Faces of Margraten. 
When a resident received the news that "their soldier" — the soldier they had staying in their home, those who ate and drank with them — was killed, Hermes said they adopted his grave as if he was a part of their family.
The Faces of Margraten collects photos of fallen soldiers and sponsors a bi-annual event at the cemetery during Dutch Memorial Day weekend, during which more than 3,000 photos are on display next to headstones and the Walls of the Missing, "bringing visitors face-to-face with their liberators," said Hermes.
He said during that time, it's not uncommon to see people in World War II-era military vehicles or placing a state flag at the grave of all American soldiers from that particular state. 
Decades after the end of the war, Hermes says locals continue to have an unbreakable bond with the fallen.
"One day, the NATO commander from Brussels visited the American cemetery in December during Christmastime. It was snowing and freezing cold. He expected to find an abandoned cemetery," he said. 
But instead, said Hermes, he saw people wandering between the graves and he asked them what they were doing under these weather conditions. 
"They all answered that they visited their soldier at Christmastime to bring flowers and say a prayer, 75 years after World War II," said Hermes.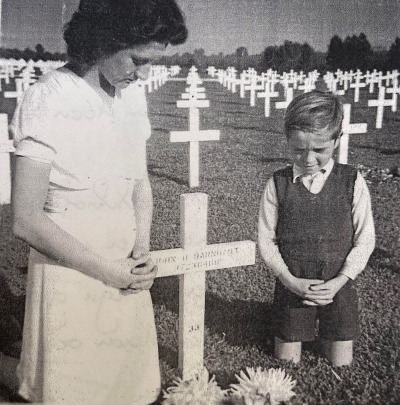 In 1948, when the American cemetery in Margraten was appointed the only American military cemetery in the Netherlands, all American next of kin received a letter asking whether they wanted their son or husband repatriated. 
Many American families decided to leave their husband or son in Margraten: 8,301 were reburied at the cemetery, while 10,000 remains were repatriated back to the States.
Since then, Hermes said many graves have been adopted by families and passed on from one generation to the next. 
"This is how they show their respect and gratitude for the sacrifice of these boys," he added.
He says even today, Americans are surprised when they hear about the adoption program.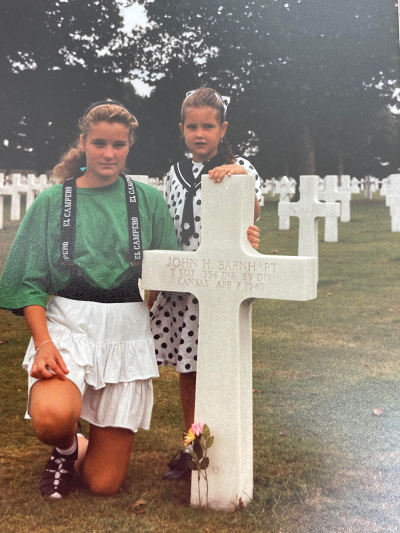 Many of them hope to get in touch with the adopting family and families feel comforted that someone is tending the grave of their father or grandfather, Hermes said.
Claudia Welzen-Holsgens can see the Netherlands American Cemetery from the farm where she works in Margraten, but her connection to the site is far deeper than that.
She and her sister, Lucinda, and brother, Patrick, are the third generation in their family to care for the grave of a U.S. soldier.
Their grandfather fought against the Germans and their grandmother was a nurse at a hospital in Maastricht. The two met after their grandfather stepped on a German landmine and lost his leg.
"When the war was over, the Netherlands … asked if they would adopt a grave of an American soldier," Welzen-Holsgens said. 
In 1945, they adopted the grave of T Sgt. John H. Barnhart of Kansas, who was serving in the 354th Infantry when he was killed in Germany.
Since then, Barnhart's final resting place has been entrusted to Welzen-Holsgens' grandparents, then her parents, and now she and her siblings and their children. 
"We visit the grave almost every week and on special days, like Memorial Day, all the people who adopted a grave get an invitation to this special day to come to the American Cemetery in Margraten," she said. "Airplanes fly over the cemetery [on] that day and the cemetery is covered with flowers."
Following the death of their grandmother and grandfather in 2002, Barnhart's grave passed to their mother, Ria Holsgens-Coeymans (and her husband Al Holsgens). She, in turn, began a search to locate Barnhart's family, even writing to the U.S. Embassy for assistance.
After years of searching, Welzen-Holsgens' mother was contacted by Melissa Barnhart, managing editor of The Christian Post, in 2015 after she learned of the adoption program and sought to discover who had adopted her grandfather's grave. She wanted to thank the family for caring for a man they had never met, an American soldier who they lovingly call "their boy." Sadly, after only a few short years of correspondence, Holsgens-Coeymans died from cancer. 
Welzen-Holsgens has since adopted a second soldier, John P. Mullen of Pennsylvania, and said she is still searching for Mullen's family.
Some families never had the chance to make the expensive trip to Europe, leading to stories like those of David Marshall, a WWII U.S. Army veteran and friend of Benedict G. Schmitt ("Smitty"), who is buried in Margraten.
Marshall was a member of the 84th Infantry Division and met Schmitt when he was assigned to the 334th Infantry Regiment. The two trained together in the heavy weapons battalion and ended up both sailing to the United Kingdom.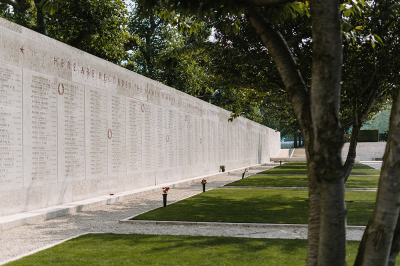 When they arrived, they trained for two more months and then landed at Omaha Beach, before moving to the vicinity of Gulpen in the Netherlands.  
It was there the 84th Infantry — including Marshall and Schmitt — were drawn into the fight. The first day of combat involved a joint U.S.-British operation to clear a narrow path for the 334th to advance. 
As they moved forward, a German heavy artillery barrage ensued. Within 15 minutes of their first action, Marshall says Schmitt was hit by an enemy shell. 
"He went out in front of me, we had six squads in our platoon, his squad went out before my squad," Marshall said in the 2018 documentary "Remember." "When I went out, that's when I found him."
Marshall says his family didn't want Schmitt's body sent back to the U.S., so he was laid to rest at the Netherlands American Cemetery.
Decades later, Marshall says he continues to visit his friend and comrade "Schmitty" and salutes the Dutch people for honoring American soldiers who paid the ultimate price.
"I think it's wonderful," he said. "When I first heard about it, taking care of American graves, this is beyond the realm of what you have to do."
According to Hermes, Dutch popular sentiment toward the U.S. remains high, with a waiting list of over a thousand would-be adopters.
"Nowadays, the popularity of adopting is bigger than ever," said Hermes.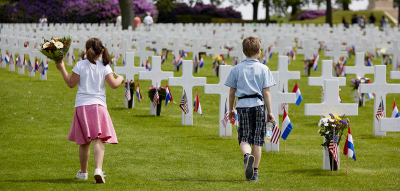 Hermes attributed the Dutch bond to a long relationship with the U.S., with many Americans having family roots in Europe or the Netherlands, including former U.S. Ambassador in The Hague Pete Hoekstra.
In 2018, board members of the Adoption Foundation were invited by the American World War II Orphans Network to come to Washington for a celebration, along with a men's choir from Margraten.
Hermes said the choir performed at several locations — including Arlington National Cemetery — and, along the way, "thanked the people that never knew their fathers because they were in Europe and never came back home."