Dzhozkar, Tamerlan Tsarnaev 'Losers,' Says Uncle Ruslan Tsarni: Boston Bomber 'Ask for Forgiveness' (VIDEO)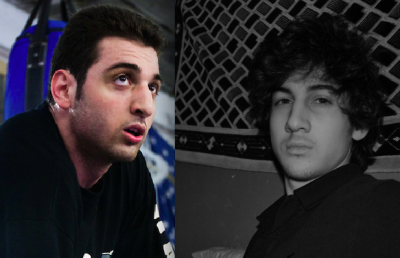 Dzhozkar and Tamerlan Tsarnaev were "losers," according to their uncle, Ruslan Tsarni of Montgomery Village, Md, who spoke to reporters on Friday lunchtime urging on-the-run Boston bombing suspect Dzhozkar to turn himself in.
Tsarni told his 19-year-old nephew, Dzhozkar, that he must turn himself in and ask for forgiveness. His other nephew, Tamerlan Tsarnaev, a 26-year-old who became a naturalized U.S. citizen last year, and who was labeled by the FBI on Thursday as Suspect No. 1, was killed overnight in a dramatic shootout with police.
The uncle confirmed to reporters that the brothers came from a Russian region near Chechnya and had lived together in Cambridge, Mass. for many years, growing up here. Tsarni also explained that he had not seen them for several years.
He told reporters that his family was ashamed that the two brothers had been associated with the Boston bombings. He himself testified that he and his immediate family loved the United States and respected their adopted country.
Asked to speculate why the brothers might have carried out the bombings he suggested that they committed the crime because they were "losers" struggling to adapt to life successfully in the United States.
He confirmed that they were Muslim ethnic Chechens, but strongly rebuffed any suggestions that the bombings had anything to do with Islam or religion, saying again that they likely had become disillusioned with life and had become angry at others who had succeeded in life in the United States.
"They were not able to settle themselves, and hated everybody who did," he said at one point.
Tsarni said:
"I want to speak on behalf of Tsarnev. First, the only purpose [I am] here is just to deliver condolences and to share grief with the victims here. Those who were injured - this boy this Chinese girl, the young 29-year-old girl - I've been following this from day one.
I can never imagine that somehow the children of my brother would be associated with that so it is atrocity. I don't know this family . I don't know how to share that grief with the real victims.
They never lived here. The last time I saw them was December 2005.
I never knew they had any ill will towards United States. Being losers, hatred to those who were able to settle themselves - these are the only reasons I can imagine why they did this. Anything else, religion, is a fraud. I've seen them when they were kids.
Somebody radicalized them but its not my brother who spent his life bringing bread to their table fixing cars. He didn't have time or chance, He's been working.
My family has nothing to do with that family.
Of course we are ashamed! They are children of my family! Who had little influence of them. i just wanted my family to be away from them.
Again I say what I think was behind it . BEING LOSERS! not being able to settle themselves. That they were hating everyone who did.
They came early since 2003. They came to Cambridge when they moved to the States. They came to Cambridge. They immigrated. They received asylum. They LIVED there. My family had nothing to do with that family for a long time. Last time I spoke to them was 2009.
I say I teach my children. I respect this country I love this country. This country which gives chance to everyone else to be treated as a human being.
 
They never been in checnya. They had nothing to do with Chechnya. They were not born there. One of them was born in neighboring country.
I saw them only this morning when I was contacted at 7 a.m. with the orders. When they said have you sent the pictures I opened up internet and I saw a picture of Jahad.
(Reporter: What would you say to Dzhozkar?)
I say, 'You're alive! Turn yourself in and ask for forgiveness. The victims from the injured and from those who died. Ask forgiveness from these people." He put a shame on our family. He put a shame on the entire Chechen ethnicity because now everyone blames Chechens. They shamed an entire ethnicity. Turn yourself in and put yourself in the discretion of these people.
(Reporter: Do you consider them terrorists?)
I would, I would. From now on, I ask you to respect our property. Again, with the families of those who suffered, we share the grief with them...We seek forgiveness. Thank you."