Eddie Long 'Crowned King' a Misunderdstanding, Says Rabbi (VIDEO)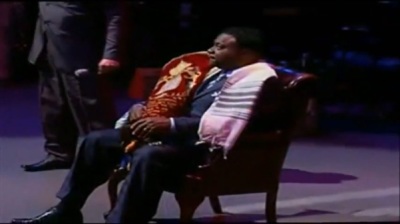 After much confusion regarding the viral video of Rabbi Ralph Messer declaring Pastor Eddie Long a "king," the New Birth Missionary Baptist Church has issued a statement from Messer clarifying the purpose of Long's "crowning."
"My message was about restoring a man and to encourage his walk in the Lord," Messer said in an emailed statement, as reported by The Associated Press. 
"The presentation of the Scroll of Torah was simply a way of bringing honor to a man who had given his life to the Lord and had given so much to his church, the Atlanta metro area and throughout the world. It was not to make Bishop Eddie L. Long a king," Messer added.
WATCH VIDEO OF EDDIE LONG BEING CROWNED KING HERE
The confusion began at the Sunday, Jan. 29 televised service at New Birth Missionary Baptist Church, located in Lithonia, east of Atlanta, Ga.
In an ornate ceremony, guest speaker Rabbi Ralph Messer declared presiding pastor Eddie Long a "king." He wrapped the controversial pastor in a 312-year old Torah scroll which he claimed was rescued from the Auschwitz death camp after WWII. The scroll, according to Messer, "may still have the dust of Auschwitz and Birkenau" on it.
"He's a king. God has blessed him," Messer declared. Long was then hoisted onto a chair and carried by four men across the podium, as Messer spoke of biblical kingship.
The video was then posted on YouTube on Jan. 31, and since its publishing has garnered a viral following of almost 400,000 views.
Many were skeptical about the video, with religious leaders deeming the ceremony offensive and flamboyant.
"We wouldn't wrap a Jewish person in a Torah scroll and declare him king. As a Jew, I find that use of symbols very off-putting," Rabbi Joshua Heller of Congregation B'nai Torah in Sandy Springs told The Atlanta Journal-Constitution. 
"The Jewish community does not associate itself with the Messianic congregations. We don't feel like this does due justice to either the Jewish or Christian community," he added.
The Rev. Wil Gafney, Ph.D, an Associate Professor of Biblical Hebrew and Jewish and Christian Scripture, provided a list of 27 discrepancies of the ceremony in The Huffington Post.
"It is unfortunate that the speaker chose to plunder the sacred traditions of Judaism as he invented novel interpretations of biblical texts and imagery affirm and elevate an individual who had admittedly broken the sacred trust between pastor and congregant," Gafney wrote.
Rabbi Messer is a Messianic Jew who leads Simchat Torah Beit Midrash (STBM), which incorporates Torah teachings with interfaith discussion.
Eddie Long has made a name for himself as a charismatic megachurch pastor. His New Birth Missionary Baptist Church has attracted about 250,000 members. He has also had his share of legal woes, battling accusations of sexual misconduct and getting members embroiled in a million-dollar ponzi scheme.