Eddie Long's New Birth Christian Academy Closes Down
While many students across the country will be returning to classes next week, one school in Georgia will be closing down before the school year is completed.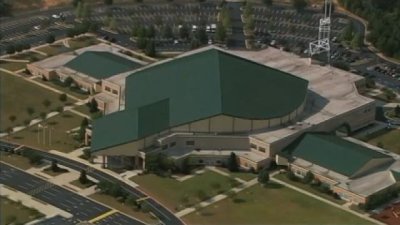 New Birth Christian Academy, a school affiliated with Bishop Eddie Long's New Birth Missionary Baptist Church, sent a letter to parents saying that the school would not continue with classes after the Christmas break.
With the 18-year-old academy closing, over 200 students will find themselves without a school.
The letter sent to the parents of students cited decreased donations and enrollment, as well as a bad economy, as the reason for the closing. It also said that school officials would help parents find other schools to enroll their children for the duration of the 2011-2012 school year.
Although the school denies any connection between the decision to close and the many recent scandals connected to Eddie Long, some parents are skeptical.
"I don't believe that. I believe that this last straw with the divorce, the sealed settlement, it just does not look good," said one parent to WSB TV Channel 2.
In September 2010, four young men filed separate lawsuits against Long over allegations of sexual misconduct; the case was dismissed in May after both sides announced that a settlement had been reached out of court. A fifth young man, who was not a member of Long's church, also sued Long for similar allegations and also reportedly received settlement money.
Despite news about Eddie Long subsiding after the settlement agreement, he again made headlines when Long's wife Vanessa filed for divorce in early December. But just hours later the same day, she issued a statement saying that "upon prayerful reflection" she has reconsidered filing for divorce and has withdrawn the petition.
That weekend, Long announced to his congregation during Sunday service that he would be taking a break from leading the church in order to focus on his family.
"You've given me some weeks to take care of some family business," Long told the church with his wife, Vanessa, and two of their children by his side.
Besides the sex scandal, Long has also been plagued by money scandals, as many have looked with suspicion on his lavish lifestyle. Long's New Birth Missionary Baptist Church was one of six ministries investigated by Sen. Charles Grassley, former ranking member of the Committee on Finance. At the conclusion of Grassley's investigation in January, he noted that New Birth Missionary Baptist Church was uncooperative with the probe into financial accountability among major religious organizations.
New Birth Christian Academy declined to comment on this story.
The Christian Post Daily Report 12.28.11