Egypt's Copts Chant Nicene Creed After Palm Sunday Bombings; 'Standing Strong' Despite Massacre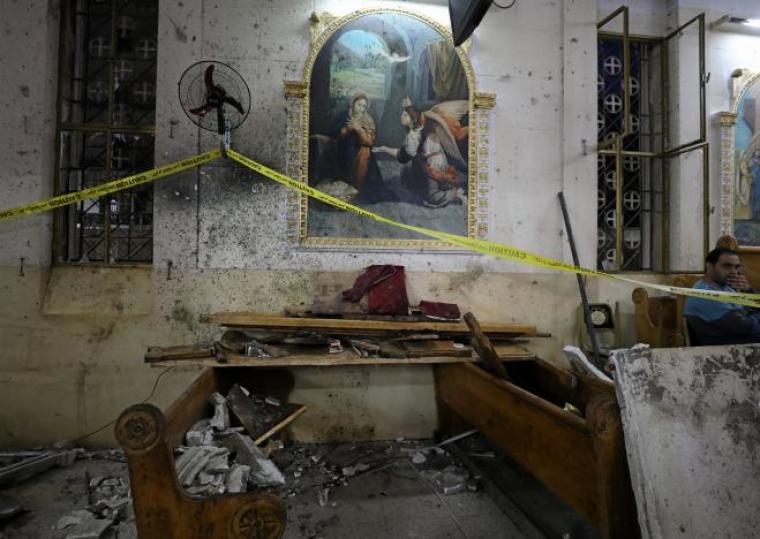 A new video shows Egyptian Coptic Christians clinging to their faith immediately after Islamic terrorists slaughtered dozens of worshipers in two separate attacks on Palm Sunday. 
The video that was posted on Facebook following the bombings at Coptic churches in the Egyptian cities of Tanta and Alexandria shows hundreds of Coptic Christians outside of a church enthusiastically chanting the Nicene Creed in Arabic.
David Curry, CEO and President of Open Door USA, which advocates for the persecuted church around the world, told The Christian Post on Tuesday that what his group is hearing from their teams there is that while the pain and shock is great, their faith remains strong.
"The Copts are an inspiring group that has been under so much pressure for their faith and yet they are standing strong and really showing the love of Jesus in the face of great opposition," Curry said, noting that the video is evidence they are "determined to celebrate Holy Week, to celebrate Easter and keep the focus on Jesus."
"But I think their hearts are breaking, clearly," he added.
On its 2017 World Watch List, which tracks persecution of Christians every year worldwide, Open Door USA placed Egypt 21st out of the top 50 nations where Christian persecution is the worst.
CP asked Curry if he expects that ranking to change in light of the Palm Sunday massacre and other deadly attacks in recent months.
"I think it's going to be a mixed bag in Egypt," he replied.
Most Egyptians "want to be a pluralistic society in the sense of allowing Copts and others to remain ... but I think you're going to have pressure from Islamic fundamentalists. You're going to have continued attacks," he noted, mentioning that Cairo is home to some of the most radical strains of Islamic ideology.
He does not, however, expect the return of the Muslim Brotherhood, the Islamic group that ruled Egypt following the Arab spring in 2011 but was ousted by military coup in 2013.
CP asked Curry if he believed that the extremist violence was causing any Muslims to reconsider their faith, if these acts of terror were backfiring.
"Many moderate Muslims are seeing this trend and asking themselves 'Is this really what we're about?' They are questioning their heritage," Curry said.
"There's a growth in atheism in Egypt, but also a return to asking spiritual questions. And some people are coming to faith in Jesus and others are just deciding that Islam is not for them."
The violence is also revitalizing the faith of Orthodox Christians in bringing them back — Coptic Christians being a great example — to faith in Jesus and not in Christian rituals or Christian traditions but in who Jesus was, he said.
"Because ultimately the spiritual strength that comes from Jesus is the only thing that will help you in moments of tragedy like this. It's not going to be your tradition or your ritual," Curry said.
"In that way, it is backfiring."
Coptic Christians comprise approximately 10 percent of Egypt's 95 million people, and have been around since the time of Jesus.
Despite pressure from all sides, Curry noted, "they still kept the root of their faith, did not become overly politicized, did not lash out at the extremists with like-minded violence, which sometimes happens in some places in the world when people are attacked there will be reciprocal attacks."
"So they've remained spiritually focused, and I think that's important to recognize during this Holy Week."