Elaine Flake takes helm of one of America's largest churches at 72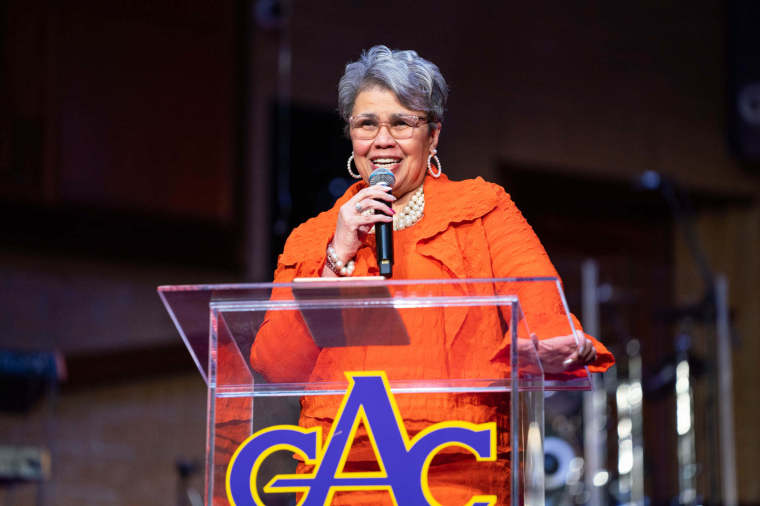 Elaine Flake might have become the woman pastor with the largest congregation in the United States after being appointed lead pastor of the more than 23,000-member Greater Allen Cathedral of New York at 72 on Sunday.
She is taking over the position formerly held by her husband, the Rev. Floyd Flake, 76, who also spent 11 years in Congress fighting to improve life for constituents in his church community in Jamaica, Queens.
The announcement was made during the 199th Session of the New York Annual Conference of the African Methodist Episcopal Church by Bishop Gregory G. M. Ingram, who told Elaine Flake that "it's a lot of work on you with your family."
Greater Allen Cathedral of New York, founded in 1834, is also the largest congregation in the AME church by membership.
"No church in African Methodism has done what you all have done. Particularly Dr. Floyd. And if there was any kind of way that this church could make a pastor emeritus, it would have been him. That being said, I hereby appoint you the proud pastor of Allen AME Church," Ingram told Elaine Flake as she graciously thanked him for the appointment.
Greater Allen Cathedral of New York owns commercial and residential developments, a private preschool founded by Elaine Flake and her husband, and a number of commercial and social enterprises, which has placed the church "among the nation's most productive religious and urban development institutions," the church's website states. 
The church is one of the largest private-sector employers in Queens, and its operations have been "a national paradigm of church-centered, faith-based, public/private community educational and economic development."
At a 2014 conference in New York City, Floyd Flake, who recently had Merrick Boulevard in Queens renamed after him in honor of his work in the community, said pastors need to be tangible agents of change beyond just a sermon when the circumstances require it.
He explained that when he first came to New York to do ministry in the 1980s with his wife by his side, the circumstances required him to engage with city leaders.
"I came out of Boston University from dean of students to take a position in New York, and I realized that our young people were not learning and there was a necessity for us to make some kind of changes," he said at the time.
"And so I took the education experience and said, I'm going to try to see if there is a way we can get the drug dealers out. Give some sense of opportunity to people to live in this community, be happy in this community again, try to get rid of the drug dealers," he explained.
"I went to [New York] City Hall and counted up about 300 empty lots and decided that I would start out my ministry by making sure people had good living standards. And so Mayor [Ed] Koch, who was the mayor at the time, I talked to him about building homes," Flake said.
"My desire at that point was just raising the living standards, trying to make a better community for us to live in. And as time went on, my wife decided we wanted to do something in education. We both are educators, we wanted to build a school. So we took a particular lot on a corner, built a school, and [it] became one of the greatest schools. A nice school, according to some of the mayors, the last mayor in particular," he added.
Ingram explained Sunday that Elaine Flake and her husband had been "like family" to him. He noted that even though he and his wife were looking forward to their retirement, he could think of no better person to take over the leadership of the storied church than her.
"I thought before I left here I was probably going to make another appointment, but I know the investment you and Floyd have made in this church. I know a lot of folk want it but … I want you to know, mam, that this church is what it is, because, really because of you and your husband. And I couldn't think of anybody more deserving to be in this [spot] at this point at this hour than you," he said.
The Christian Post reached out to Elaine Flake for comment Tuesday but she was unable to immediately respond.