Election 2018 Polls: Will GOP Gain Senate Seats?
Senate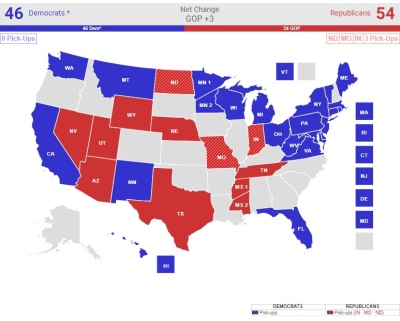 In their "Senate No Toss Ups 2018" map, accessed Monday, RealClearPolitics predicted that Republicans would have 54 seats to the Democrats' 46. Republicans currently have a 51 seat majority.
This contrasts with last week, when RCP predicted the Republicans would hold 53 seats and the Democrats would hold 47.
The apparent flip compared to last week was Indiana, where incumbent Democrat Senator Joe Donnelly is facing a tough challenge from Republican businessman Mike Braun.
In August, Trump campaigned in Indiana on behalf of Braun, stating in a tweet that he believed Braun was "strong on Crime & Borders, the 2nd Amendment, and loves our Military & Vets."
FiveThirtyEight's model, updated Monday, gives the Republicans an 83 percent chance of keeping control of the Senate, while giving the Democrats a 17 percent chance of gaining control.
This represents an increase for Republicans from last week, when FiveThirtyEight forecasted a 78.1 percent chance of Republicans keeping control of the Senate and the Democrats a 21.9 percent chance of gaining control.