Election 2020: What do the final polls before Election Day predict?
RealClearPolitics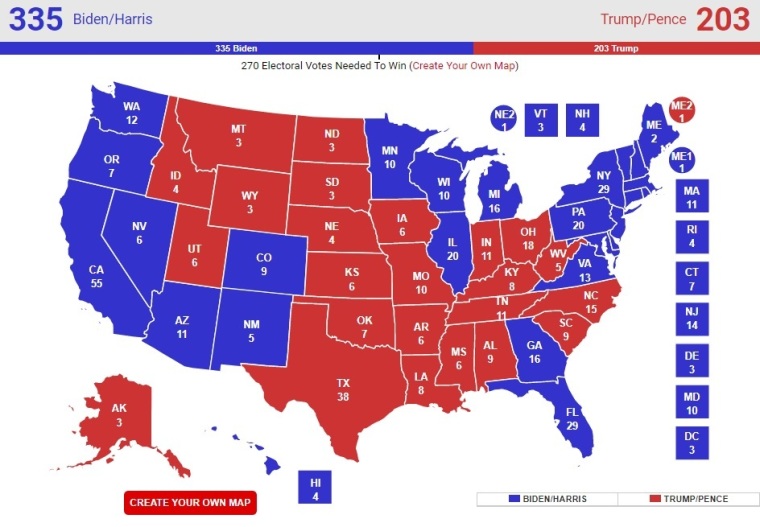 Political polling analysis website RealClearPolitics has a "no toss up states" map for the presidential election, which describes a scenario that does not include swing or "toss-up" state results.
Accessed Monday, the "no toss up" map predicts a considerable Electoral College victory for Biden, giving him 335 points (well above the 270 needed to win) to Trump's 203.
The map gives the Democratic challenger crucial swing states like Florida and Pennsylvania, as well as states that Trump won in 2016 like Arizona, Michigan and Wisconsin.
However, this represents a considerable decline from four weeks ago, when the same "no toss up" map predicted that Biden would get 375 electoral points and Trump would get 163.
States on the RCP "no toss up" map that have shifted from Biden to Trump since last month include Iowa, North Carolina and Ohio.  
RCP's "Electoral College" map shows that 216 electoral votes are in states that lean or are likely to go to Biden, while only 125 electoral votes are in states that lean or are likely to vote for Trump.
RCP calculates a total of 197 electoral votes in states deemed to be "toss-up" states. Toss-up states include Wisconsin, Michigan, Minnesota, Iowa, North Carolina, Arizona, Florida, Georgia, Texas, Pennsylvania and Ohio. 
In addition to being a reporter, Michael Gryboski has also had a novel released titled Memories of Lasting Shadows. For more information, click
here.