'Elysium' Film Review: Christ-Like Sacrifice Marred by Liberal Themes, Violence, Bad Language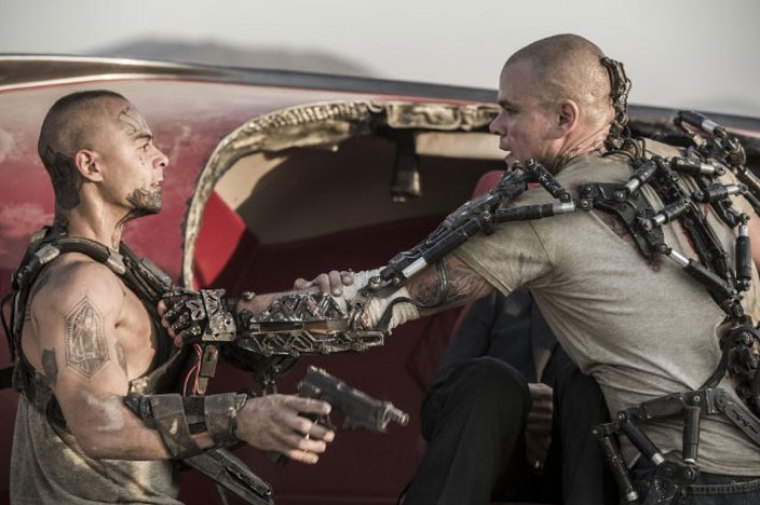 Neill Blomkamp's new film "Elysium" astonished Christian reviewers in a good way with a heroic sacrifice made by star Matt Damon, but its profanity, violence, and alleged liberal bias made it hard to digest.
Bob Waliszewski, director of Focus on the Family's Plugged In film review department, even said that if he were a pastor, he would play clips from "Elysium" to showcase the meaning of Jesus' death on the cross. Nevertheless, he immediately clarified, "the Plugged In team, myself included as the director, are not promoting Elysium."
Sixty to seventy blunt f-words marred the positive message, the Plugged In director explained. As Waliszewski left the theater, he heard that even a secular critic couldn't stand the profuse profanity.
"Elysium" is set in the year 2154, when the poor still live on Earth, while the rich inhabit Elysium, a satellite with no war, poverty, or disease. Matt Damon plays Max, a reformed drug dealer, once notorious for his exploits. After pulling himself together working at a factory that produces Earth's robotic police, he gets into an accident and realizes he only has 5 days to live.
Feverishly desiring to heal himself on Elysium, Max finds his childhood friend, Frey, who tells the story of her daughter, Matilda, doomed by a terminal disease. In a surprising turnaround, Max sacrifices himself to save her, and benefits all of mankind in the process.
Despite the positive message of sacrificing oneself for others, Wileszewski wondered why Blomkamp "worked so hard" to fit in all the bad language. The reviewer noted that in 2012, even though there were more R-rated films, PG-13 movies did much better at the box office. He said that if his children were teenagers, he wouldn't take them to see "Elysium." "I wouldn't even take my wife to this film," he added.
Waliszewski admitted that the film features some positive reference to Christianity – Matt and Frey are raised by Catholic nuns, whose faith inspires them to serve the poor, despite the great stratification of society.
And he thinks "Elysium" presents an important message to Americans. "It's easy to live in a nation like the United States and close our pocket books to people who are less fortunate," he said. "There's a message in this film that I totally agree with – don't wait for the 'have-nots' to ask. The 'haves' should be looking for ways to help."
But where Waliszewski saw a call to charity, the reviewers at Movieguide saw "left-wing political correctness."
"The movie implicitly suggests socialism is the answer to poverty and economic failure, especially socialized medicine like Obamacare," reads the review. The plot's focus on Max and Matilda's need for these cures, and the semi-political steps they take to achieve it, may argue for a healthcare overhaul.
But "Elysium is also a politically correct allegory about America's illegal alien problem," the review continues, pointing out the overwhelming number of Hispanic characters on earth and the two white villains – who happen to have heavy South African accents. Leading the audience to support an illegal entry into a rich environment hints at a defense for aliens crossing America's southern border, the review claimed.
Nevertheless, Movieguide acknowledged that "Elysium" is "well made," praising its "terrific special effects" and "redemptive, moral elements" that range from "proto-Christian" to "strong Christian allegory."
But the special effectsalso bring along graphic violence. Both the Plugged In director and the Movieguide review attacked the gruesome blood and gore in the film. "In what's perhaps the film's most gory scene, a man has the majority of his face blown off," but survives, while the audience sees "his cratered cranium before a machine heals him," wrote Paul Asay, senior associate editor of Plugged In.
The Movieguide review even hints that "the filmmakers and main producers behind this movie…are effectively living on their own Elysium." Damon enrolled his three children into private charter schools after publicly supporting "the corrupt, socialist 'public' schools for years," the review alleged.
Waliszewski did not recommend the film, but he did praise its reminder of Jesus' words in Matthew 26:11, Mark 14:7, and John 12:8 – "the poor you will always have with you," and Christians should serve them while Christ is no longer present for us to serve.