Boy Scouts Gay Leader Ban Blasted by Eric Holder
United States Attorney General Eric Holder on Tuesday blasted the Boy Scouts of America's policy that bans openly-gay leaders and volunteers, accusing the organization of "only [preserving and perpetuating] the worst kind of stereotypes."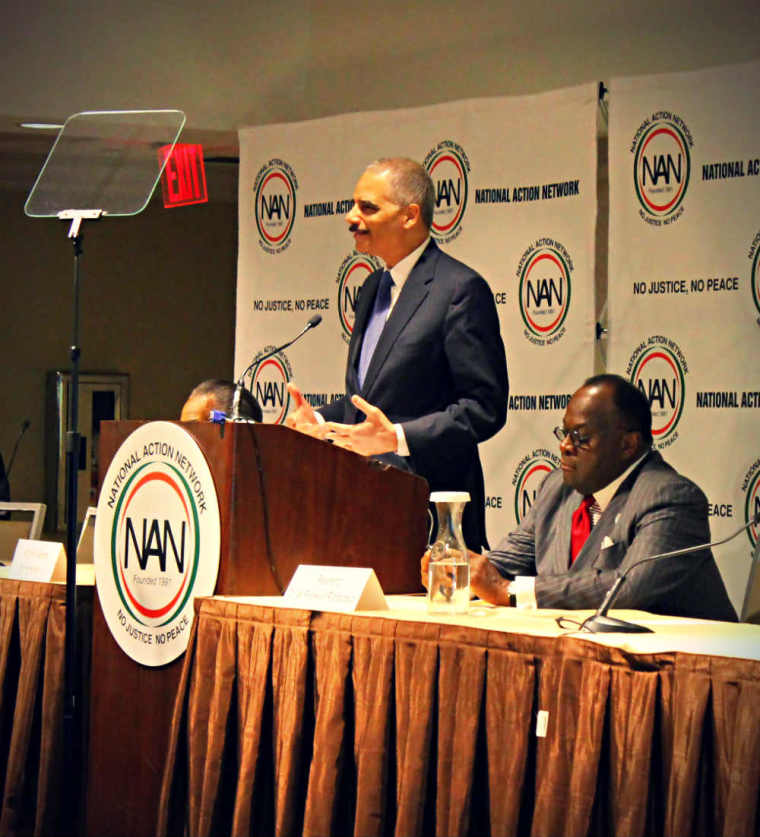 Holder made his remarks at a reception for Lambda Legal, a "national legal organization whose mission is to achieve full recognition of the civil rights of lesbians, gay men, bisexuals, transgender people."
The first African-American attorney general addressed the BSA's policy for the first time since the group decided in 2013 to permit openly-gay scouts, but maintained its ban on openly-gay leaders.
Holder compared this BSA policy to "Don't Ask, Don't Tell," and called it "a relic of an age of prejudice and insufficient understanding."
"Today, courageous lesbian, gay, and bisexual individuals routinely put their lives on the line as members of America's armed services. They inspire us, they protect us, and they defend us. And if these men and women are fit for military service, then surely they are fit to mentor, to teach, and to serve as role models for the leaders of future generations," he added.
Deron Smith, director of communications for the BSA, told The Christian Post last month that in the past decade, the organization had suffered drops of between 2 to 4 percent in membership.
"At the end of December, we had served nearly 2.5 million youth members and close to 960,000 adult members. This is a decrease of approximately 6 percent from the same time in 2012," he said. "To put that in perspective, from 2011 to 2012 membership declined by 4 percent, so we saw additional 2 percent decrease from the previous year."
Smith also defended the policy, which has attracted criticism both from conservative Christian churches, some of which have stopped chartering clubs, and from LGBT activists who fault it for continuing to ban gay leaders.
"In 2013, we engaged in a discussion with our scouting family about our membership policy, and ultimately, scouting voted in favor of a new policy that allows us to serve more kids. That said, we're pleased that the strong majority of our scouting family remains committed to scouting," he stated.
Despite the ban on openly-gay leaders, Smith told CP that the BSA does not, and never has, tracked information about scoutmasters' sexual orientation.
"We don't proactively seek this information and unless individuals choose to discuss it during the application process, or unless they otherwise inappropriately interject it, we have no way of knowing," he explained.
Last May, BSA delegates gathered for their national annual meeting in Grapevine, Texas, to vote on a resolution to change their membership policy. The delegates voted 61 percent to 39 percent in favor of a resolution allowing openly-gay males to become scouts while maintaining the ban on openly-gay scout leaders.