Esurance Super Bowl Ad Promises $1.5 Million to Twitter Winner; Critic Claims Only 6% Who Tweet Message Qualify to Win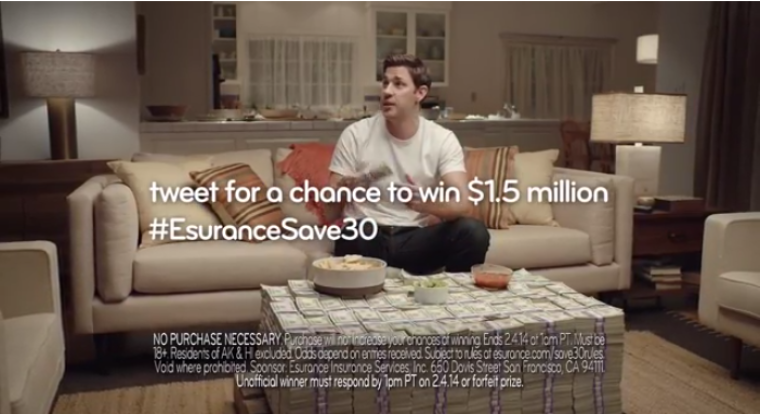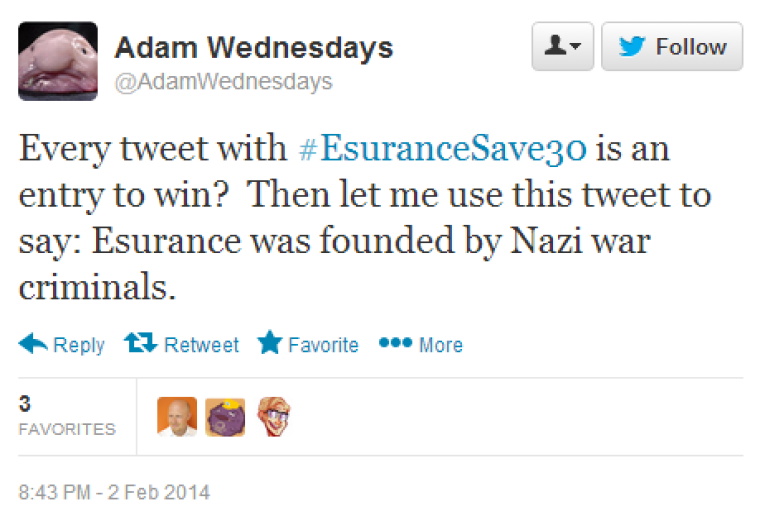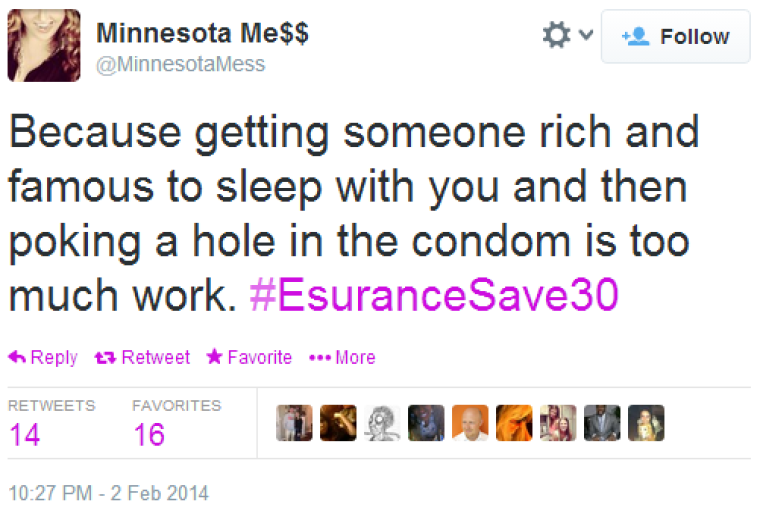 View Photos
For the first ad following the Super Bowl on Sunday night, Internet insurance company Esurance promised $1.5 million to one participant who tweets with the hashtag "#EsuranceSave30." The company, however, is distancing itself from offensive tweets that are using its promotional hashtag.
"When Esurance told me 'we bought the first commercial AFTER the big game!' I was like, great? Then they told me how much they saved, 1.5 million dollars," John Krasinski, star of "The Office," says in the TV ad.
"Since they like passing on their savings, that's what they're going to do right now," Krasinski declared, pointing to a table-sized stack of cash. "Just tweet #EsuranceSave30, and they'll give all this to one of you!"
After the commercial aired Twitter exploded with #EsuranceSave30.
Danny Miller, senior public relations manager for Esurance, told The Christian Post on Monday that, "As of 11 a.m. PT there were 2.39 million tweets with the hashtag #EsuranceSave30."
The tweets are not all positive, however.
"Every tweet with #EsuranceSave30 is an entry to win? Then let me use this tweet to say: Esurance was founded by Nazi war criminals," tweeted @AdamWednesdays, shortly after the ad aired at 8:43 p.m. on Sunday.
Another tweet mocked the effort, comparing it to another get-rich-quick scheme.
"Because getting someone rich and famous to sleep with you and then poking a hole in the condom is too much work #EsuranceSave30," tweeted @MinnesotaMess.
In a statement to CP, Miller added, "It's unfortunate that people would use negative or offensive terms in association with our campaign, but that is the nature of the Internet and social media, and we can't control how people choose to respond."
He then pointed out that positive tweets far outweigh the negative ones.
"The number of tweets that are supportive and enthusiastic about participating and possibly winning the prize vastly outnumbers the ones that potentially violate our sweepstakes rules," he said.
Miller also assured CP that Esurance "worked to incorporate language that allowed Esurance to filter out tweets with offensive or inappropriate language," adding that according to entry rules, Esurance reserves the right to "disqualify entries if the entry and related Tweet includes inappropriate, offensive or other derogatory language or information."
In the wake of massive Internet traffic, fake Twitter accounts have popped up, seeking to claim publicity from the #EsuranceSave30 explosion. Twitter handles such as @EsuranceMilion, @EsuranceGive_, and @EsuranceWinBig have usurped the company's logo and have gained a great deal of followers. @EsuranceWinBig, for example, has 19,100 followers and 6,461 tweets, after less than a day.
Miller denounced these as "spammy" accounts.
"There is only one official Esurance Corporate Twitter account, and that's verified with Twitter's seal of approval (the blue check mark right next to our name on our Twitter page)," he explained. "We are working closely with Twitter and report all Twitter accounts that infringe our Esurance trademarks."
The Esurance spokesman would not disclose the manner in which a winner will be chosen.
"I can't comment on picking the winner, other than to say they will be chosen at random, according to applicable sweepstakes laws," Miller said.
One blogger argued that the company will not end up giving $1.5 million to anyone.
In a post entitled "6 reasons that Esurance won't be giving away $1.5 million," Brad of br-adventures.blogspot.com argued that the sweepstakes rules make it very easy for the company to get out of its promise. Winners will be notified by direct message, which a Twitter user can only receive if they follow Esurance's corporate account, @Esurance. That means only 164,000 followers out of the 2.3 million tweets can win, but even then they only have 10 hours and 15 minutes to claim the prize.
Other restrictions also apply. A winner cannot be younger than 18, Esurance gets to vet potential winners in order to make sure they would not "reflect negatively on (the) sponsor," and the company only has to offer the prize to five potential winners before "the prize may be deemed unclaimed and sponsor will have no further obligation with respect to the prize."
If the winner and the five alternate winners are younger than 18, fail vetting, don't check messages fast enough, or are not part of the 6 percent of contestants following Esurance on Twitter, then no one will get the money.