Evangelical Environmentalists Join March for Life to Save Babies From Toxins, Chemical Exposure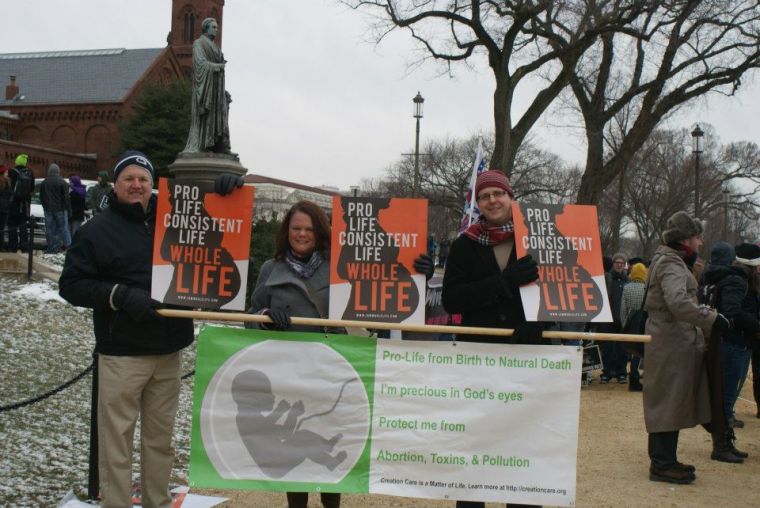 Alexei Laushkin, vice president of the Evangelical Environmental Network (EEN), is among the hundreds of thousands participating in the March for Life at the nation's capital on Wednesday. But his belief that abortion should be outlawed is not the only impetus for his attendance.
Indeed, Laushkin braved Washington, D.C.'s cold and snow because he's also concerned about mercury and chemical toxins that preborn babies are exposed to in the womb.
"I believe in a consistent ethic of life. As such, I believe that the unborn should be protected from toxins and pollution that they are in no way responsible for," Laushkin, who's participated in the march for six-straight years, wrote on his blog earlier this week.
The EEN first participated in 2005, at a time when the organization was focusing on revealing the pernicious effects that exposure to mercury could have on pregnant women and their babies.
"We're evangelical in our identity, and the more research came out in the 2000s focusing on in-utero exposure to toxins and chemicals -- that's when it became pretty obvious to us that [the March for Life] became a natural fit," Laushkin told The Christian Post on Tuesday.
Since its decision to participate, EEN has broadened the reasons behind its participation.
In an email newsletter from EEN President and CEO, the Rev. Mitchell C. Hescox, to supporters on Wednesday with the subject line "Why We March for Life," Hescox criticized the "spraying of toxic chemicals" for causing brain injuries and "synthetic hormones" in water, which he said were responsible for causing puberty to start early in the lives of pre-teeens, and increasing rates of breast cancer.
Yet, not all have welcomed EEN's attempts to broaden the pro-life conversation.
Calvin Beisner, the founder of the Christian environmental and development focused coalition, The Cornwall Alliance, said that he believes that expanding the definition of pro-life beyond abortion "weakens" its cause. He is also skeptical that pro-life groups have the time and resources to make sense of the scientific data.
"Many issues are scientifically and economically extremely complicated," Beisner told CP on Wednesday. "Good, ethical decision-making has to be based on a real understanding of the factors at stake and most pro-life leaders properly focus on the abortion issue so much that they don't have time to gain the necessary expertise on environmental issues for them to speak responsibly and confidently."
With regard to the pro-life moniker, Beisner also believes it is important to draw a distinction between what he sees as "an intentional threat to life," a definition that, for him includes abortion and euthanasia, and "unintentional threats to health," such as pollution, toxins and mercury exposure.
But some would disagree with how Beisner sees intention.
Laushkin is a signatory of "The Joint Declaration on Life," an ecumenical documentary featuring both evangelical and Catholic voices, which argues that both abortion and deleterious environmental effects in-utero are the outcome of a human decision.
"We understand that abortion, embryonic stem-cell research, and euthanasia, intrinsically, involve the willful termination of a human life. Whereas the loss of life caused by environmental toxins is often unintended," it states. "Nevertheless, the damage done to the human person by toxins is real, debilitating, often deadly, and it is always the result of human choices. Thus, we see the issues of human dignity and ecological integrity as linked by our choices for either a blessing or a curse—for life or for death."
Laushkin acknowledges that not all of EEC's attempts to build coalition have been successful, suggesting that the "politics of green movement which seem liberal" and "pro-big government" may have been a factor in some of the reticence.
He also believes that the inroads the EEC has made, largely since 2012, have come from demonstrating that it is not an advocate for the left. "We tend to be more free market, but also wanting some limited interventions," focusing specifically on the dangers mercury exposure causes in-utero.
"As we continue [having conversations with pro-life leaders] we've seen a receptivity among leaders on how this impacts the unborn. I think there was a little bit of 'Well, so is this expanding pro-life too far?' kind of conversation," said Laushkin. "But I think the more people see that this exposure is in-utero, and that the unborn are particularly vulnerability, then they see it as going hand-in-hand."